The Comfort Science for Your Elbow Pain
When pain in your elbow happens, don't let it stop you from doing the things you love. And suppose you need some support to accomplish everyday tasks and activities. In that case, ArqCut's comfort science is here to reduce pain and restore function so that you can get on with any action with better mobility.
ArqCut brings you a new and improved way to manage elbow pain and get you back on track. Our ArqCut Elbow Brace is designed using a specialized fabric blend with a 4-way stretch capability that works to deliver superb support and protection. Whether it's for sports, exercise, or day-to-day activities, the ArqCut is your partner in pushing yourself to the limit!
No Odor, All-Day Comfort Elbow Supporter
The ArqCut is not only excellent in mobilizing pain but also in delivering all-day comfort. ArqCut's breathable fabric absorbs sweat quickly and keeps your arm dry and odor-free. You'll love the support ArqCut provides, allowing you to use it without any discomfort.
Why Choose ArqCut?
✔ Experience a 4-way compression sleeve that is ergonomically designed to deliver a full range of arm motion and complete protection
✔ The unique fabric gives you a smooth and soft touch feel all day and all night long!
✔ Excellent pain relief from a variety of ailments, including Tennis & Golf Elbow, Tendonitis, Joint Inflammation, swelling, and other Elbow pain
✔ Features a specially knitted technical design to match different joints
✔ Designed with high-performance fabric to keep your optimal joint temperature
✔ Improves blood circulation for fast recovery
✔ Minimizes injury by offering optimal muscle support between workouts and during casual everyday activities
✔ Eliminates foul odors through high absorption capacity that keeps your arm dry and odor-free
✔ Designed to increase your performance while ensuring you're a step ahead in injury prevention!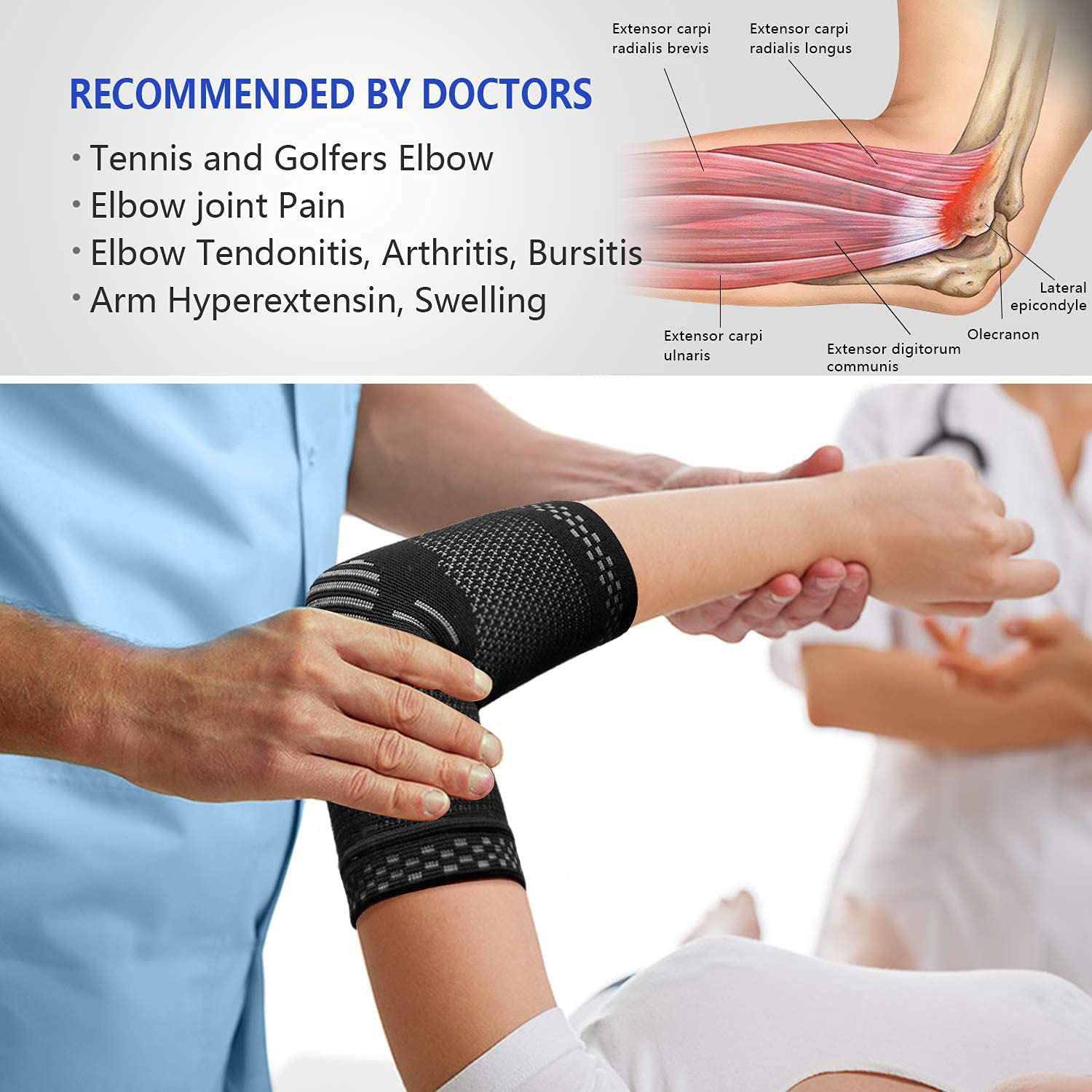 Experience What Phenomenal Protection Feels Like
The ArqCut Elbow Brace applies stable pressure across the elbow joint, providing ultimate pain relief from conditions like tendonitis, joint inflammation, tennis elbow, golfer's elbow, and other elbow pain. With our sleeves, you will be able to face any activity with better comfort and protection. Be one step ahead in injury prevention and use ArqCut's comfort science.
Please take a look at our size chart and measure your circumference based on our instructions.
Suitable for All Types of Activities
Our Elbow Brace provides the perfect fit for any activity that places a lot of stress on the joints, such as tennis, golf, baseball, basketball, CrossFit, weight lifting, powerlifting, volleyball, and much more. You will be able to enjoy exceptional support on your elbows while maintaining your peak performance and the full range of motion of your arms.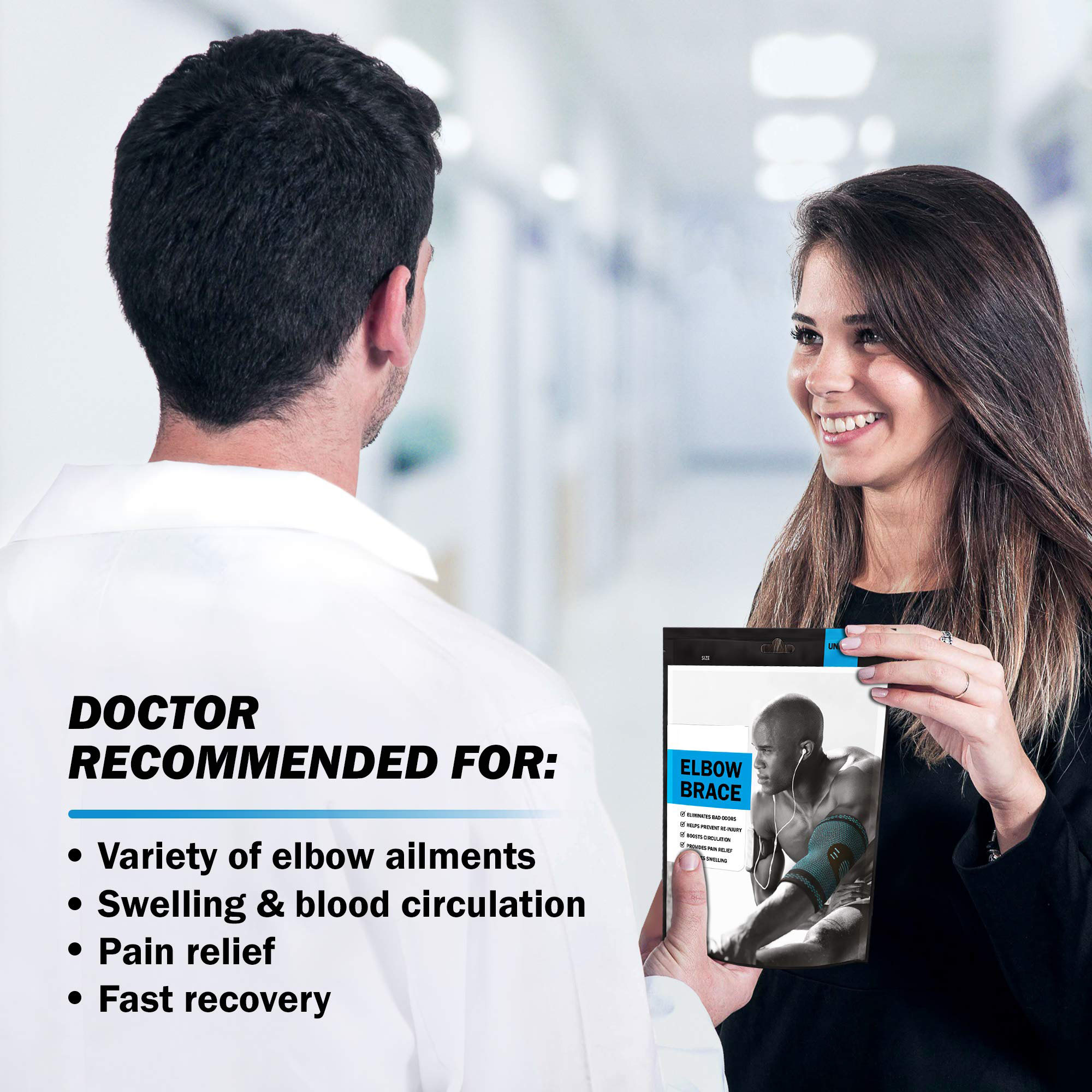 Superior Quality
Our ArqCut Elbow Brace is manufactured to provide superior support, comfort, and relief without compromising your mobility. The snug, breathable compression fabric maintains joint stability regardless of activity, helps improve blood circulation, and relieves pain while preventing the itchiness that is often common in neoprene garments. It absorbs sweat fast and keeps your arm odor-free, perfect for extended use.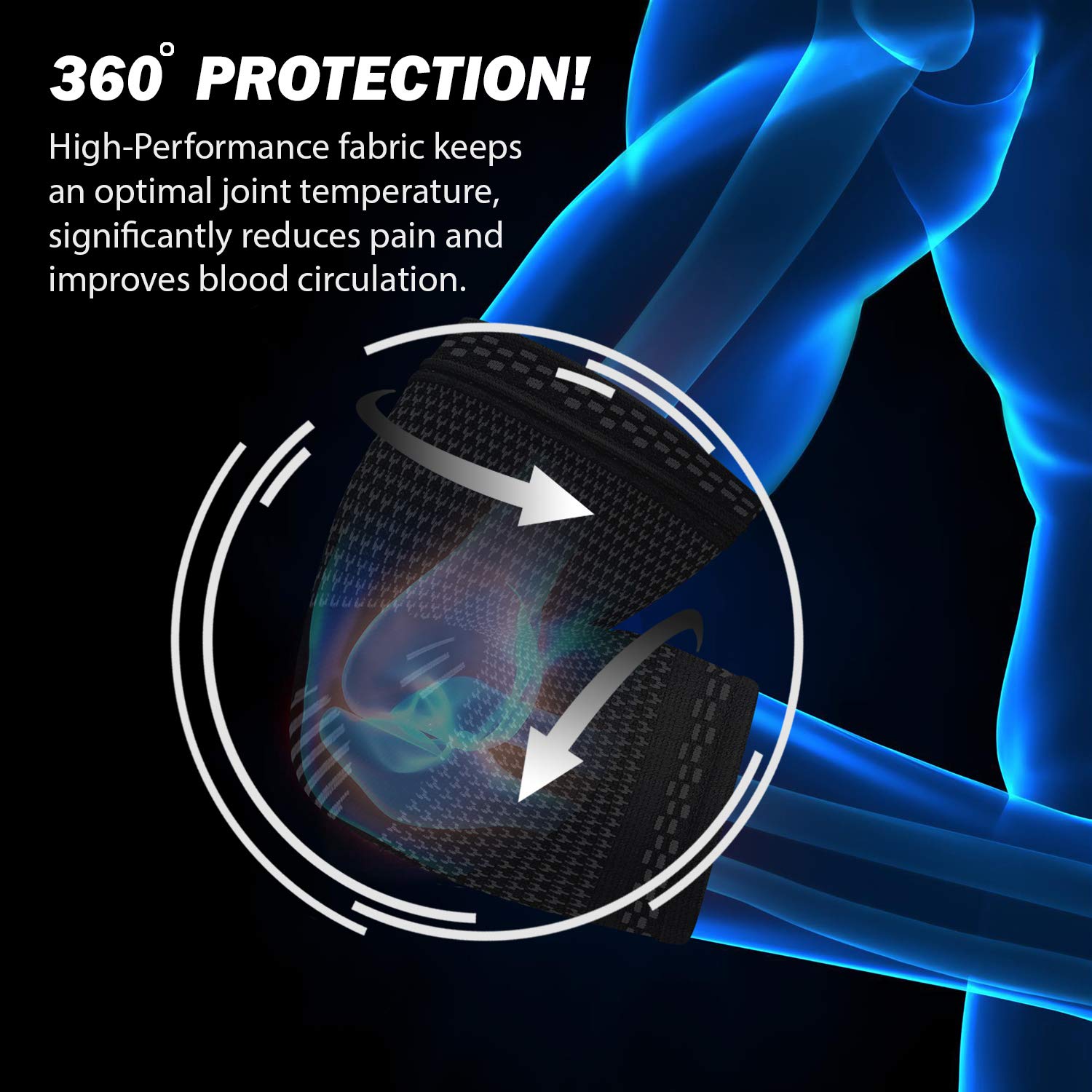 Breathable Design and Anti-slip System
Featuring a unique woven technical design, the ArqCut Elbow Brace ensures that your sleeve stays in place, no matter what you do. The beautiful design of this elbow brace comes in various colors to keep you looking fashionable anytime, anywhere. The special fabric gives you a soft touch to wear all day.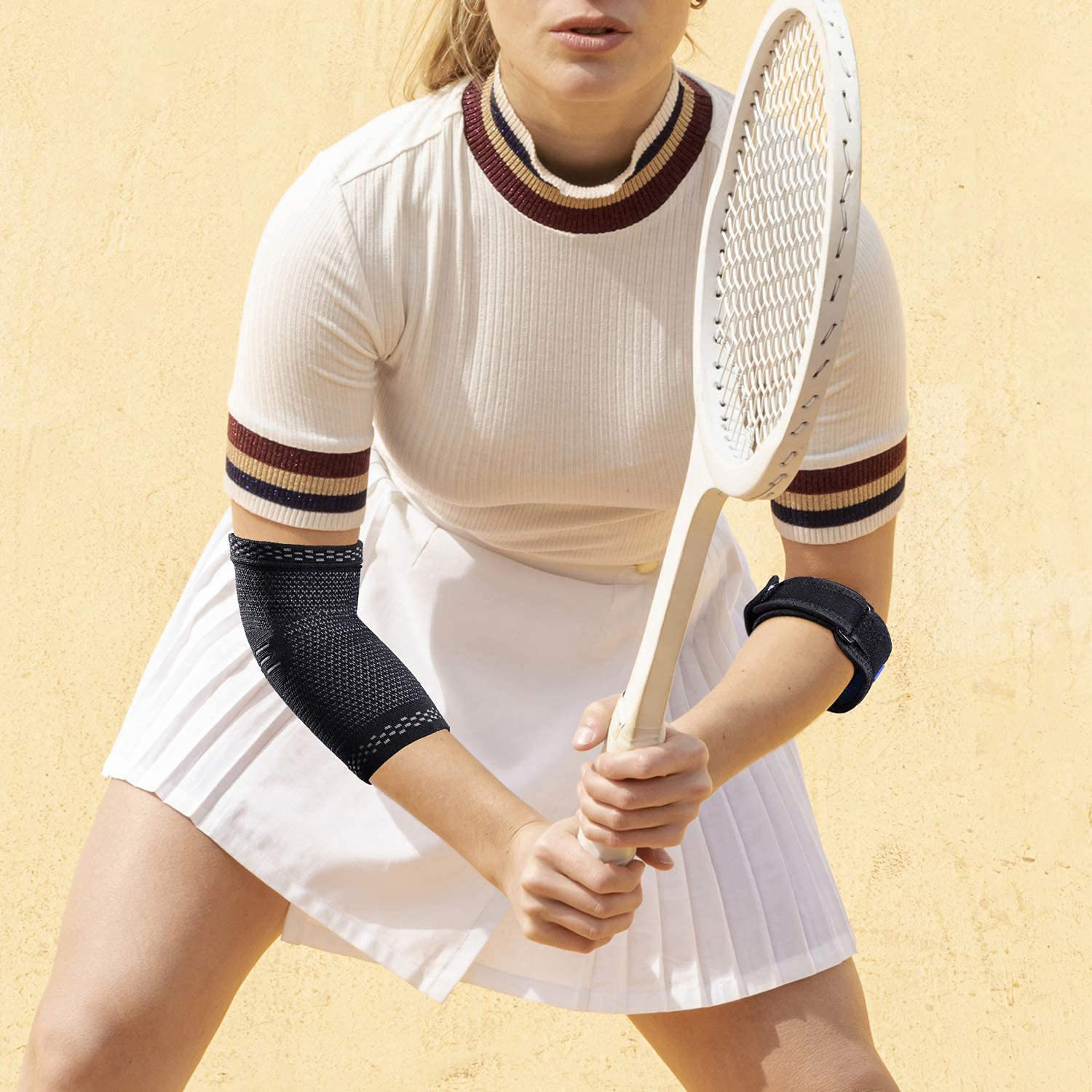 One Size Does NOT Fit All
Because not all bodies emerge from a one-size-fits-all box, we designed our compression sleeves to fit bodies of all shapes and sizes.
To find your correct size, simply measure your Elbow circumference.
Please measure 4 inches above your elbow joint.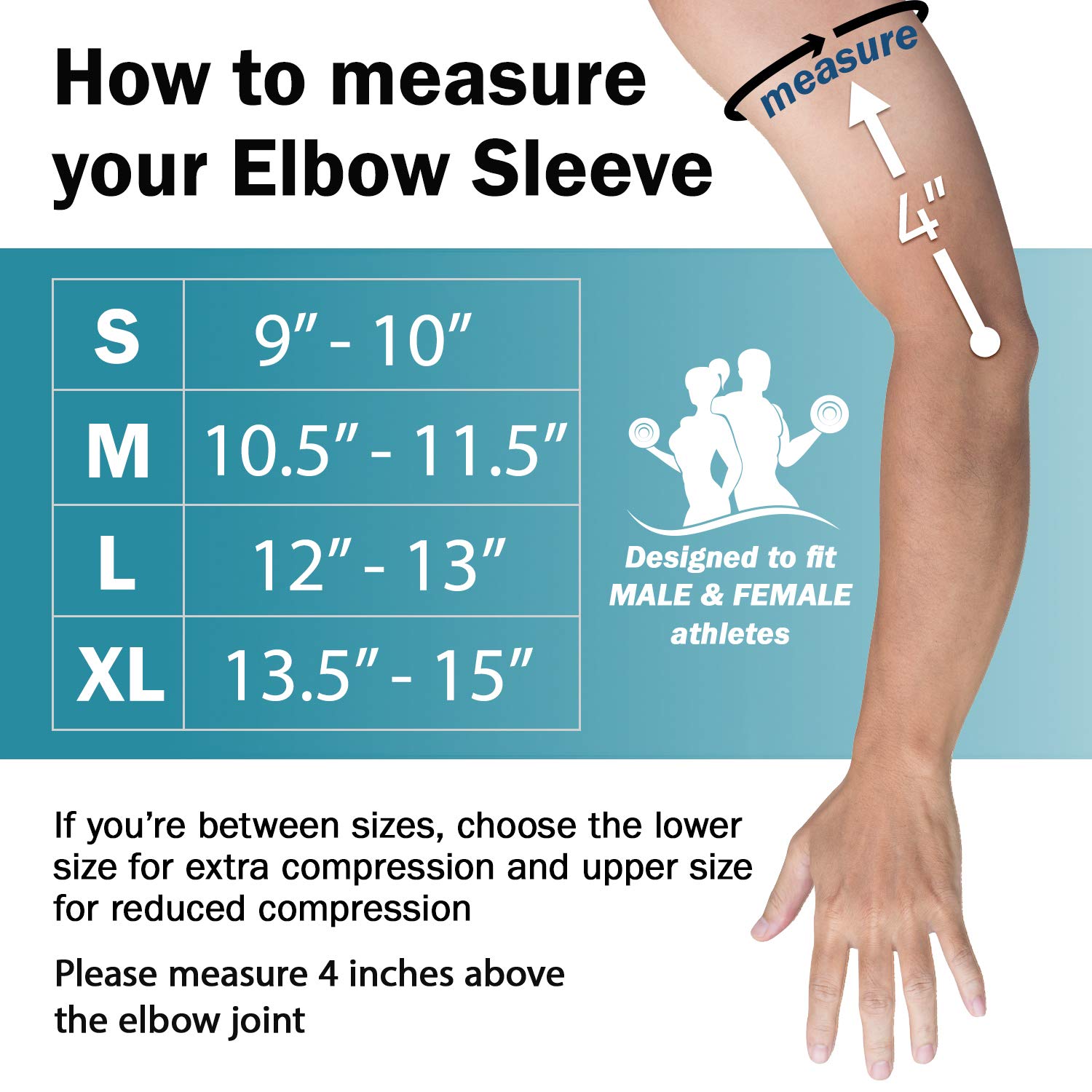 Package Include