A proven-quality bike stand that will last the test of time — ARC-SWOOSH!
Don't know how to "make space" for bikes' parking at home? Let the ARC-SWOOSH do its magic in creating the perfect place to stow your bikes when not in use conveniently.
Our affordable and straightforward bike stand enables you to store your bike in a more convenient place. Whether you live in houses or tight-space rental apartments, the ARC-SWOOSH is the PERFECT TOOL to park your bike without consuming too much space safely.
We've specifically designed this bike stand to last for a long time so that you can save those hard-earned dollars from repairs (or theft) due to improper bike parking. The ARC-SWOOSH is suitable for parking on flat surfaces like parking lots, garages, etc. You can even use it indoors or outdoors. With ARC-SWOOSH, bike care is accessible to you at a very budget-friendly price!
Why Choose ARC-SWOOSH?
MOST STABLE: Fear no tip-over as the ARC-SWOOSH is designed with 3 points holding that secures the tire in front, underneath, and on the sides. You'll have peace of mind that your bike stays in place no matter what.
DURABLE QUALITY: We've made this bike stand using heat-treated and high-quality steel with a fantastic epoxy finish. The PVC feet pads prevent your floor from scratches and provide additional stability. This stand will last forever if used appropriately.
DUAL PURPOSE: Customize how you want your bike parking space to be. The ARC-SWOOSH comes with practical double and mountable sides that allow you set your bike parking in the same or opposite direction for more convenience.
FIT MOST TIRES: Don't worry about your bike's tire not fitting the stand. We've followed a universal design that will suit most bike tires on the market. With a max tire size of 26″ and a width of 2.5″ (excluding commuter bikes or those with larger or wider tires), you can park in peace!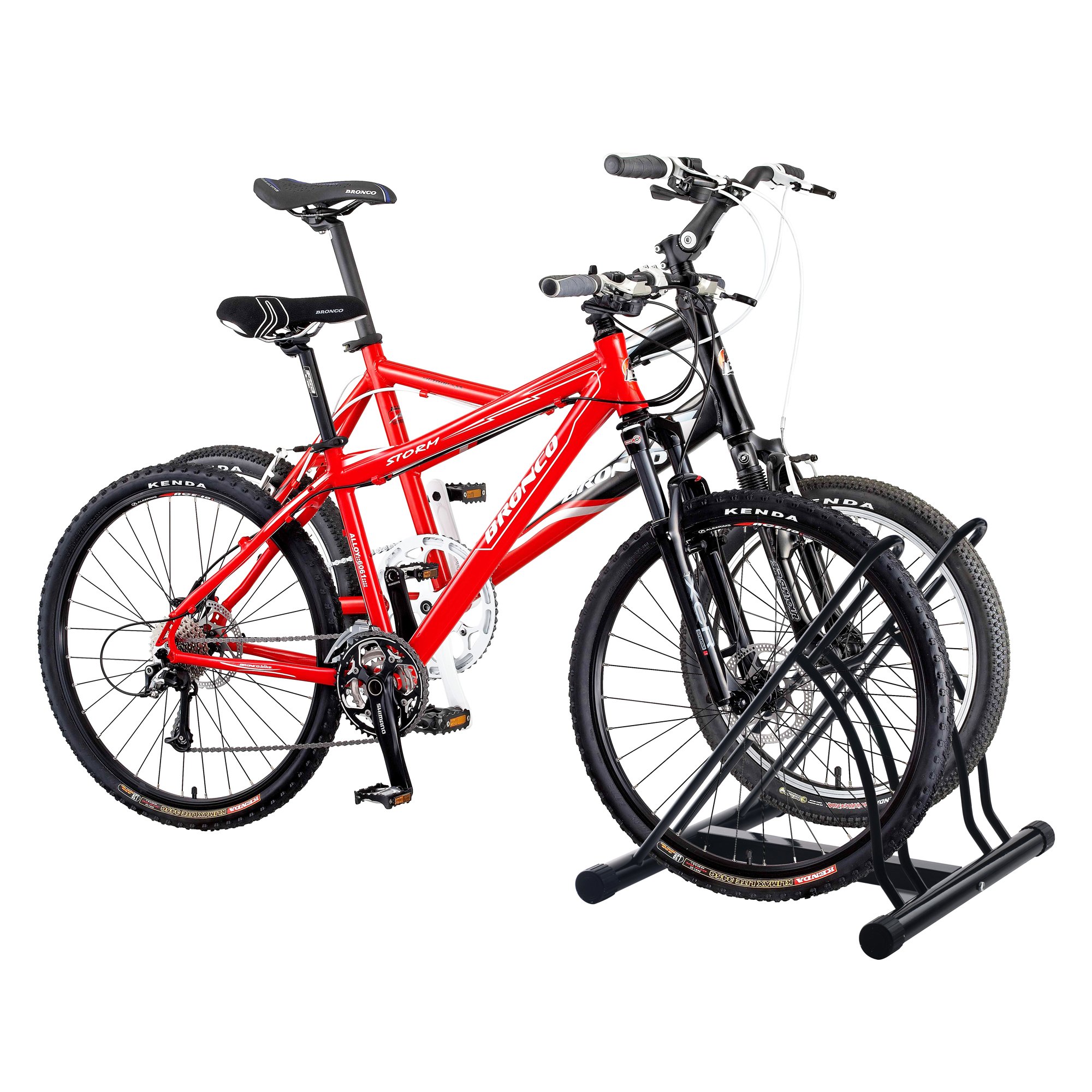 How to Use the ARC-SWOOSH?
To use this bike stand, all you need to do is align the locating pad on your floor using the two alignment marks on the base and then press it down lightly to secure it in place. No need for a complicated setup. With ARC-SWOOSH, your bikes are well-stowed in one place to open up more space for your vehicles in the garage or driveways.
Guaranteed EASY SETUP
We've made it Quick & Easy. The effortless push-in system made it simple and designed with children in mind.
Ideal Choice
Suitable for indoor and outdoor use: The ARC-SWOOSH is an ideal bike rack to let you park your bikes securely to prevent damages caused by unnecessary tipping when not in use. It organizes your bikes to free up some space in your room or garage without the need to construct specialized bike parking in your home.
Specifications:
Dimension:23.6 x 21.4 x 22.4″
Material: Steel with epoxy finish + PVC
Max Bike Range:26″
Max Width of Bike Tires: 2.5″
Weight: 9.5 LBs
Package Include