Are you tired of inaccurate readings from your current moisture meter? Look no further than the WoodSage Wood Moisture Meter with Backlit LCD Display! Our upgraded accurate detection chip provides precise measurements of the moisture content in many different wood and building materials. With a high precision factor, this moisture meter is a must-have tool for identifying water leaks, early mold prevention, and making smart decisions on high-end materials.

8 Types of Wood Detected and Classified
A: Teak, Walnut, Afrormosia, Rubber Tree Imbuia, Kokrodua, Niove Bidinkala, Cork
B: Keruing, White Poplar, Beech, Cedar, Tola
C: Lauan, Ash, Elm, Fir, Maple, Padauk Oak
D: Basswood, Larch, Pine, Birch
E: Abura, Bitterwood, Cordia, Erimado, etc.
F: Amboyna, Basswood, coachwood, etc.
G: Gequ, Nohor, Rubberwood, etc.
H: Cherry, Agba, Birch, Cedar, etc.
But that's not all! The WoodSage moisture meter features two measurement modes for wood and building materials, two high-precision pins that easily penetrate surfaces and assess moisture content, and eight calibration scales to choose from for testing all kinds of woods. And with a large LED display featuring a backlit hold feature, temperature reading, memory function, and a LOW-MEDIUM-HIGH moisture content indicator, the WoodSage moisture meter is both easy to use and professional.

And when it comes to accuracy and convenience, the WoodSage moisture meter doesn't disappoint. With a wide measuring range (Wood: 6%-60%, Building materials: 0-40%), compact size, and light weight, it can be carried easily, providing more accurate measurement results without being affected by ambient temperature. And with strong stainless steel pins that won't break or bend, you can use it with confidence.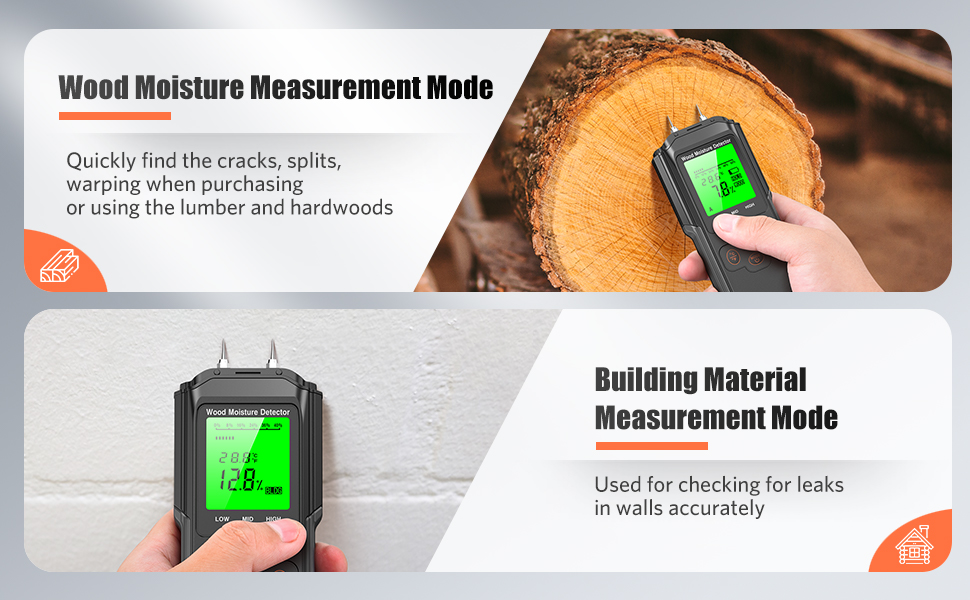 So why wait? Choose the WoodSage Wood Moisture Meter with Backlit LCD Display for accurate, easy-to-use, and professional moisture content measurement. Quickly know the %MC is Low (6-12%), Medium (12-15%), or High (16-60%) and hold readings with the press of a button. And with 8 types of woods for selection, the WoodSage moisture meter is the perfect tool for woodworkers, home inspectors, and more!
Features:
Upgraded accurate detection chip
Two measurement modes for wood and building materials
Two high-precision pins
Eight calibration scales for testing all kinds of woods
Large LED display with backlit hold feature
Temperature reading and memory function
LOW-MEDIUM-HIGH moisture content indicator
Comfortable grips design
Wide measuring range (Wood: 6%-60%, Building materials: 0-40%)
Strong stainless steel pins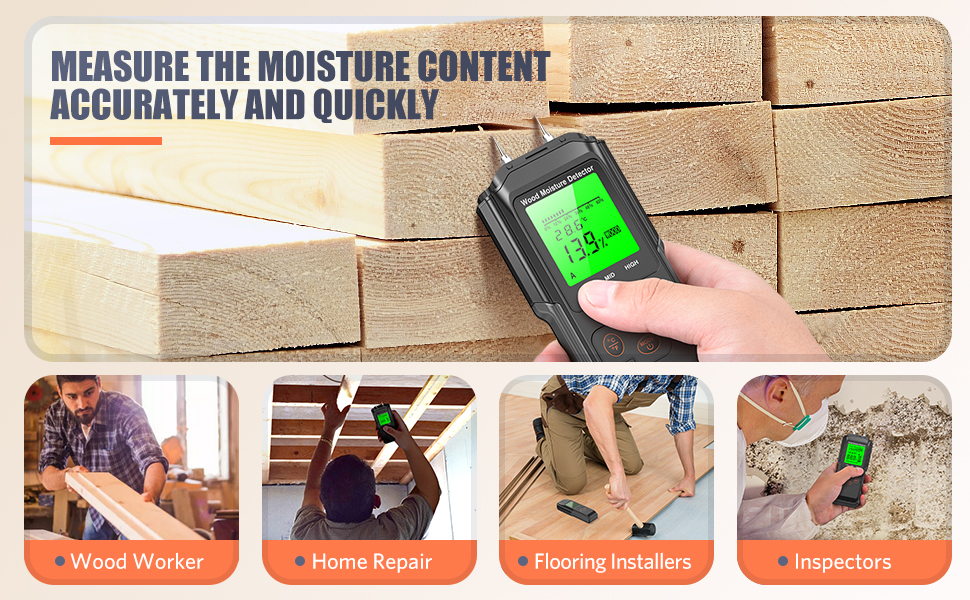 Benefits:
Provides precise measurements of the moisture content in many different wood and building materials
Helps identify water leaks and prevent early mold
Makes smart decisions on high-end materials
Sturdy and easy to work with
Accurate and quick measurement needs
Ideal for woodworking, building construction, agriculture restoration, and floor-laying
Can measure the moisture content of hardwood flooring, cabinets, furniture, lumber, slats, beams, plywood, paneling, conglomerates, window frames, forestry wood, rolled products, building materials, and more
Easy to use for anyone
Convenient freeze readings with the press of a button
Accurate, easy-to-use, and professional firewood moisture meter tester
Can be carried easily, providing more accurate measurement results without being affected by ambient temperature
Strong stainless steel pins won't break or bend, ensuring confident use