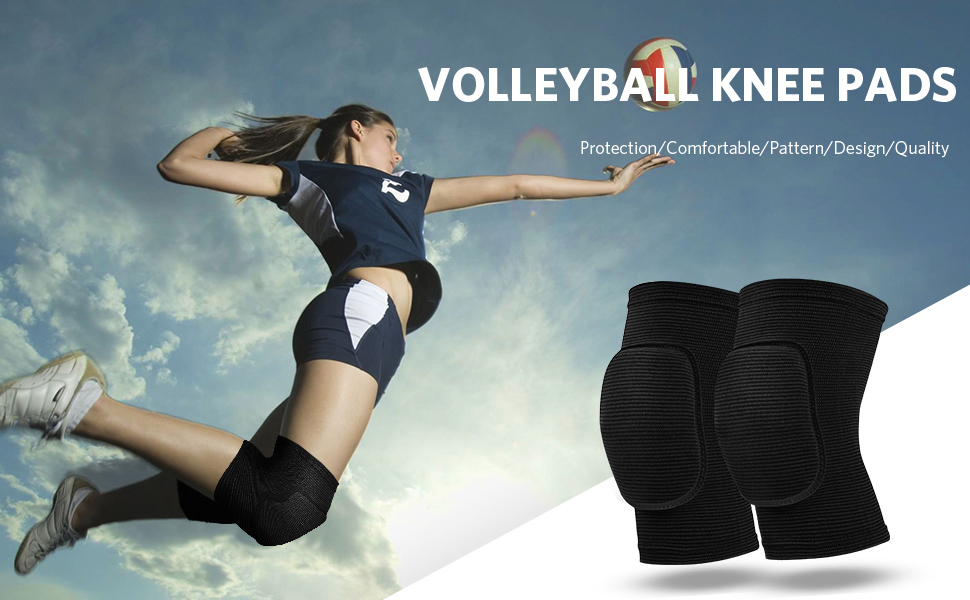 Hey, sporty superstar! 🏐 Ever had one of those "I wish I had a pillow for my knees" moments right in the middle of a heated volleyball match? Oh, we've all been there. But what if I told you there's a game-changer in town that's about to make those knee-bruising dives feel like landing on a cloud? Drumroll, please… 🥁 Introducing the VollyPro Volleyball Knee Pads!
Now, these aren't just any knee pads. They're like the VIP lounge for your knees. Imagine soft cushioning that feels like a marshmallow hug, combined with a breathable design that keeps things airy and fresh. And durability? Oh, honey, these knee pads are in it for the long haul, just like your never-give-up spirit on the court. Whether you're spiking, blocking, or just showing off some fancy footwork, VollyPro's got your back… well, technically, your knees. So, ready to play hard, land soft, and look fabulous doing it? Let's jump into the world of pain-free dives and stylish slides! 🌟🙌🎉
Cloud-Like Comfort!
You know that feeling of sinking into a plush pillow after a long day? That's what your knees will feel with VollyPro's soft cushioning. Dive, slide, or kneel – every move feels like a gentle embrace for your knees. It's like giving them a first-class ticket to Comfortville.
Stay Fresh, Play Fresh!
No more sweaty knee woes! With the breathable design, your knees get their very own ventilation system. It's like having mini fans wrapped around your knees, ensuring they stay cool, dry, and ready for action.
Built Like a Tank, Feels Like a Feather!
Durability meets lightweight design. These knee pads are like the superheroes of the volleyball world – tough on the outside, gentle on the inside. Play hard, play long, and rest assured they're in it for the long game.
One Pad, Many Games!
Volleyball today, dancing tomorrow? No problem! VollyPro's multi-sport versatility means they're always up for a challenge. It's like having a Swiss Army knife for your knees – ready for any adventure!
They Just Get You!
Thanks to the ergonomic design, these knee pads understand your knees like a BFF understands your moods. They fit, flex, and move in sync with you, making you wonder if they were custom-made just for you.
For the Young and the Young at Heart!
Age is just a number, and VollyPro gets it. Whether you're a budding volleyball star or a seasoned pro, these pads are your perfect match. It's like finding that one-size-fits-all hat that actually fits!
Slay the Game, In Style!
Who said protective gear can't be chic? With VollyPro's sleek design, you're not just protected; you're also turning heads. It's the perfect blend of fashion and function.
Easy Clean, More Play!
Post-match cleanup is a breeze. A quick wipe, and they're as good as new. Because let's face it, the only thing you should be spending time on is perfecting that serve, not scrubbing knee pads.
Feel Light, Play Right!
Despite their robust protection, these pads won't weigh you down. It's like wearing protective air – if that was a thing. Move freely, jump higher, and play your best game yet.
Snug as a Bug!
Adjust, fasten, play! With the adjustable fit, you get a secure and comfy fit every time. It's like that perfect hug – not too tight, not too loose, just right.
There you have it, sporty superstar! VollyPro Volleyball Knee Pads are not just about protection; they're about elevating your game, one dive at a time. Ready to join the revolution? 🌟🏐🎉
Alright, volleyball virtuoso, here's the scoop. 🍦 We've got a limited stash of these knee-loving wonders, and they're flying off the virtual shelves faster than a power serve! If you've been dreaming of those fearless, pain-free dives and slides, now's your golden moment. Why wait for the next bruise to remind you of what you're missing out on? Dive into the world of VollyPro protection today and let those knees bask in the glory they truly deserve.
Hold up! Before you go back to perfecting that killer serve, 🏐 remember, every champion deserves the best gear. And trust us, your knees will be doing a happy dance (or should we say, a happy dive?) with these pads on. So, why wait? Grab your VollyPro Volleyball Knee Pads now, and let's make those knee woes a distant memory. Hurry, because, like that perfect game moment, this opportunity might just slip away!
Technical Specifications
Tech lovers, gear up! 🤓 Here's a deep dive into the very essence of the VollyPro Volleyball Knee Pads:
Material Magic: Crafted with a blend of top-tier fabrics, ensuring a mix of durability and breathability that's hard to beat.
Cushioning Level: 100! With a soft cushioning that's designed to absorb impact like a pro, ensuring your knees feel pampered, always.
Airy Affair: Designed for breathability, these pads ensure your knees get the ventilation they deserve, even during the most intense matches.
Tough Love: Built to last, these pads promise durability that'll see you through countless matches and victories.
Versatility Vibes: While they shine on the volleyball court, they're also game for other sports and activities. Talk about multitasking!
Ergo Excellence: Designed keeping the natural curve of the knee in mind, ensuring a fit that feels just right.
Age Agnostic: Perfect for both the young stars and the seasoned pros. Age is just a number, after all!
Style Statement: Sleek, modern, and stylish. Because why compromise on style when you can have it all?
Clean & Go: Easy maintenance ensures you spend more time playing and less time cleaning.
Feather-Light: Lightweight design ensures you soar high without anything weighing you down.
Fit Factor: Adjustable fit ensures a snug and comfortable experience, every single time.
There you have it! The full tech lowdown of the VollyPro Volleyball Knee Pads. For those who appreciate the details, we've got you covered from every angle. Dive in, geek out, and gear up for greatness! 🌟🔍🏐