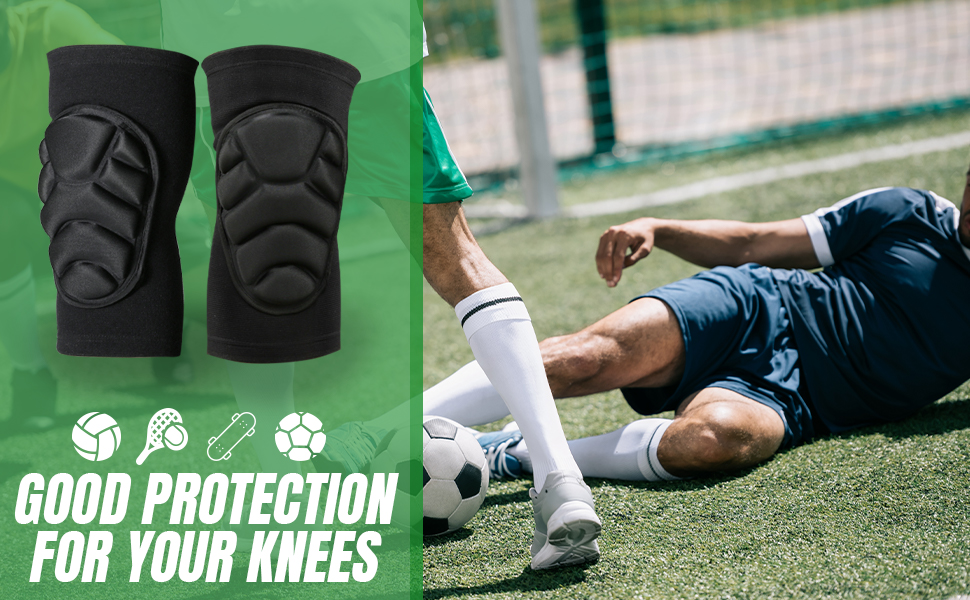 Hey there, volleyball virtuoso! 🏐 Remember that time you took a fearless dive to save the game, but your knees paid the price? Yep, we've been there too. But imagine a world where you can dive, slide, and spike without a second thought about your knees. Sounds dreamy, right? Well, dream no more! Meet the GuardTech High-Impact Volleyball Knee Pads – the game-changer you've been waiting for.
These aren't your run-of-the-mill knee pads. Oh no, they're the VIPs of the knee protection world. Packed with high-density sponge, they're ready to cushion your every move, turning those "ouch" moments into "did I just do that?" feats. And let's talk about the dreaded knee pad slippage – a thing of the past with GuardTech's anti-slip design. They'll stick with you through every serve and save, just like a loyal teammate. Plus, with their ultra-breathable fabric, you'll be the coolest player on the court, literally. So, fellow volleyballer, are you ready to play hard and land soft? Let's set you up for success! 🌟🙌
Dive Without the Drama!
Ever dreamt of making that game-winning dive without the aftermath of bruised knees? With the GuardTech's high-impact protection, you can dive like you're diving into a pool of marshmallows. Say goodbye to those post-game ice packs!
SpongeBob's Got Nothing on This!
Boasting a high-density sponge, these knee pads are like having mini mattresses for your knees. Whether you're diving, sliding, or just kneeling, every impact feels cushioned and gentle. It's like a hug… for your knees.
Stay Put, Will Ya?
Tired of those awkward moments adjusting slipping knee pads during a game? With the anti-slip design, these knee pads cling to you like your grandma during the holidays. Dive, slide, or dance – they're not going anywhere!
Stretch It Out!
Feel the freedom with the high-stretch design. It's like yoga pants for your knees. Move, bend, jump – these knee pads are with you every step (or leap) of the way.
Keep Cool and Play On!
Sweaty knees? Not on our watch! The ultra-breathable fabric ensures your knees stay as cool as you look on the court. It's like having mini air conditioners wrapped around your knees.
Like a Glove… But for Your Knees!
Thanks to the ergonomic design, these knee pads fit like they were tailor-made for you. It's the kind of comfort that makes you forget you're even wearing them. Magic? Maybe.
Not Just for Volleyball!
Branch out! While they're volleyball superstars, these knee pads are up for any challenge. Dancing, yoga, or a spontaneous moonwalk? They've got your back… erm, knees.
One Size Doesn't Fit All, But We've Got You!
Whether you've got the slender legs of a gazelle or the sturdy thighs of a superhero, the adjustable velcro ensures a snug fit. It's like a custom suit, but way more affordable.
Built to Last, Just Like Your Spirit!
These aren't your one-season wonders. Durable and long-lasting, they're in it for the long haul. So go on, play hard. They can take it.
Look Good, Play Better!
Who said protective gear can't be stylish? With a sleek design, you'll be turning heads for more reasons than just your killer serves.
Easy-Peasy Cleaning!
Post-game cleanup shouldn't be a chore. A quick hand wash, air dry, and they're ready for your next adventure. Because you've got better things to do than laundry.
There you have it! GuardTech's knee pads are more than just protective gear; they're your trusty sidekick on the court. So, ready to play hard and land soft? Let's make those knee scrapes a thing of the past! 🌟🏐🎉
Alright, sporty superstar, here's the deal. 🌟 While we'd love to keep chatting about the game-changing magic of GuardTech's knee pads, we've got a bit of a situation. Word's gotten out, and these knee-saving wonders are flying off the virtual shelves faster than you can say "match point!" So, if you're dreaming of fearless dives and slide saves without the knee drama, now's your moment. Why wait for the next game to level up? Dive into the future of volleyball protection today and let those knees thank you later. Trust us; they'll be singing your praises (in knee language, of course)!
Ready to play hard without the hard landings? 🏐 Grab your GuardTech High-Impact Volleyball Knee Pads now, and let's make those "ouch" moments a thing of the past. But hurry, because just like that perfect serve, this opportunity won't last forever!
Technical Specifications
Alright, tech enthusiasts, this one's for you! Let's dive deep into the DNA of the GuardTech High-Impact Volleyball Knee Pads:
Material Composition: Crafted with a blend of high-grade fabrics, ensuring durability and breathability.
Sponge Thickness: A whopping 20mm of high-density sponge. That's like the luxury mattress of the knee pad world.
Size & Fit: Adjustable velcro design, suitable for thigh circumferences ranging from 13.0-21.7 in (33-55cm). Designed to fit individuals weighing between 100-220lb.
Anti-Slip Feature: Equipped with a non-slip silicone strip on the upper knee area. Because no one's got time for slippage!
Breathability: Ultra-breathable fabric to ensure your knees get the VIP treatment they deserve.
Weight: A lightweight champion at 170g / 0.37lb.
Dimensions: Size: 218.5 in/5121.5cm. Perfectly sized for maximum protection without the bulk.
Maintenance: Hand wash recommended. Air dry to maintain elasticity and shape.
There you have it! The full tech rundown of the GuardTech High-Impact Volleyball Knee Pads. For those who love the details, we've got you covered. Now, go on and geek out, knowing you're making an informed choice! 🤓🔍🏐