Get this Amazing Camping Cot for Quality Rest Outdoors. Durable Frame, Easy to Set Up, Lightweight, and 2x Comfier than Other Brands!
Make your camping adventures restful, not stressful. So to achieve a quality and relaxing rest outdoors, have yourself a comfortable and reliable camping cot from The-Wild-Hunt!
This camping cot is so good in providing a comfortable place to have goodnight's rest outdoors. It's stable and the fabric is soft on the back, helping you to drift with ease.

Lance W.
Verified Purchase
This The-Wild-Hunt Camping Cot is made of a durable frame with reinforced water-resistant 600D polyester fabric. It can support up to 300 lbs. of weight — thanks to its strong and high-quality construction that adheres to the highest outdoor equipment standards.
The-Wild-Hunt is great for park, beach, backyard, garden, camp site, and other outdoor adventures. You'll have the best rest even if you're not in the comfort of your own bed!

Our Experts
Why Choose Us?
[VERSATILE COT BED] This camping cot can easily open and set up in minutes because of its smart folding design. The best camping equipment for sleep. It can also be used to relax and lounge in your home backyard, at the beach or by the lake, and even at the office for lunch rest.
[PORTABLE DESIGN] Folding and easy carrying cot makes your trip more comfortable and easier. (Storage Bag included).
[HEAVY DUTY] The Flat Circle Tubes Frame Legs provide more support when resting on the cot. Rigid and supportive to large capacity. Aluminum Leg frame with bars at the bottom for reinforced safety and sturdiness.
[STABLE STRUCTURE] The U-shaped legs distribute weight to minimize the possibility of damaging a tent floor.
[DURABLE MATERIAL] Lightweight with a sturdy structure and durable Oxford Cloth for water resistance. Plus, it's also easy to clean.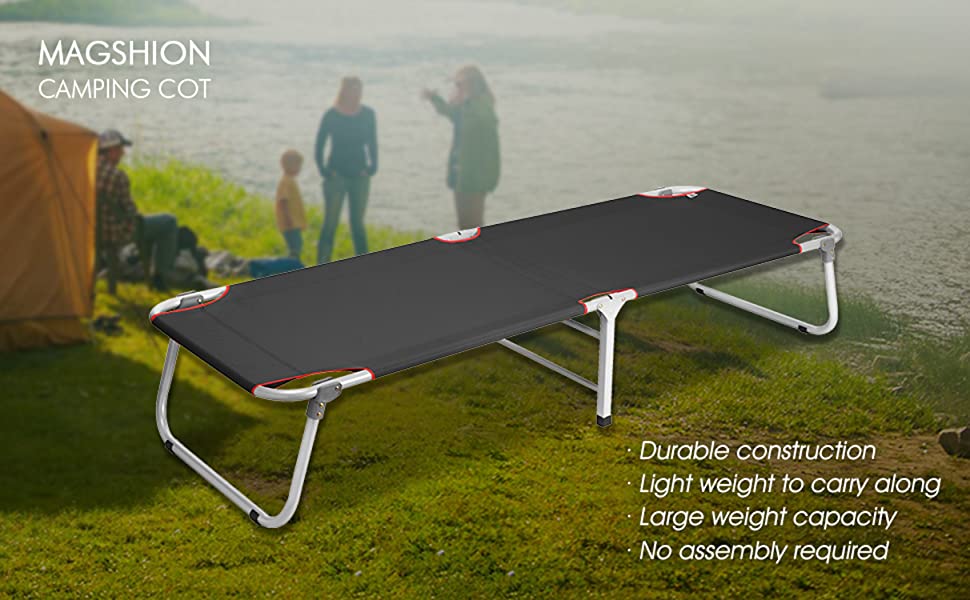 Portable Camping Bed Cot + Free Storage Bag
Get the rugged outdoor camping experience in comfort with this handy, durable, sturdy, and supportive cot.
It features a comfortable extra-long and extra-wide design with a strong bearing capacity.
This aluminum frame camping cot is designed for your convenience and ease of use when camping, hiking, fishing, or traveling. It can also serve as a bed for your guests.
✅ No more nights on the ground
✅ Keep your cot folded and carry it in the bag
✅ Go off the grid without sacrificing comfort
✅ Fold it out when nighttime comes
✅ Catch some quality sleep without bulky beds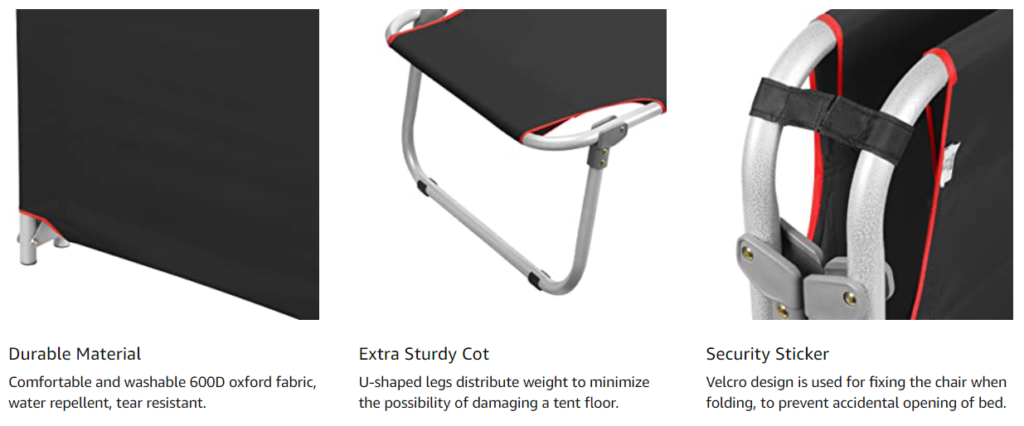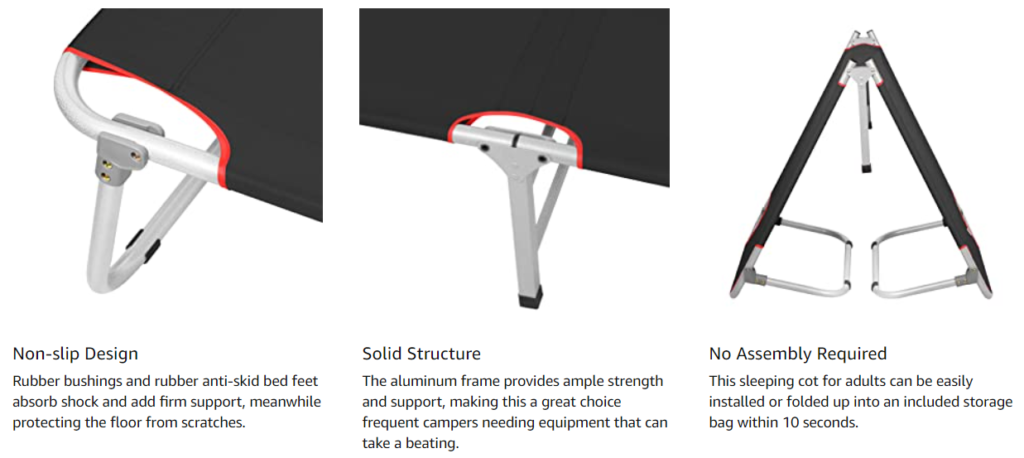 Specifications
Color: Black
Material: Aluminum / Oxford Cloth
Weight capacity: 300lbs.
Open Size: 13. 5″H x 24. 5″W x 72″L (Fits Heights 6″ Tall Max)
Fold Size: 4. 5″H x 24. 5″W x 36″L
Package Include:
1 x Foldable Cot

1 x Carrying Bag