For All Your Outdoor Adventures, Here's a Camping Cot That's 100% Reliable, Comfortable, and Easy to Carry.
Quality rest outdoors? A camping cot can make all the difference. And when buying one for yourself, the N'Ordinary Camping Cot is one of the most trusted among outdoor enthusiasts.
This camping cot is made of premium iron tube and 600D Oxford materials that guarantee a durable and reliable sleeping bed outdoors. It's light enough to carry it anywhere with ease and compact enough to consume less space.
We love this N'Ordinary Camping Cot because its easy to use and durable enough to handle all abuse outdoors. The fabric is also smooth, which helps you relax even better.

John R.
Verified Purchase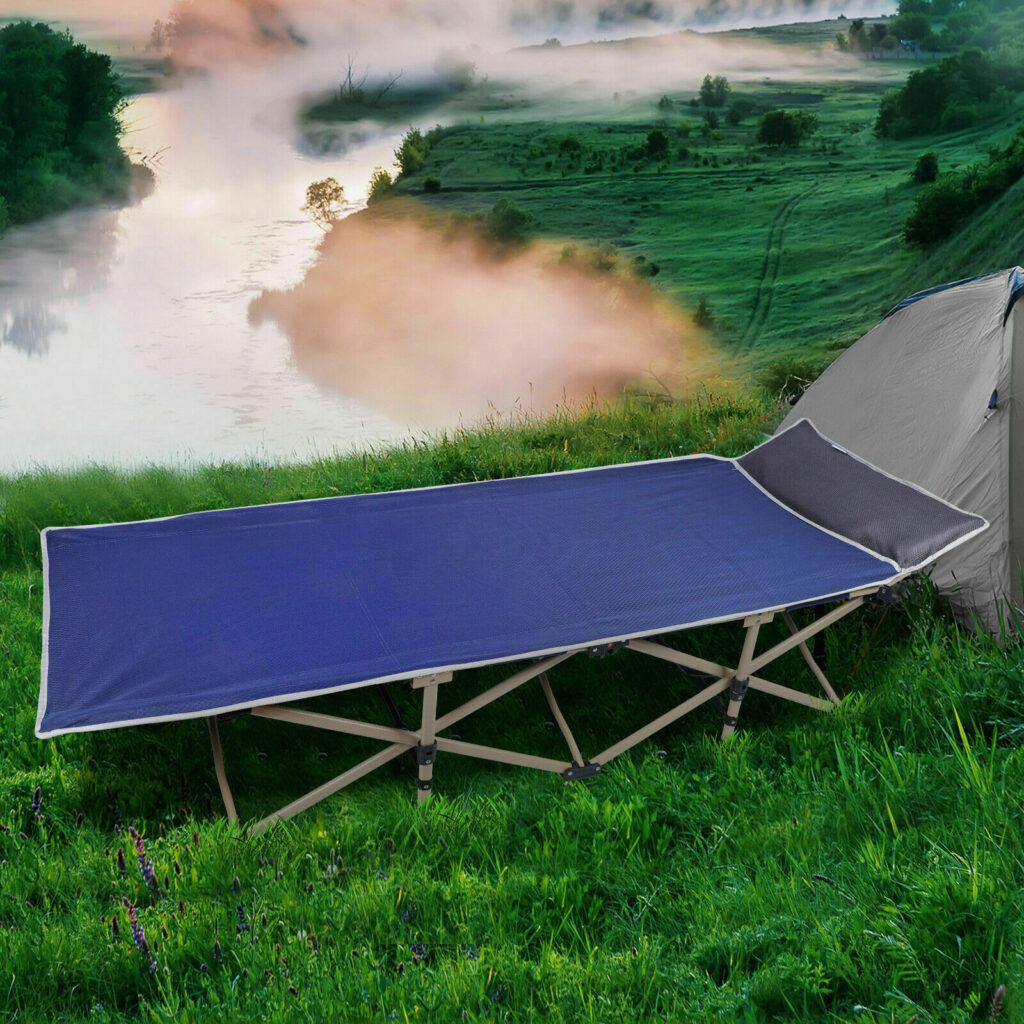 Why Choose Us?
If you're looking for a quality camping cot for all your adventures, the N'Ordinary is a top choice. Check out why outdoor enthusiasts love this product!
It's Such a Relaxing Bed Outdoors
The N'Ordinary Camping Cot features a high-strength, double-sided 600D Oxford fabric, which is elastic, wearable, and tear-resistant. This specification ensures you'll get a soft and comfortable sleeping bed outdoors.
More importantly, if you choose the bed type with a thick cotton mattress filled with spray cotton, that will bring you a more comfortable experience, suitable for all seasons (the cotton mattress can be removed in summer, and it can be covered in winter).
Large Load Capacity
The sturdy and thick iron frame structure with 5 pairs of supporting legs can load up to 330 lb, which is suitable for adults and kids. The plastic coating on the frame is waterproof and rustproof. It's so durable that it can withstand harsh weather.
4D Neck Pillow
On the back of your head features a raised headrest, a unique pillow that conforms to your body as it can maintain and support the neck and shoulders to minimize joint pressure. Now that's next-level comfort!
Fast to Assemble & Fold
The expanding size of the folding cot is 72.8″ x 29.5″ x 14.5″, which can be used indoors and outdoors—ideally used as a camping bed, an office rest bed, a balcony, or a backyard recliner to relieve and relax your body. (Includes a storage bag for easy transport).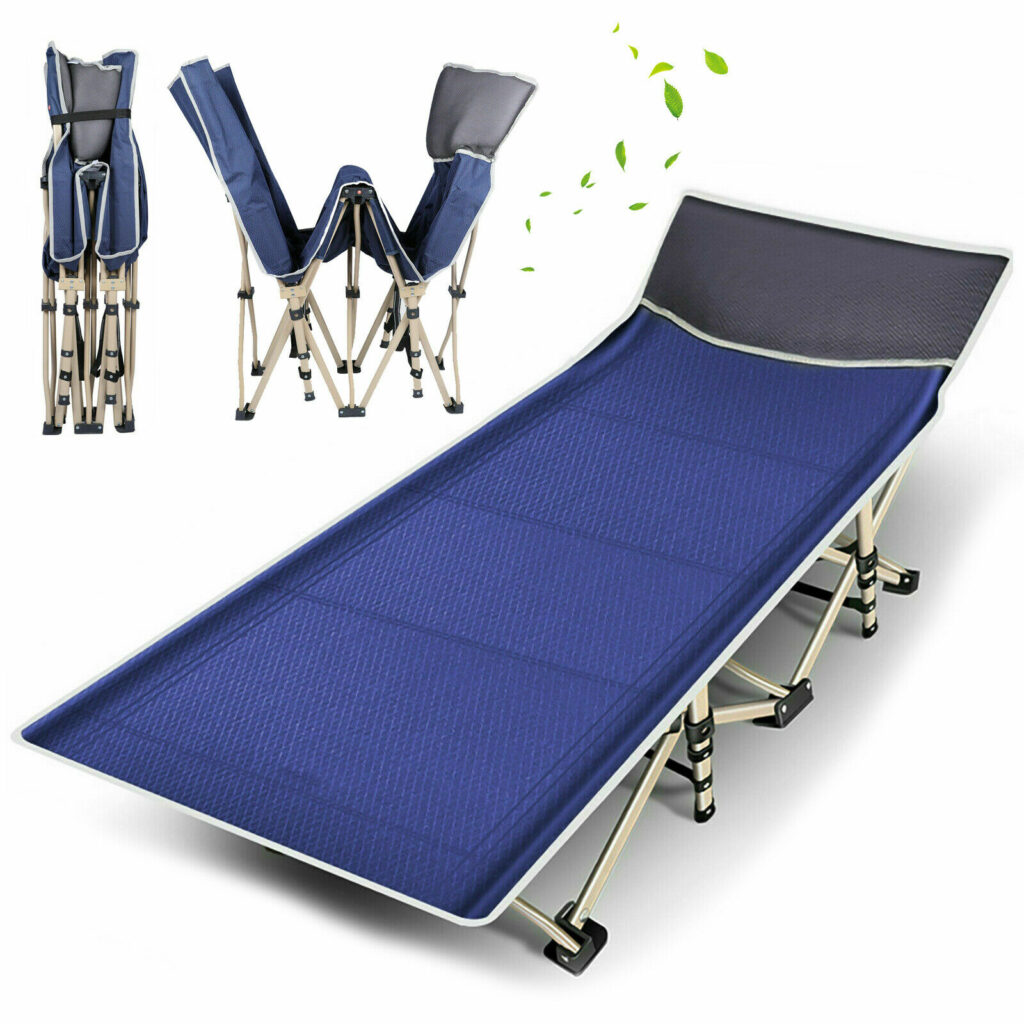 Specification:
Material: double-layer 600D Oxford cloth, iron pipe spraying, suede cotton pad (thickness 3cm)
Dimensions: 185x72x37cm/72.8" x 29.5" x 14.5"
Folding size: 107x31cm/42×12″
Bearing Capacity: 150kg/330lbs
Weight: 6.57kg/14.48lb
Color: Blue; Gray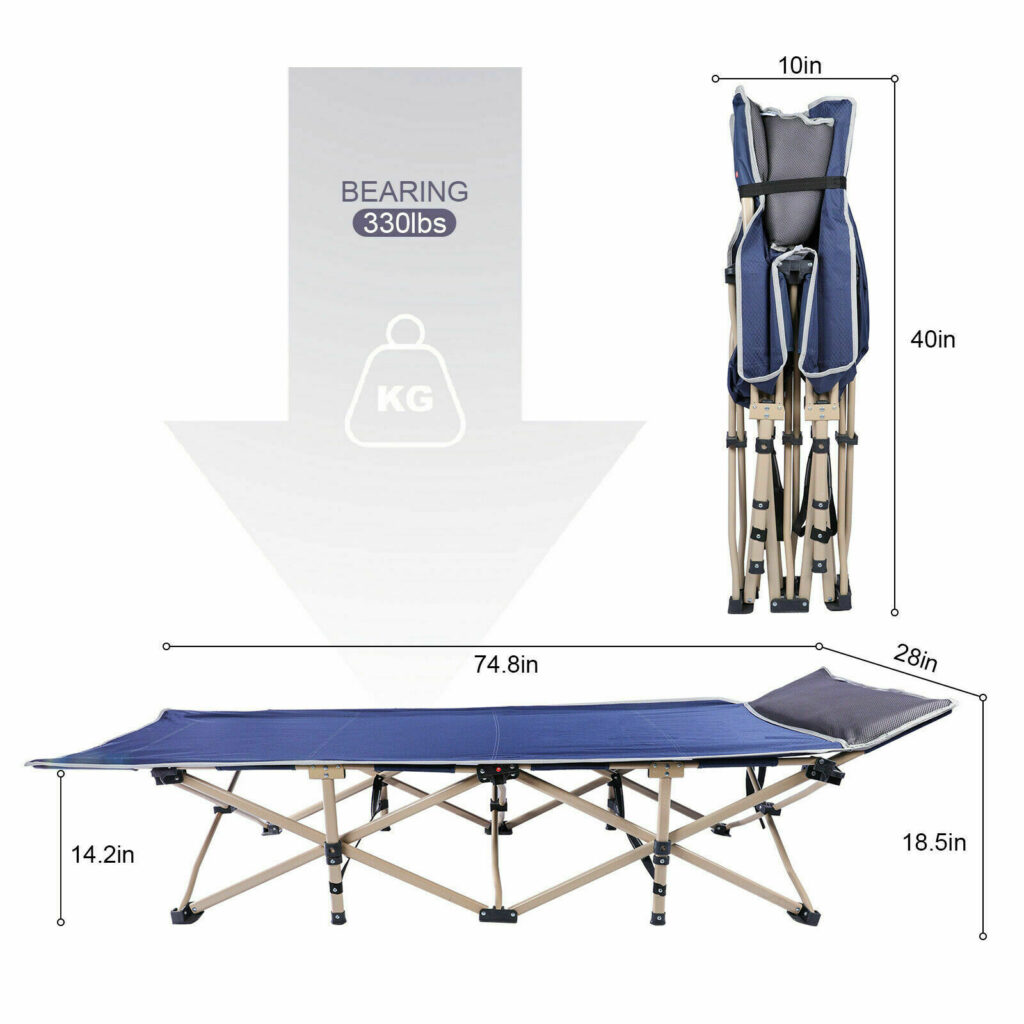 Package List:
1 x Folding Bed
1 x Carrying Bag