Give Your Car Windows Protection From The Elements. Get The Tatuana Car Sun Shade Today!
As drivers, we often overlook the importance of protecting the side windows of our vehicles from the elements, especially while driving. It's not all about the windshield, as the scorching heat of the sun obviously permeates through the side windows as well, lessening your comfort while driving, as well as those of your passengers. If you'd like to lessen your exposure from the rays, as well as protect your car windows from other elements like snow, hail, ice, and mud, then it's time you got the Tatuana Car Sun Shade. That's not all! As it's designed to be transparent, you'll be able to cover your car windows and see others on the road while driving too.
Product Features
✅  Magnetic & Easy To Install: Has 6 strong magnets on top of the shade so you can easily mount it on your steel car frame. Works best on metal framed windows and doors which the magnets can attach to.
✅  Enhanced Sun Protection: Made of mesh, acting as a solar visor for your side windows. This will help block off most sunlight to keep your seats cool, and is designed especially to protect non-tinted windows.
✅  Easy to Fold and Carry: When not in use, you can easily fold it up and keep it in a bag.
✅  Fits Most Vehicles: Suitable for most cars, including sedans, hatchbacks with small curved doors or rectangular windows, small SUVs with curved/rectangular windows, crossovers, large SUVs, vans, and more.
🔔  Warning: Please do NOT use it on the windshield, or place it on your car window while your vehicle is moving.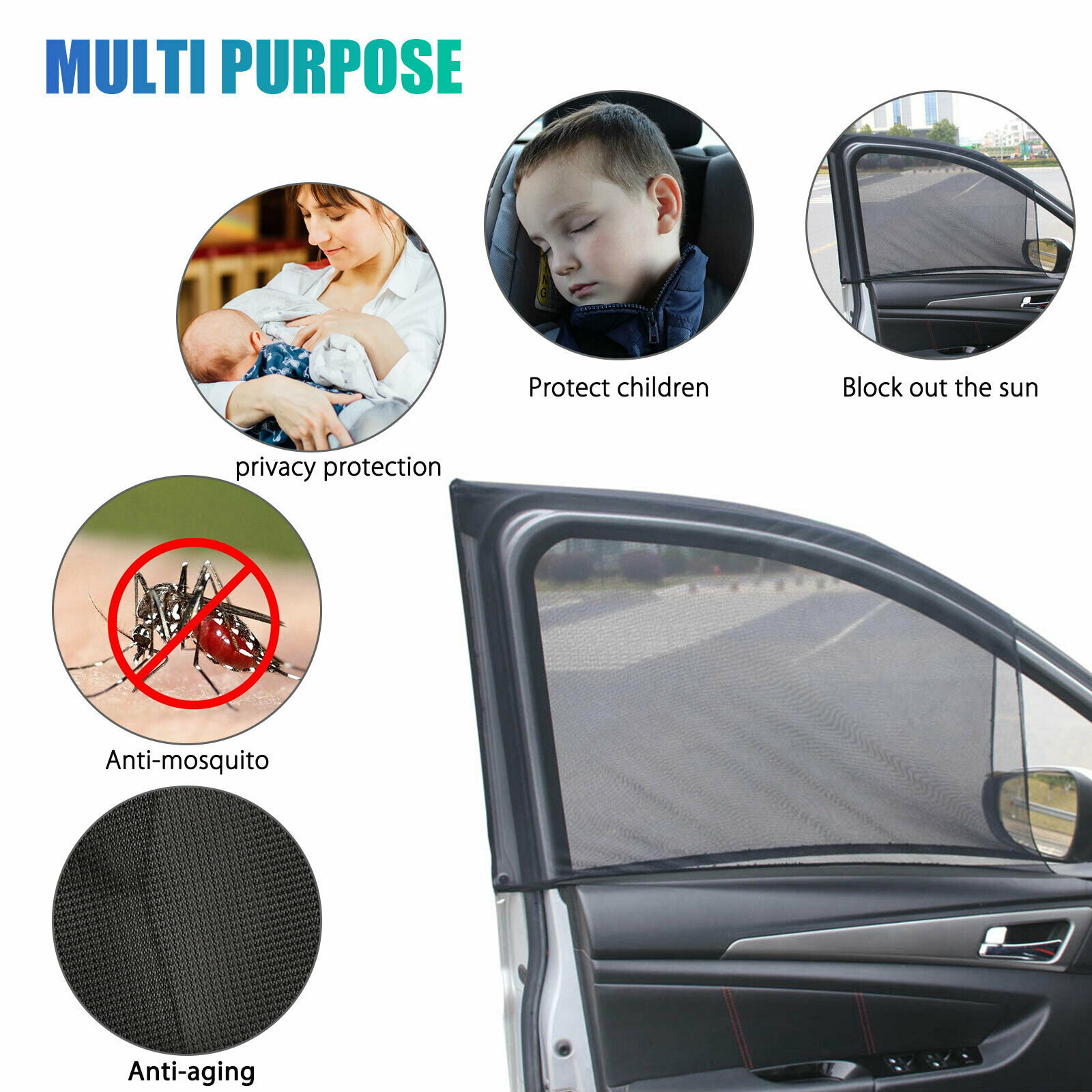 Product Specification
Type: Car Side Window Sunshade
Material:Mesh and Strong Magnet
Color:Black
Quantity:4Pcs
Compatibility:Cars, SUVs, Minivans, and more
Specifications:Curved, Square
Front Window Size:length 80CM/large width 50CM/small width 20CM
Rear Window Size:Length 78CM/Width 50CM
Mesh Diameter:1MM
Package Includes
4Pcs Magnetic Car Side Window Sun Shade