The Tool That Will Change Your Fishing Game! 
All waiting and no fish makes fishing games downright boring. If you're trying to break a previous fishing record, simply relying on your gut may not be as effective. With a little help from a portable fish finder, you can significantly cut your waiting time for fish; you can also catch more fish than you ever had. This is what SwizSyt is for – the advanced portable fish finder helps you locate fish and predict fishing outcomes without waiting for hours!
Provides all the necessary information you will be needing. The fish finder comes with an updated 2.4inch TFT color LCD screen that provides a clearer display. It also has a new and improved sensor that can detect and display underwater contour, water depth, water temperature, and fish sizes. 
Versatile based on your needs. It has two user modes: TRANSDUCER/SIMULATION. You can try all functions in simulation mode and go fishing in transducer mode.
Gleans information from the depths of the water! The sonar transducer provides you 26FT wired operating distance. It has 45°detect angle and 328FT(100m) depth detection. Deeper in detecting.
Multipurpose – great for all types of fishing! You can go fishing with this depth finder in different ways, such as ice fishing, river fishing, sea fishing, fishing off the shore, kayak fishing, etc. The bracket allows you to attach the transducer to your boat.
Various features settings: with updated underwater contour display(3 kinds of display you can choose, more clear and professional). Also, you can set up sensitivity, screen brightness, depth range, zoom, depth alarm, fish alarm, fish icon, units(FT/M ℃/℉)alter, and language by yourself.
The fish finder is rechargeable. When fully charged, the device can last up to 5 hours.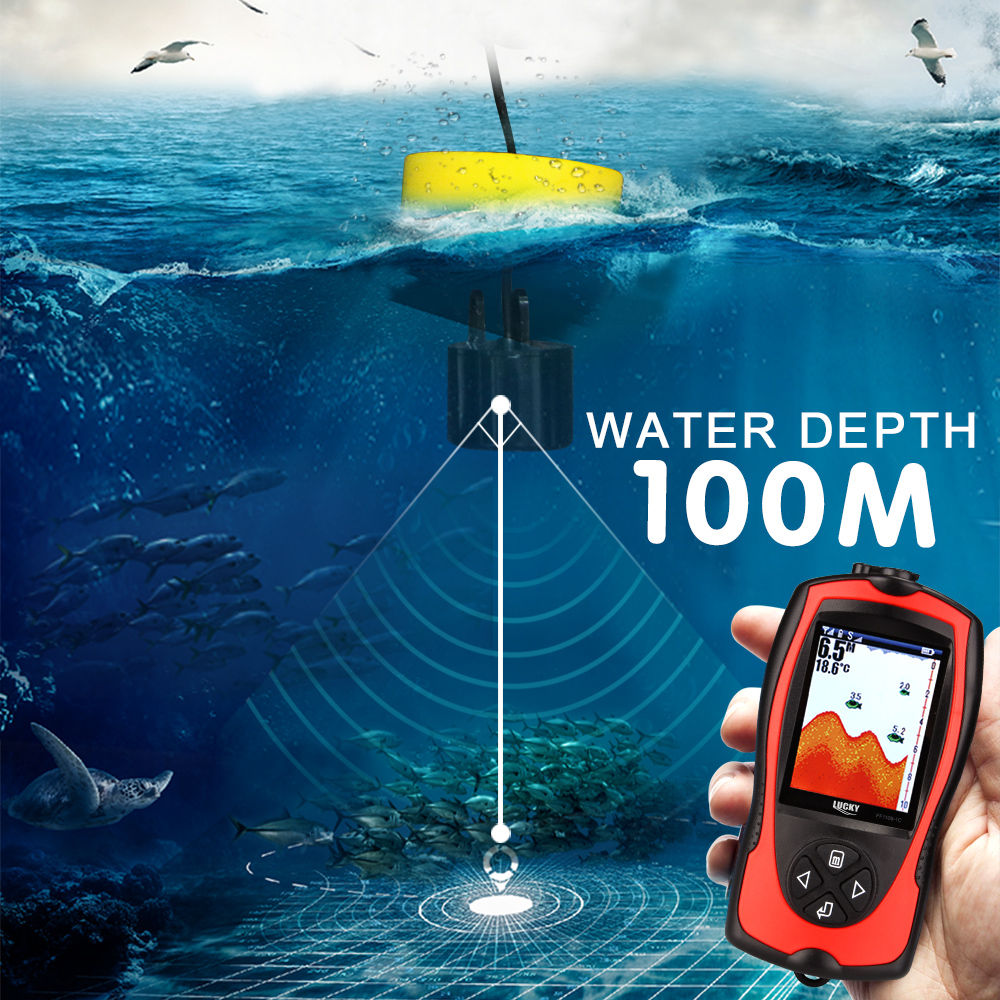 Underwater contour display: There are 3 colors of the underwater contour display, you can choose anyone you prefer.
Detect sensitivity: It controls how many details are shown on the display. You can set up the sensitivity from 1 to 10. The more sensitive it is, the more details it can detect.
Fish alarm: An alarm will sound when the fish finder detects fish corresponding to the alarm setting. It can distinguish the relative fish size (large, middle and small) in a certain water area.
Units: You can choose four different units from the menu–M/℃, FT/℃, M/℉, FT/℉.
Multi –ways to use: Attach the adapter to the fishing boat hull with the mounting tabs.
Ice fishing, river fishing, sea fishing, kayak fishing, and so on

Specification:
Display: 2.4inch TFT color LCD, pixels: 240V x 960H
Display Contrast: 1-10 level
Backlight: White LED
Language: English / Russian
Power: 2 * 2000mAh rechargeable lithium battery (included)
Power Source: DC 10-18V
Transducer:
Depth Range: 100m / 328ft
Sonar Coverage: 45° in 200 kHz
Cable Length: 8m / 26ft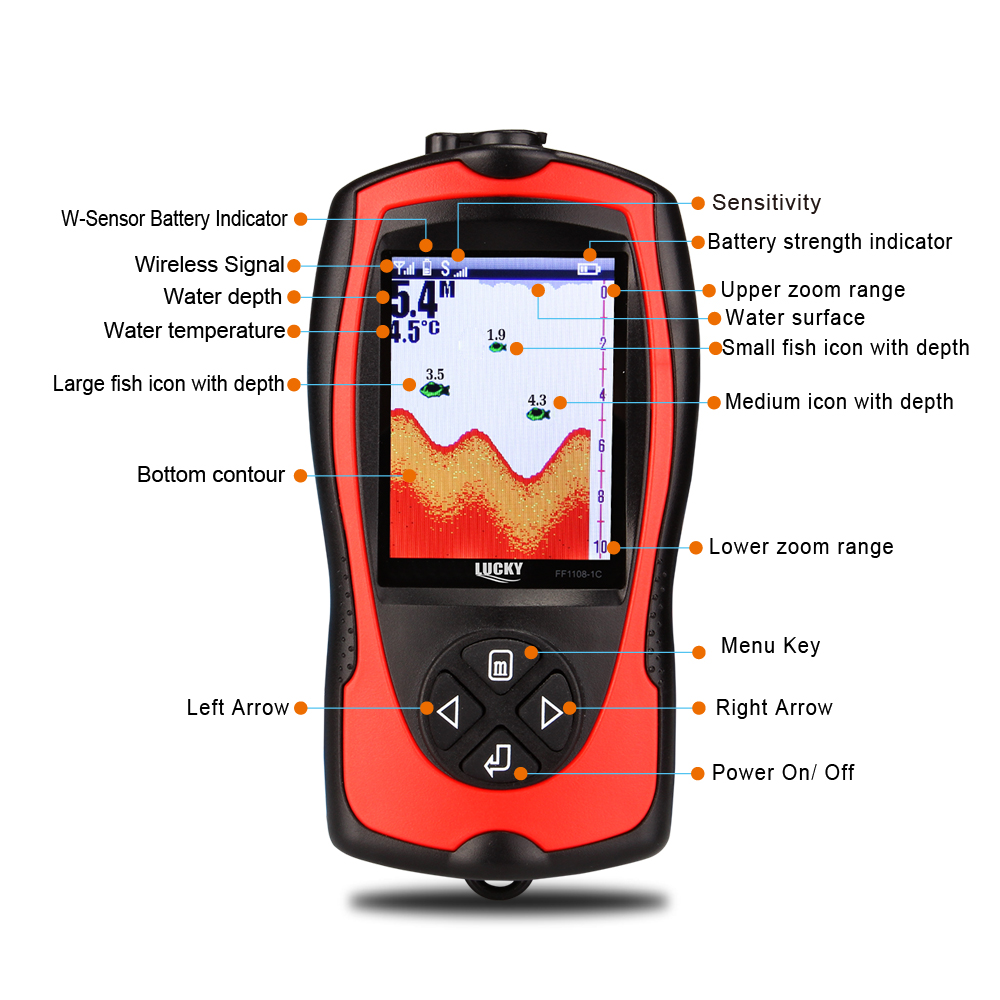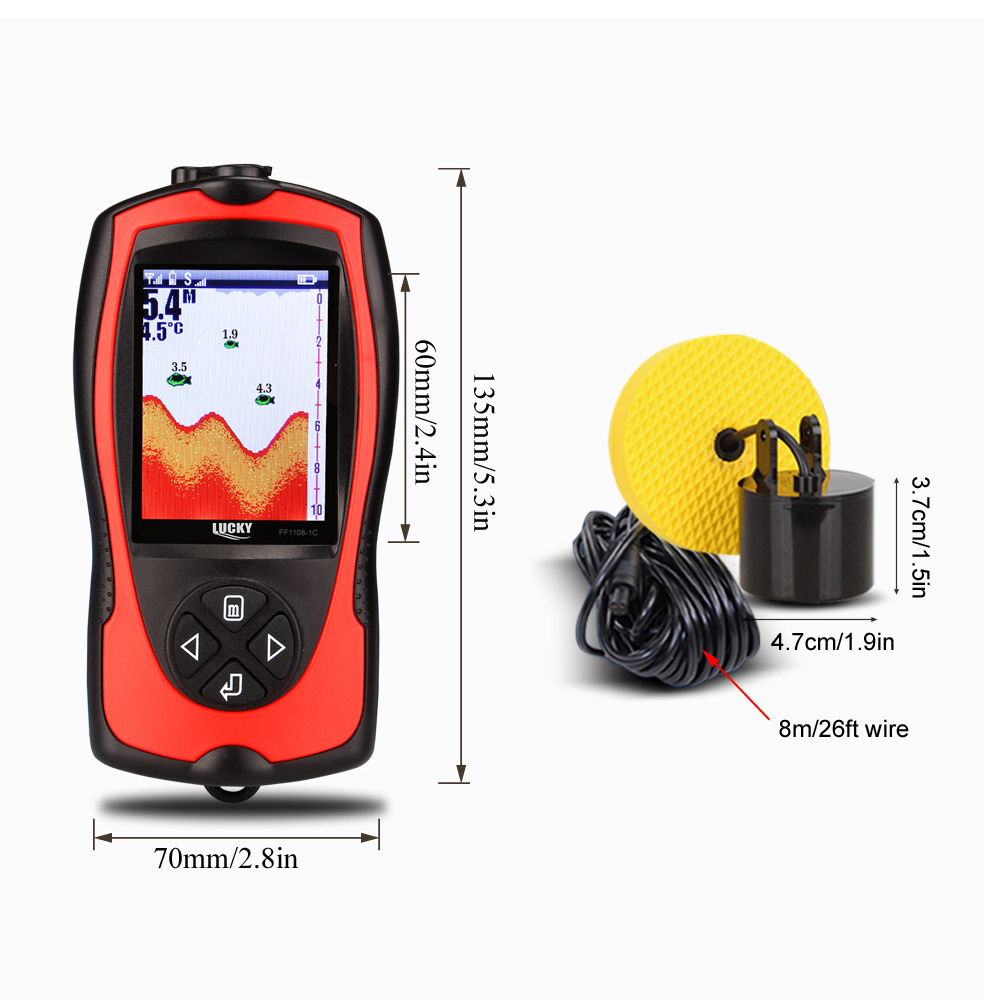 Package List:
1 * Handheld Wireless Receiving Host
1 * Transducer with 26ft / 8M Wire
1 * USB Charging Cable
1 * USB AC Adapter Charger
1 * Vehicle Charger
1 * Neck Strap
1 * Manual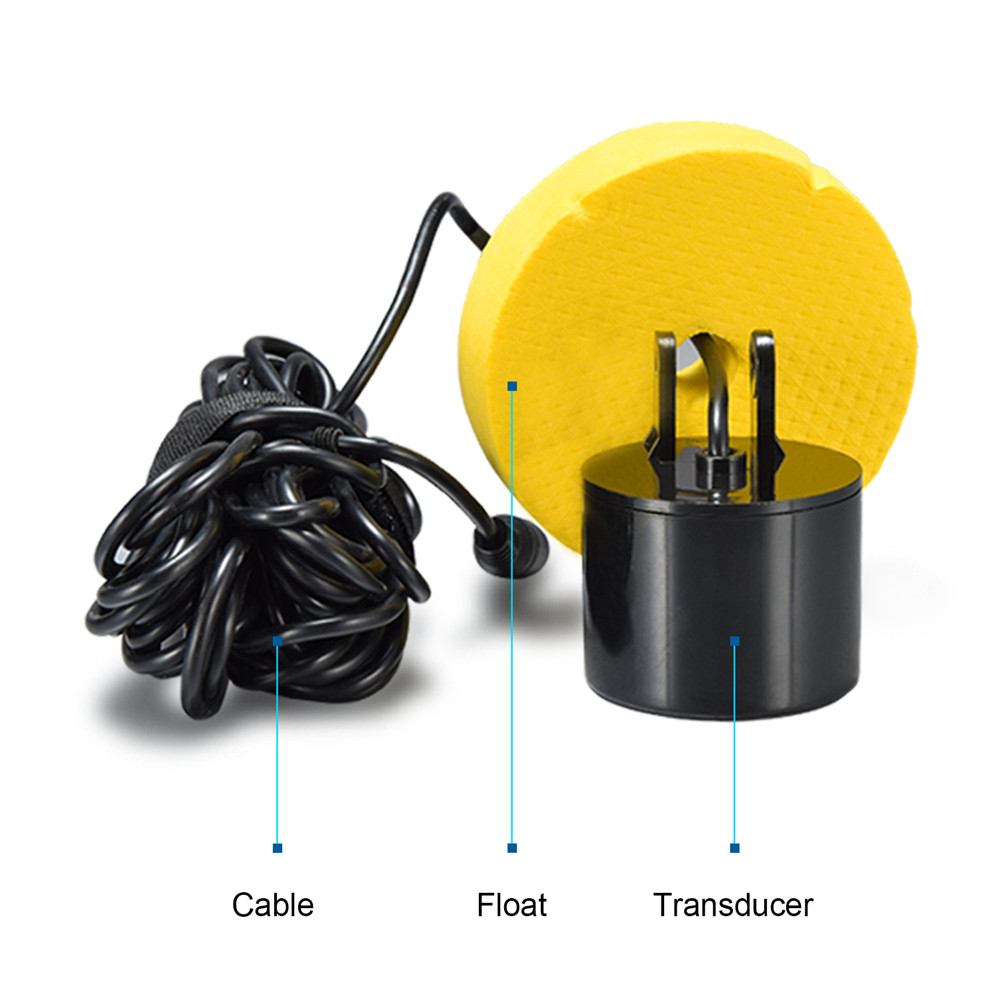 Note: The sonar transducer is waterproof, but the handheld fish finder is not. Please avoid the fish finder touching the water.