SolaLuma Solar Torch Light – A Military-Standard Illuminating Device That Can Light Up to An Area of 300 Meters! 100% Solar Chargeable, Long-lasting Torch Light with Emergency Features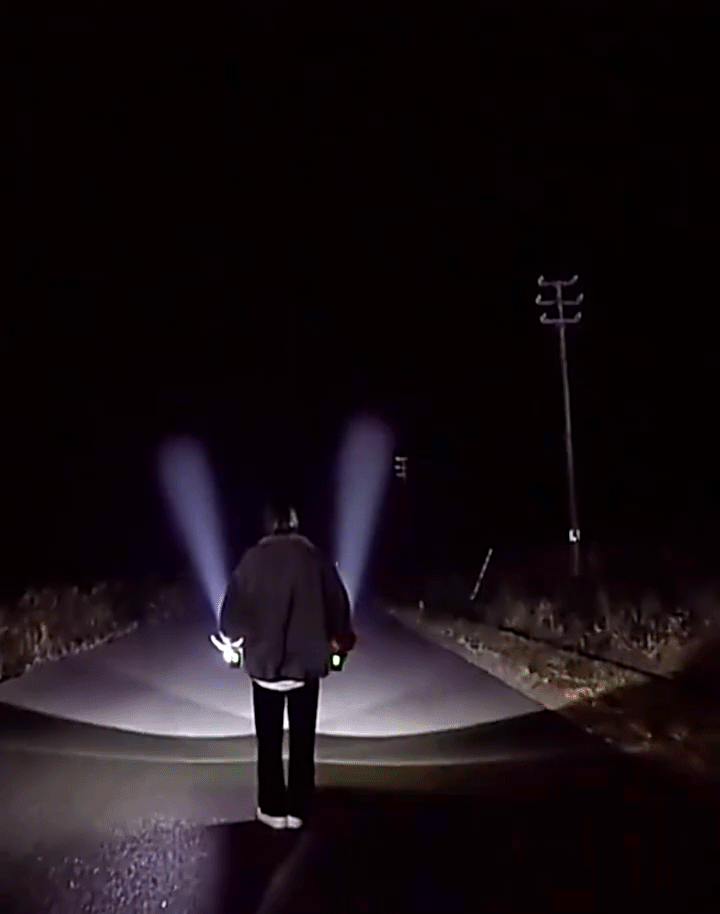 Leave No Area Unlit, Especially When You're Outdoors. The SolaLuma is A Reliable Torch Lamp That's Long-lasting, Chargeable Anywhere, and Emergency-Ready Torch Light That Will Amp Up Your Safety and Visibility in the Dark Outdoors. 
When you're outdoors in the night, having a rechargeable torch lamp that blasts a light that makes everything visible within your sight can make you feel safer and more secured.
If you're constantly outdoors, or if your job requires you to go out and take long walks roving dark areas, you need the SolaLuma!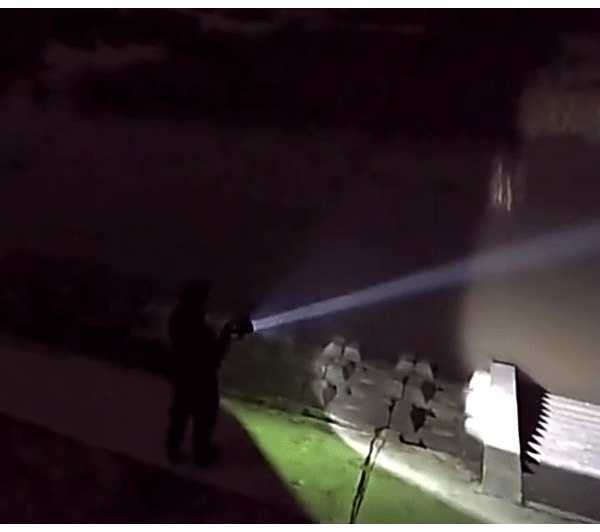 SolaLuma Torch Light Features
✅ Ultra Bright Torch Lamp with Multiple Light Lens to Illuminate A Larger Area. The illuminating capacity of the SolaLuma is military-standard. The ultra high-beam torch light can light up a circumference of 4 meters, and a range of 500 meters.
✅ Emergency-ready side light – when the torch runs out of power, there will still be light available! This handheld spotlight torch also features an additional bright side flood light, making it ideal for use as an emergency home illumination, work light, or camping lantern.
✅ Includes an extra red and blue light for warning and SOS signs. When emergency and threats come up, you can utlizie the red and blue light, and the strobe light mode – all can serve as efficient SOS and warning signs.
✅ Multipurpose torch light with a wide-range of application. This zoomable flashlight is ideal for camping, horseback riding, night running, fishing, mountaineering, hunting, and other outdoor sports. The solar rechargeable searchlight is also trustworthy to use at home if the power ever goes out! You can also use it while walking or running at night.
✅ Stable & Fast Charging. Use the sun to charge it fast. The device features a Smart USB charging style which is stable, fast and it's compatible with a variety of charging ways, including auto, outlet and mobile power. This all makes the high power searchlight torch the most versatile companion to have in darkness!
✅ Integrated Leak-Proof Function – IP44 flashlight has a built-in leak-proof feature that can splash water from any angle. You can still enjoy normal lighting in heavy rain, no worry of wind, rain, or severe weather, and suited for outdoor areas (hiking ,emergencies & camping) and inclement weather.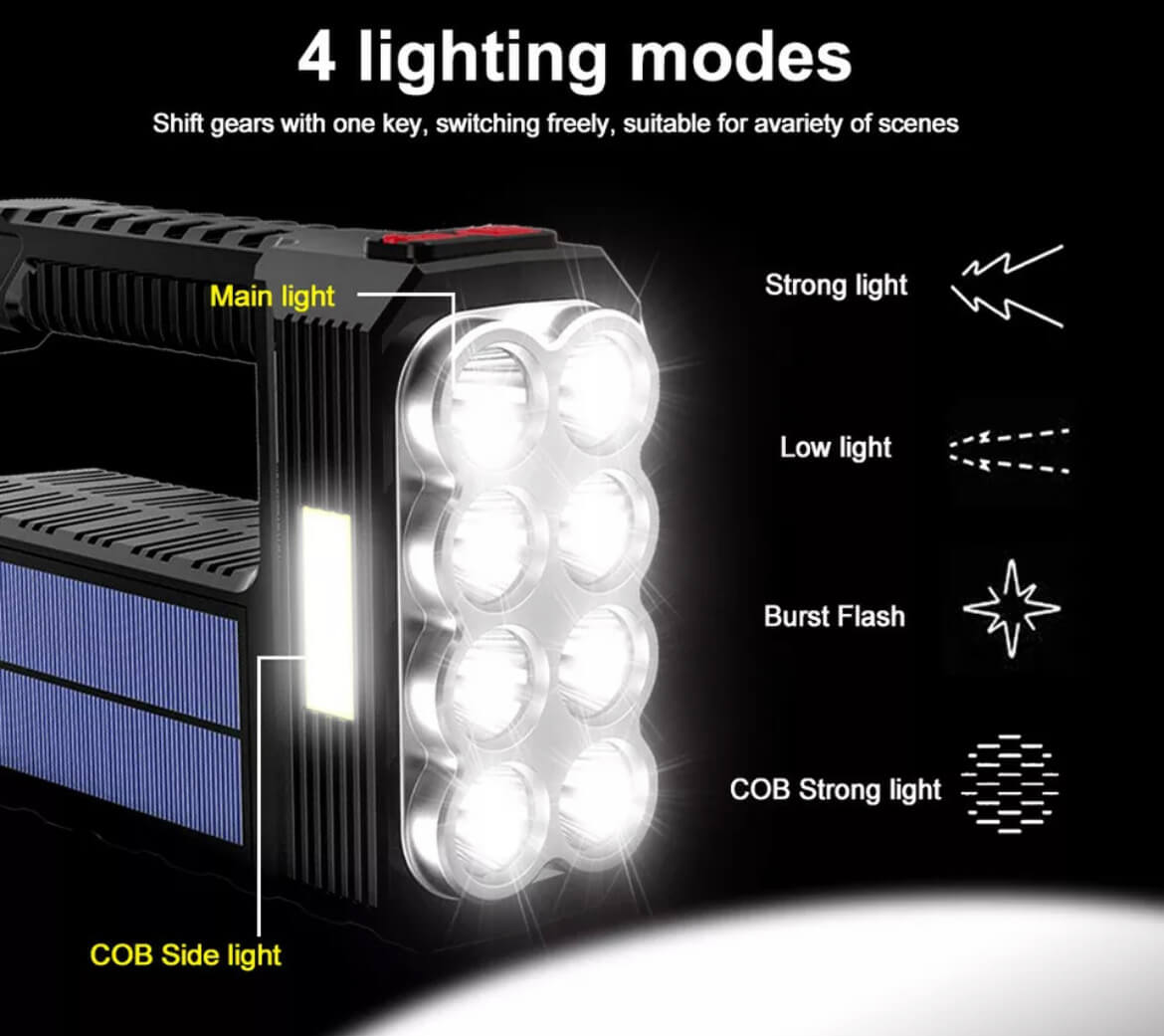 Why Choose Sola Luma Rechargeable Torch Light?
🌟 Multiple lens that enables wide-range, ultra high-beam illumnination.
🌟 Versatile, multifunctional rechargeable torch lamp.
🌟 Durable, and waterproof.
🌟 Super fast charging.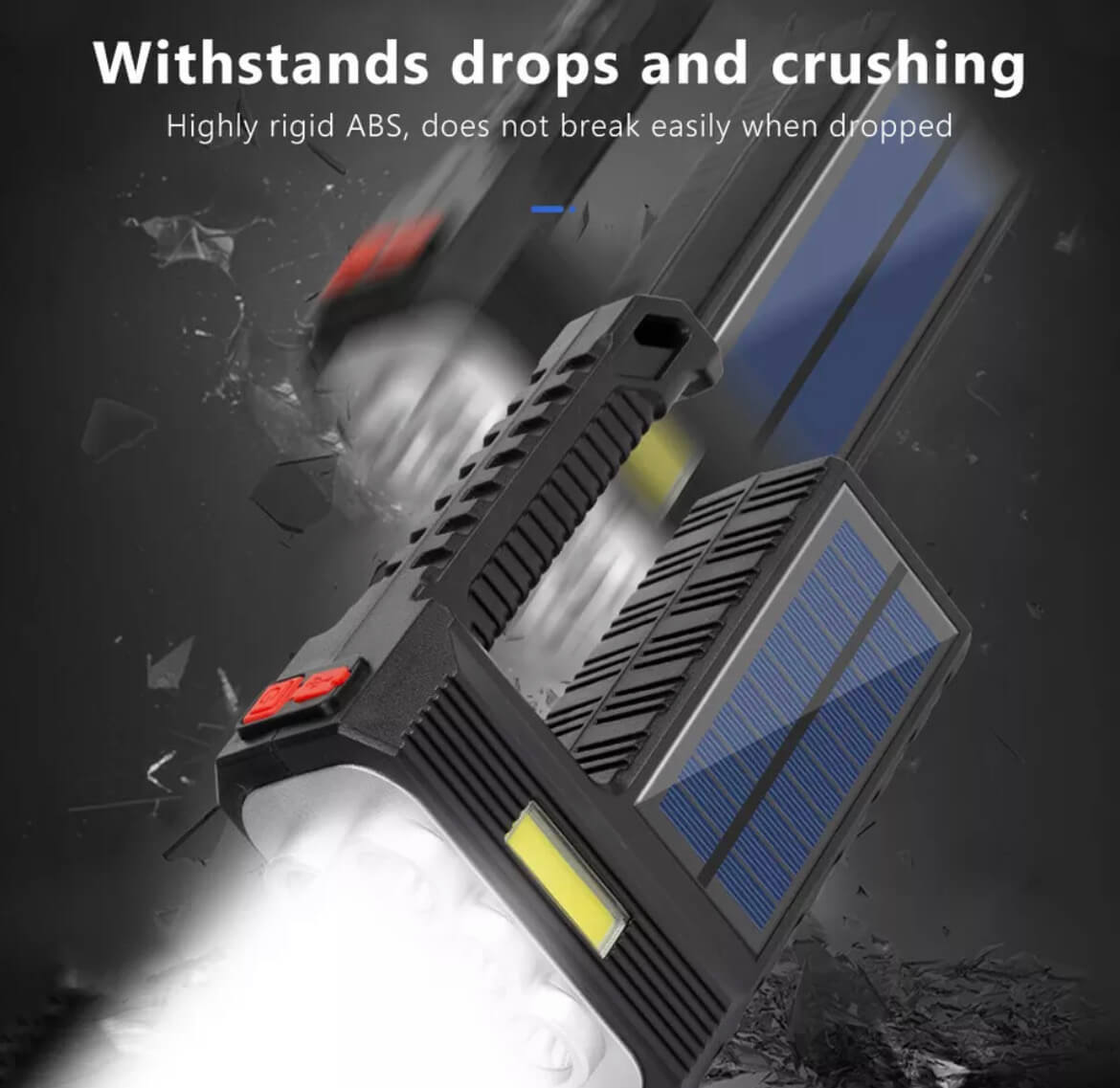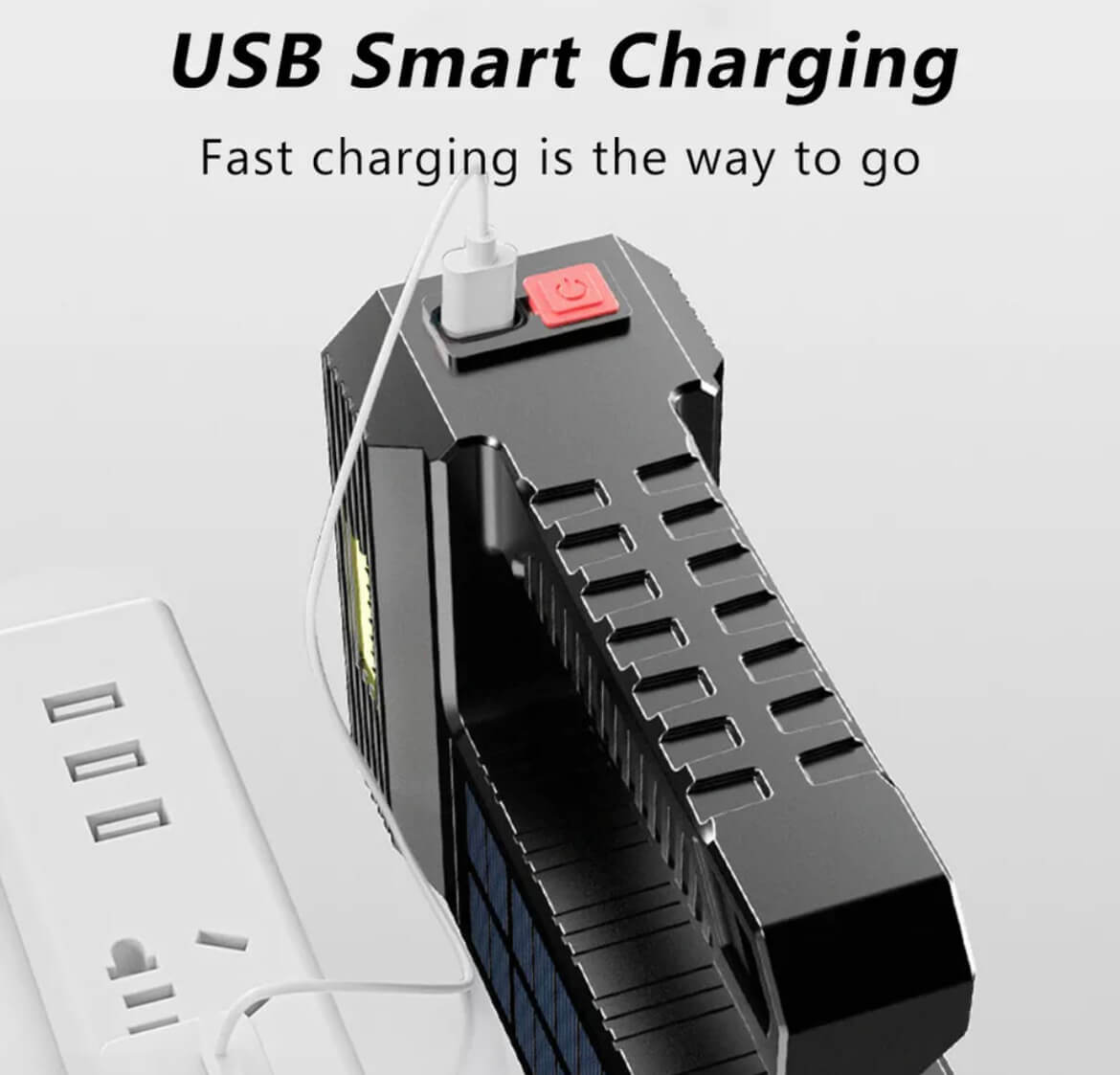 Specifications:
Type: Solar LED flashlight
Colour: Black
Power: 5W
Charging method: USB charging + solar charging
Use battery: built-in lithium battery
Battery capacity: 1200 mA
Charging time: 3-5h
Battery life time: 6-15h
Lighting mode: 4 levels adjustable (main light: strong light/low light/burst flash; side light: strong light)
Maximum range: 200-500 meters
Waterproof rating: IP44
Product size: 16.3×5.9 x11.3cm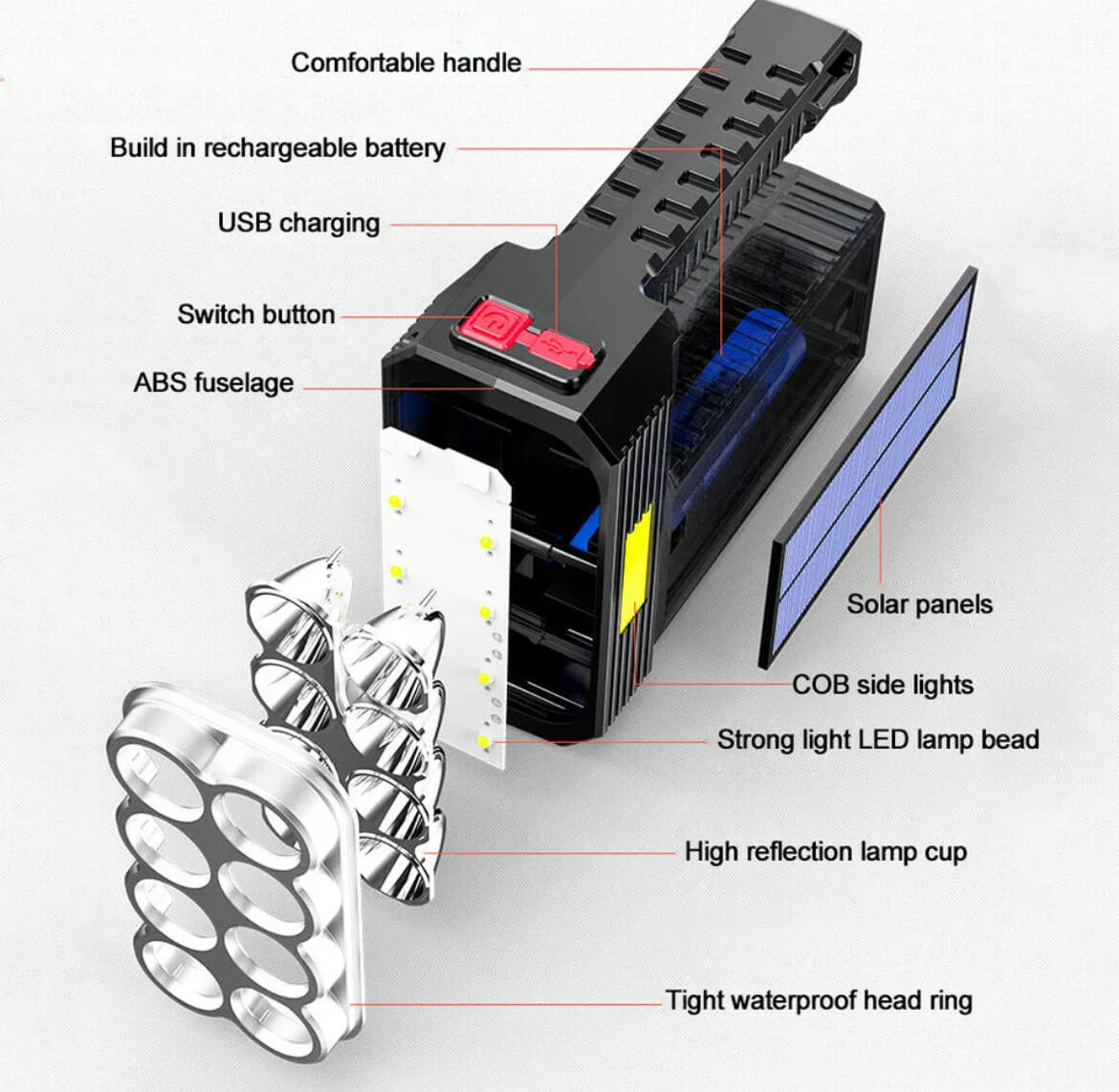 Package Includes:
1x Solar Searchlight High Power LED Torch
1x USB Charging Cable