Are you someone who looks forward to having a good weekend by going hiking or the beach to appreciate nature, simple life, and fresh air? Then, your most anticipated adventure will be extra better if you have a comfy and snuggly camping sleeping bag like SnoozePad.
SnoozePad is a sleeping bag designed for everyone who wants to enjoy and have a rewarding camping experience. Its made of durable, high-quality, waterproof materials that you can trust. Ideal for any weather, may it be a cold sea breeze or a chilly mountain air. It also comes with its compression bag, making it easy to carry and simple to store anywhere.
Have A Sweet Night With The Ultralight Hiking Sleeping Bag!
SnoozePad is a sleeping camping bag for ALL seasons. These bags ensure that after a tiring day of trekking, hiking, travel, or any other exploration, you can get a good and relaxing night's sleep. Each SnoozePad comes with a compression sack with straps, allowing for super convenient storage and easy carry maneuverability.
These sleeping bags are for travelers who want a portable and comfortable sleeping bag for outdoor camping or beach activities. It is made of high-quality anti-tear polyester with a filling of cotton fabric and is of a medium size, which provides users a comfortable laying experience. It is easy to compress, roll, and clean. If you are about to take a camping trip, it will be your perfect camping companion.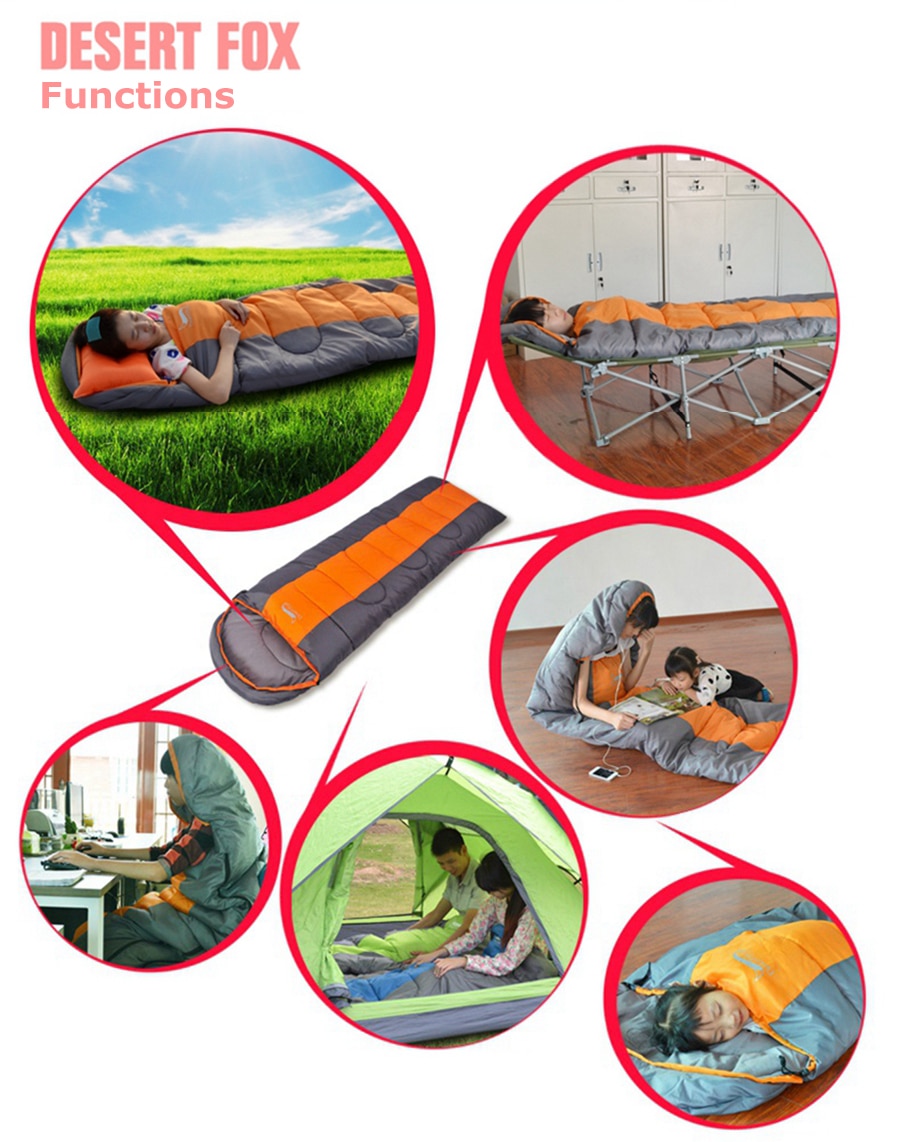 Specifications
Size: standard 220*75CM, widen 220*85CM
Material: 210T anti-tear polyester fabric
Filling: 100% cotton
Color: Orange, Blue, Green
Weight 1.0kg
Benefits
Durable and water-resistant:

 Made of 210t tear-proof polyester and a waterproof shell. It can always keep the warmth inside of a sleeping bag. The inner fabric made of soft and skin-friendly polyester is also suitable for babies.

Cozy temperature:

Our sleeping bag is for all seasons, whether in hot summer or cold winter. You can always tighten the rope when you're feeling cold to enhanced warmth. You can also pull off the foot area zippers when feeling hot; it can improve air permeability and adjust to what you like. The summer type comfort temperature is over 25℃, spring & autumn type comfort temperature about 10℃~20℃, and winter-type comfort temperature about 0~5℃~10℃.

Easy to carry, portable:

this sleeping bag has its compression bag, which has two tight adjusting strips. Press bag and fixed by the two strips. The volume will reduce two times than before. After compression, the sleeping bag can put in a backpack or hang on a backpack suspension system.

Muti-functional on various occasions:

it is ultra-light, easy to carry, and easy for storage. It is suitable for all outdoor activities, such as camping, hiking, backpacking, cycling, and even survival. 

100% fiber 350GSM aligned with top-notch shell provides extra warm comfort during outdoor activities without adding excess weight to already sore shoulders (only a little over 4lbs). Easy Fold-able design and a compression sack with straps make it highly convenient to carry, store, and reuse—a perfect travel mate for camping, hiking, backpacking, and other outdoor activities.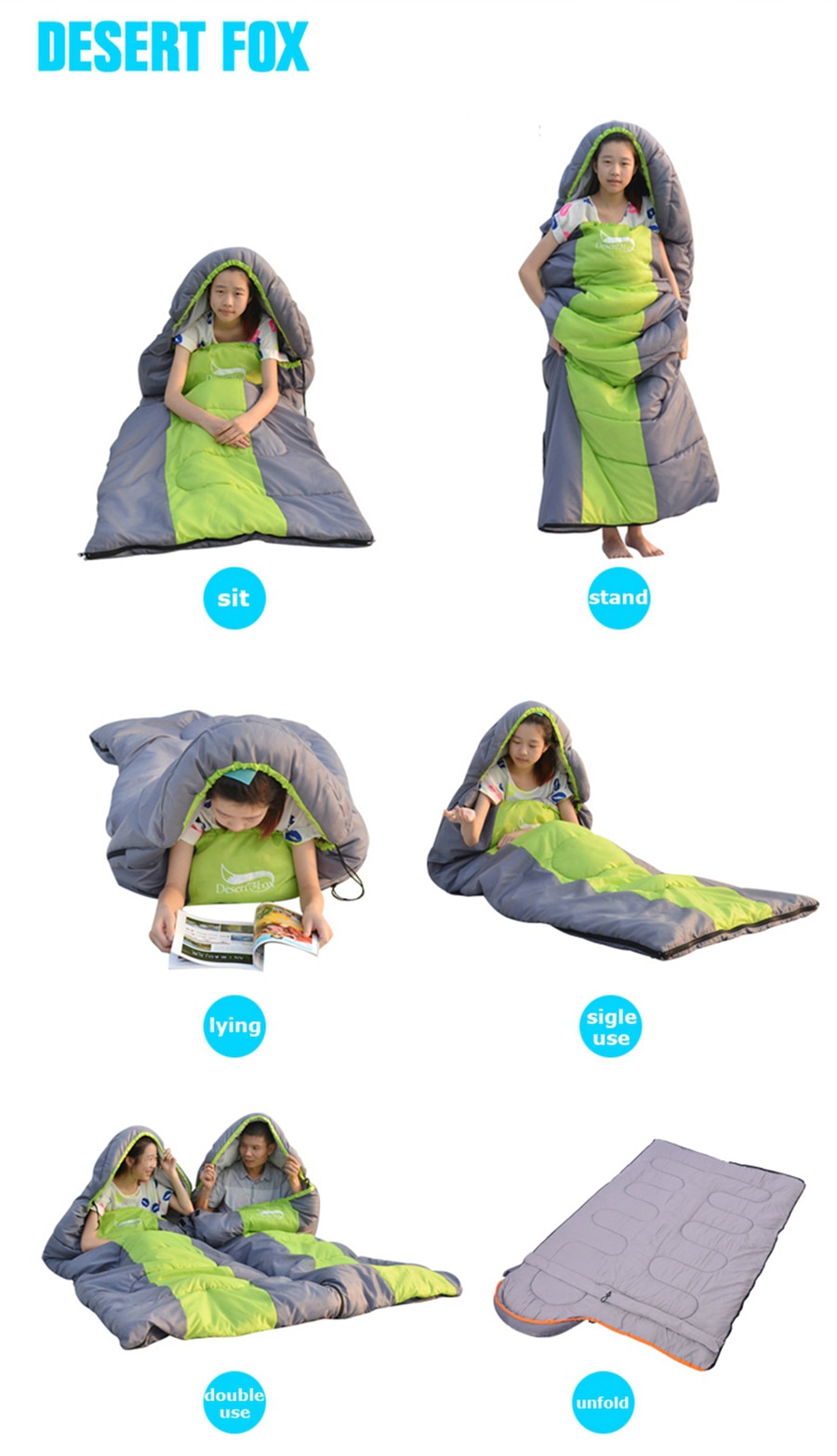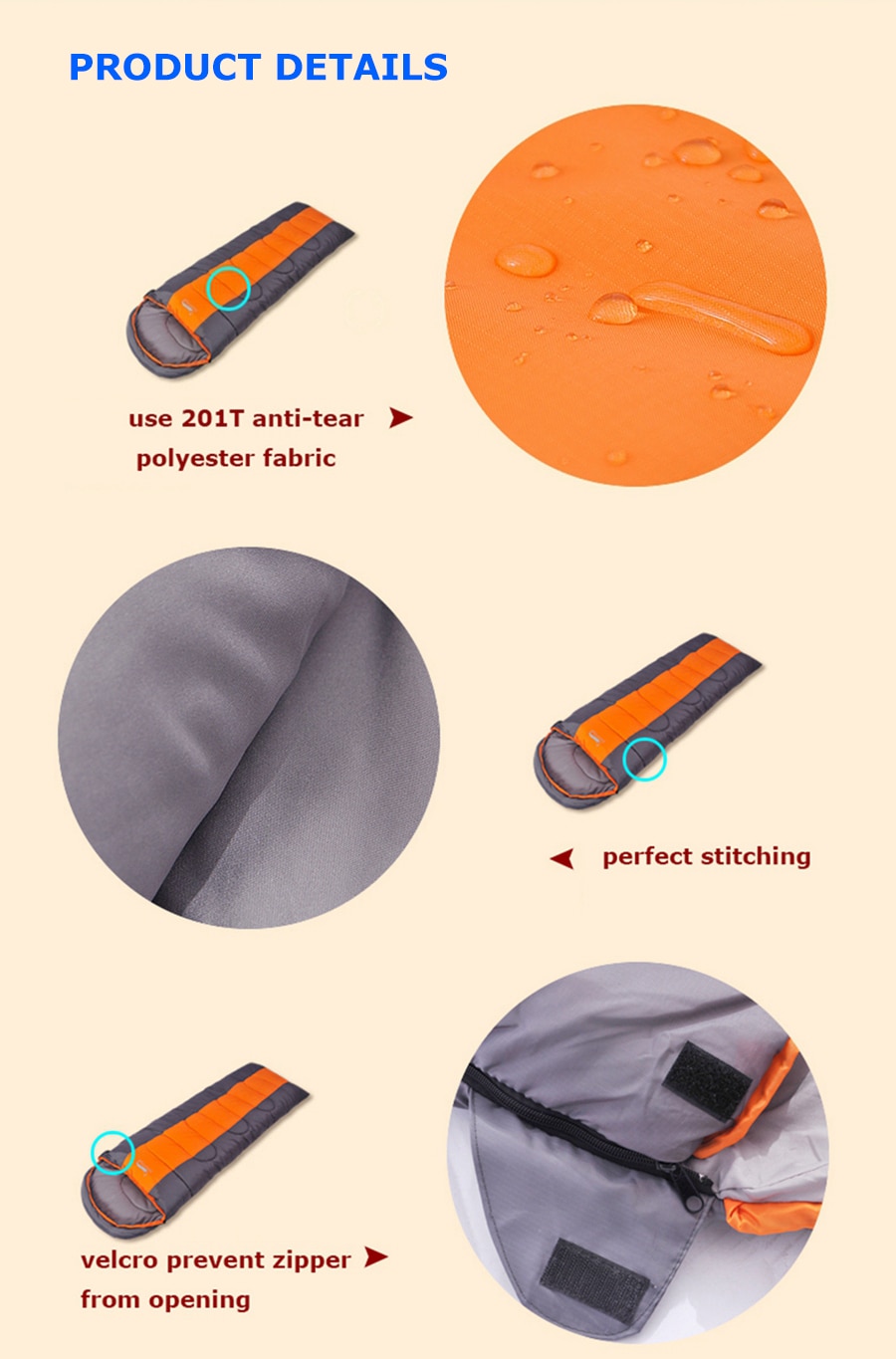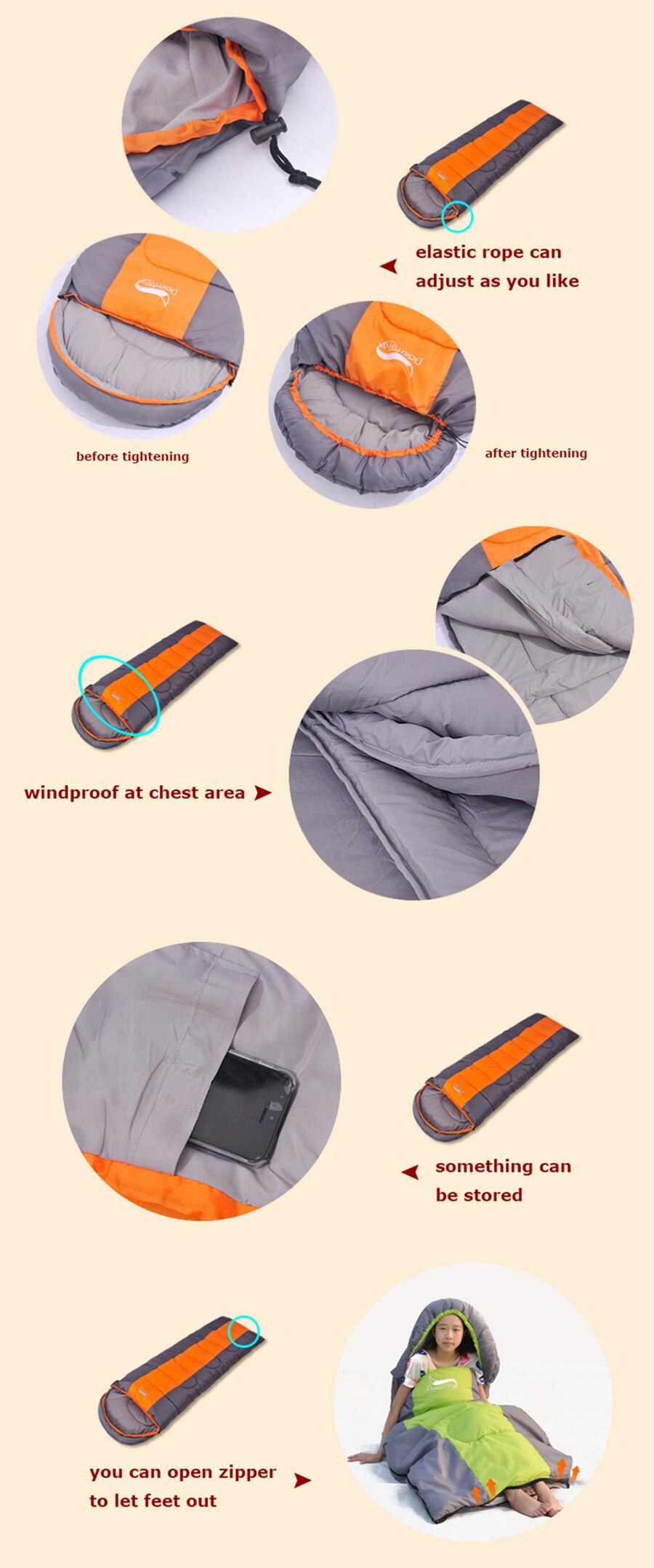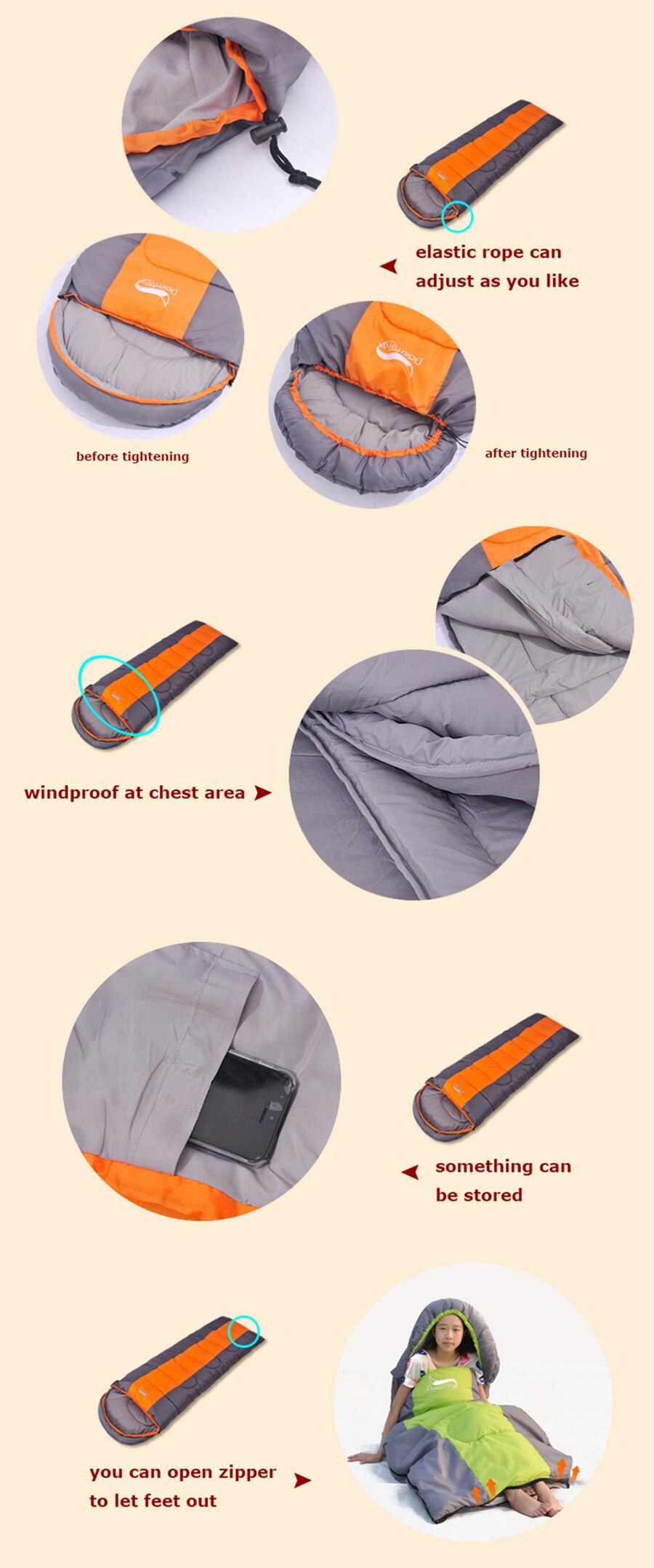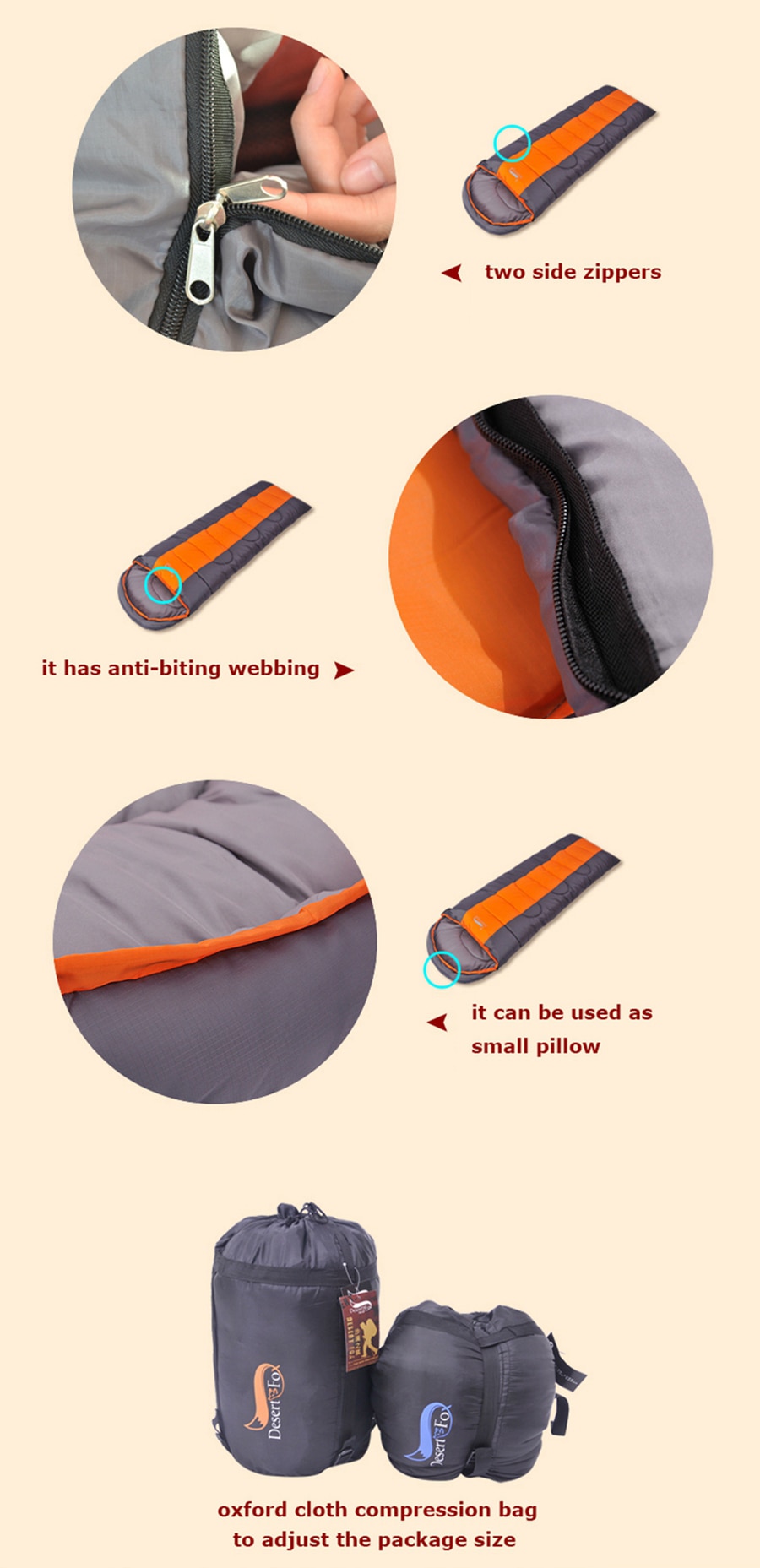 Made to ensure you get a good and relaxing night's sleep after a tiring day of trekking, hiking, travel, or any other exploration. It is not only good for warm weather but also suitable for freezing weather.
Size: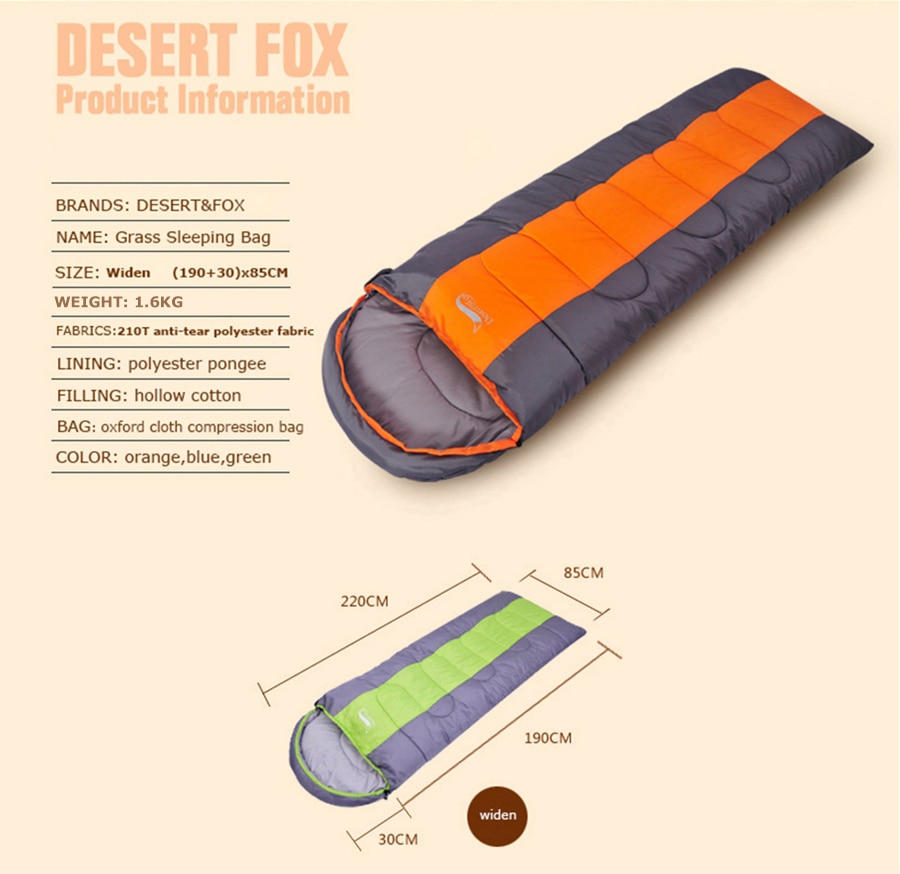 Package Includes