Win Your Pickleball Games with this Topnotch Pickleball Paddle
Are you all about winning and conquering your pickleball games? The secret lies in the quality of your pickleball paddle. The SmashSmix pickleball paddle was created absolutely for this purpose. With quality design, and topnotch materials, the SmashSmix can help you paddle better, aim sharper, and put force to your swings like never before!
TheSmashSmix Difference
What makes SmashSmix a league of its own? The answer lies in its overall design and materials. The paddle is USAPA approved – even professionals trust us. Beginners and hot-league players can count on the paddle's ability to really deliver when it comes to fast-paced, action-packed tournaments.

About this item
USAPA Approved and Professional Paddle – Great for Play and for Competitions: You are guaranteed that you're getting the paddle trusted by professionals. The SmashSmix has passed the USAP test and is qualified for sanctioned tournament play. We are confident to announce that our pickleball paddle is the best choice in the top online markets. For two decades, we have helped hobbyists and professional players win games and conquer their opponents. Our pickleball paddle can withstand any challenges on the court; This will be the first and best pickleball paddle for beginners
Made from the best materials to give you the best paddle. The SmashSmix is made from graphite carbon fiber face and honeycomb composite polymer core which provide nice bounce, reduce ball deflection, and enhance the strength of your strike. Long-lasting racquet is vastly superior in texture, balance, and construction, great for beginner and athlete to use.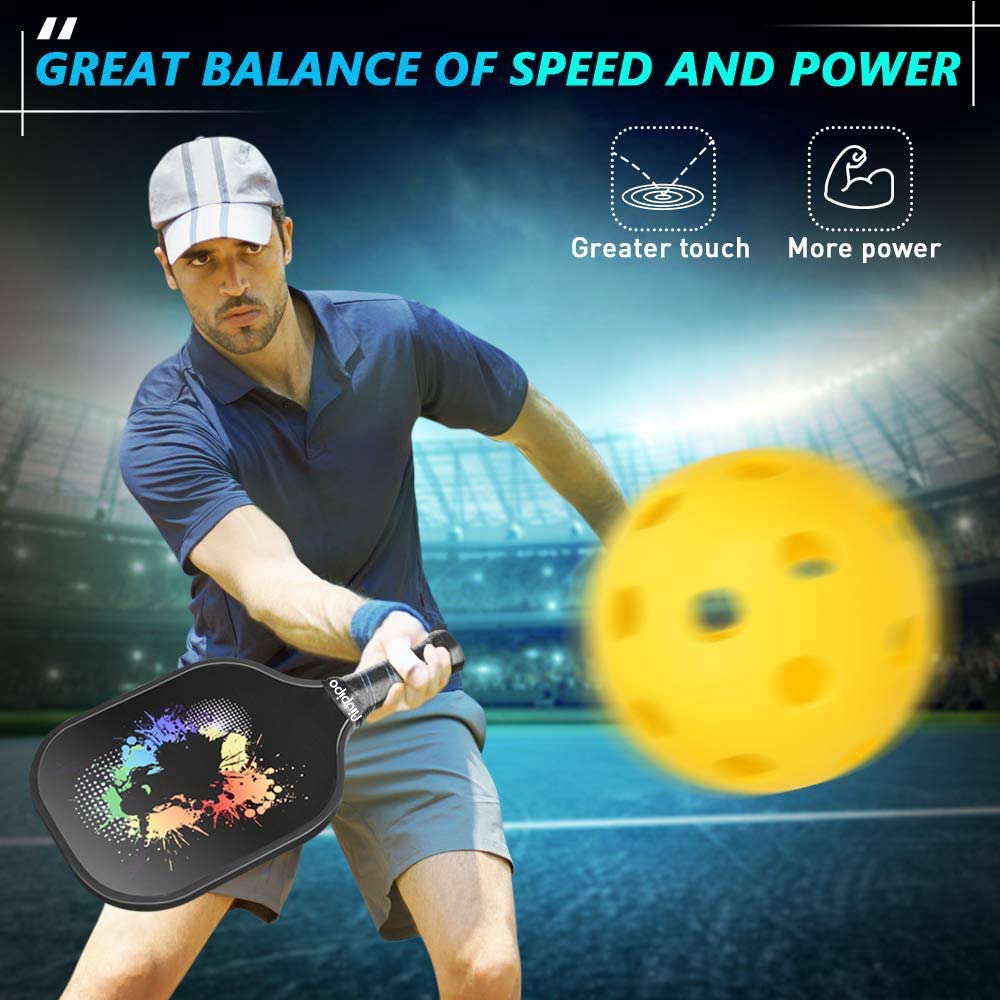 Premium Grip and Perfect Handle Size: The USAPA pro pickleball racquet is comfortable to handle and works well while playing; Pickleball racquet is perforated, sweat-absorbent, and cushioned, providing a better paddle grip for longtime play without fatigue; Wide-body pickleball racquet shape with 4.5-inch grip length and 4.25-inch grip circumference; Paddle dimensions: 15.5 inches (L) x 7.9 inches (W) x 0.5 inches (H), lightweight pickleball racquet 8 ounces
The Edge Guard for Protection: Edge protection is provided for ground hits; Low-profile edge guard protects the edges of pickleball paddle, yet slim enough to reduce mishits; This pickleball paddle also features a corner-shield and interlocking neck-guard, greatly enhancing strength and durability; The pickleball paddle is noticeably lighter than any wooden paddle; The USAPA pro graphite pickleball paddle strikes the perfect balance between great gameplay, control, and power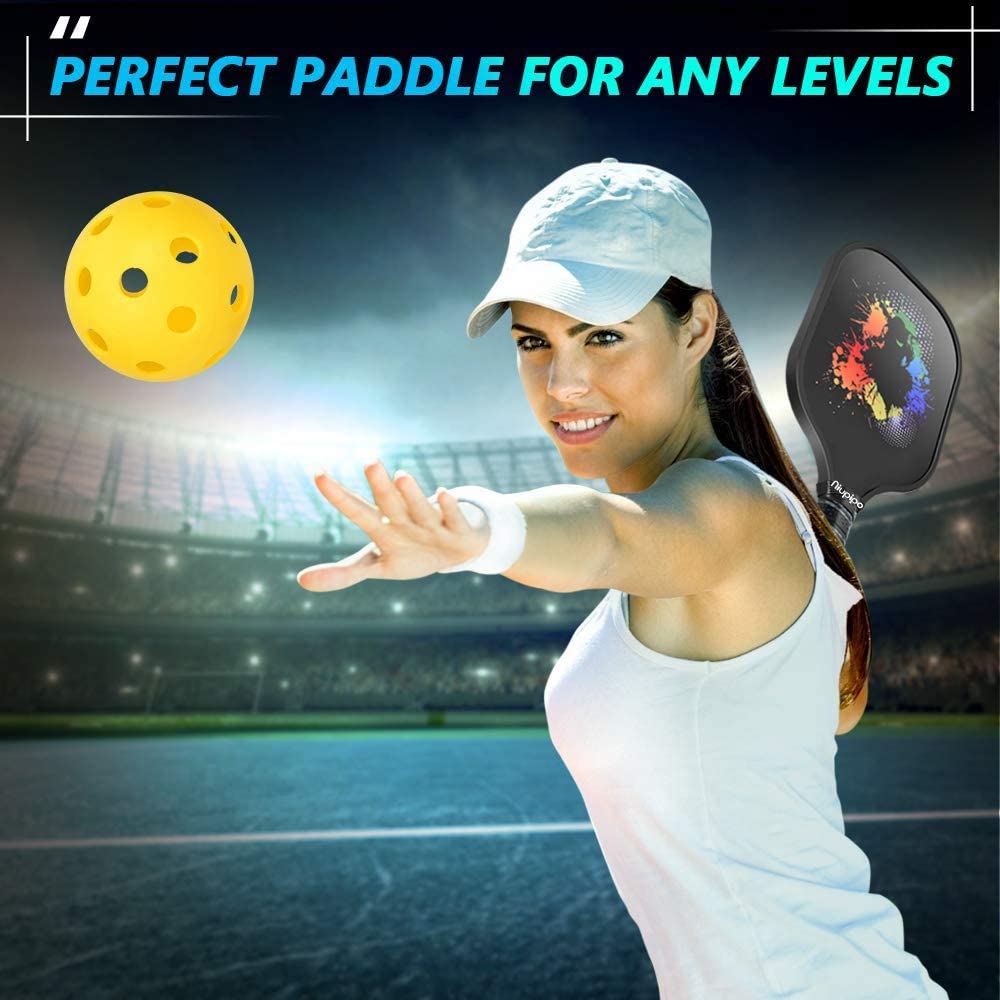 Comes with a Protective Cover: Protect the pickleball paddle with the zippered neoprene cover when toting around and when not in play; Every USAPA pro graphite pickleball paddle is designed to be an awesome pickleball paddle for either a beginner or a professional player; All models of our pickleball paddles have passed the strict USAPA test.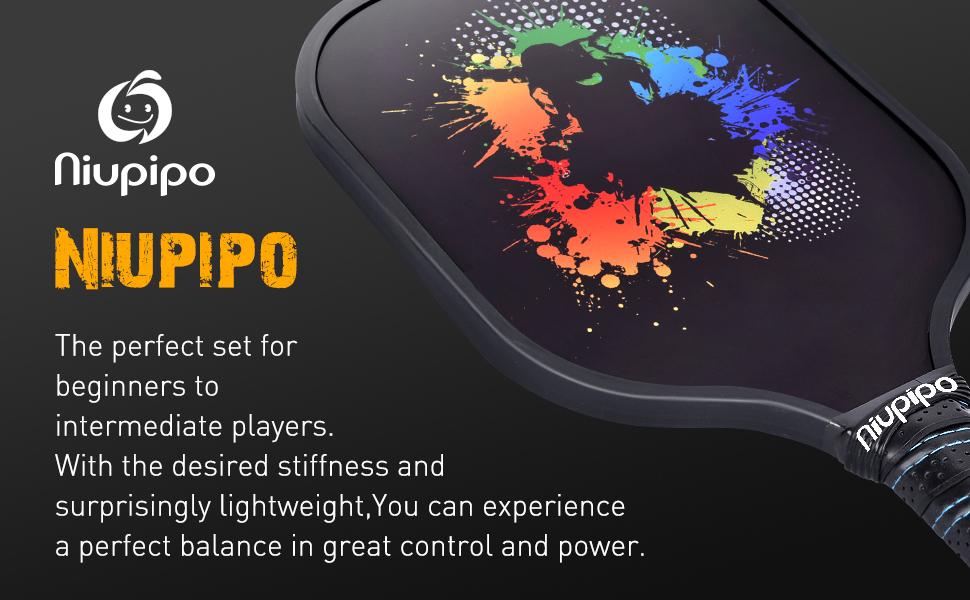 The Niupipo pickleball paddle has been chosen by hundreds of players worldwide. Our cutting-edge manufacturing techniques are the most advanced in the pickleball equipment market. All our products have passed the USAPA. Niupipo is one of the most popular pickleball paddle manufacturers in the market for over two decades.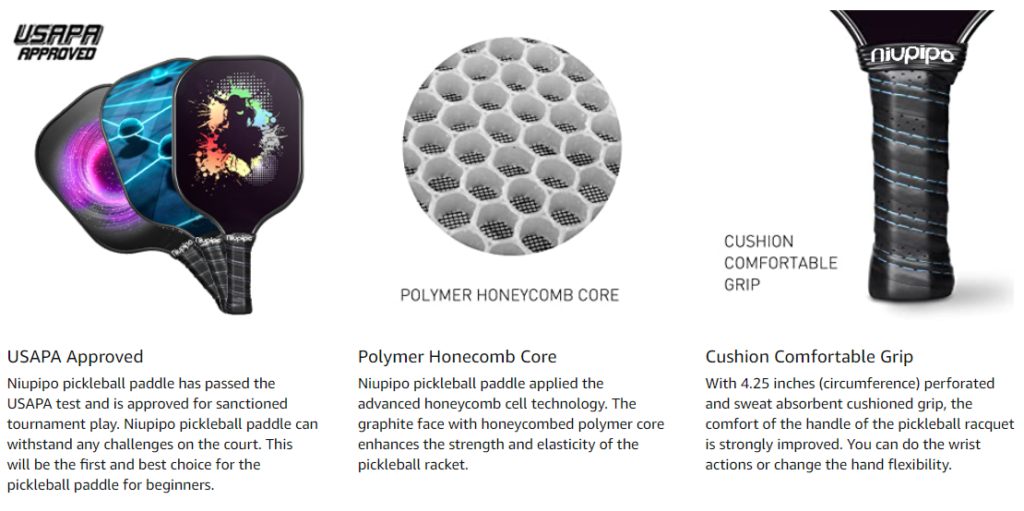 Package  Include:
1× Niupipo Pickleball Paddle
1× Neoprene Paddle Cover