Be One With the Wild With This Ultra Realistic 3D Breathable Ghillie Suit with Multipurpose Design – Great for Blending in with The Trees, for Woodland and Jungle Excursions, Military Games, and Wildlife Photography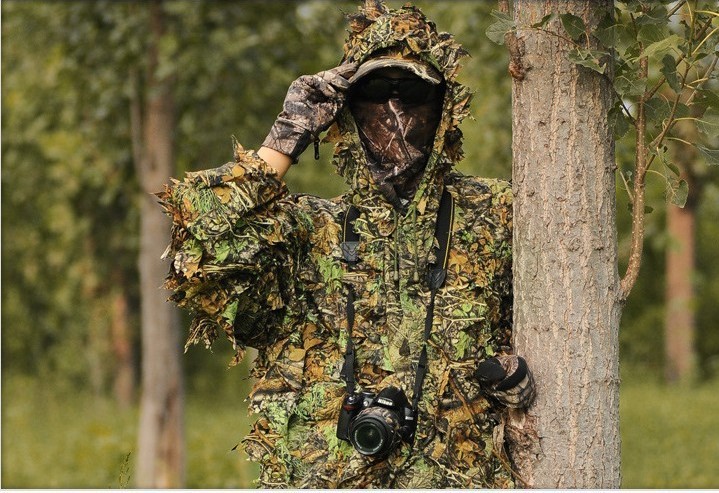 Camouflage in Style with This Realistic Ghillie Suit – Easily Blend with the Ground and the Trees!
There are multiple reasons why wearing a camouflaged suit is advisable. First, it increases your safety. Second, it allows you to conceal yourself. Third, it enables you to be in the wild without risking your safety too much.
Because wearing a camouflage outdoors is crucial whether you're hunting, playing games, or capturing the wildlife, you need to find a high quality ghillie suit that's amazing in covering you up without making you feel hot, itchy, and just plain uncomfortable.
The RomboMixx ghillie suit is made with the finest details of leaves and greens to help you blend in smoothly with your outdoor surroundings!
Why Choose
Why choose RomboMixx?
This suit is very realistic in all its 3D design. There are enough artificial leaves on the surface to provide a good camouflage in trees or dark environments.
Versatile and multipurpose, you can use the RomboMixx for hunting, shooting, wild bird, wildlife photography, and action games.
Bye bye discomfort. The suit is made of breathable and comfortable materials, and feels super light and soft to wear.
The color of camouflage clothes is based on a mixture of different shades of color. The leaf pattern is a mixture of tan undertones and some light olive lines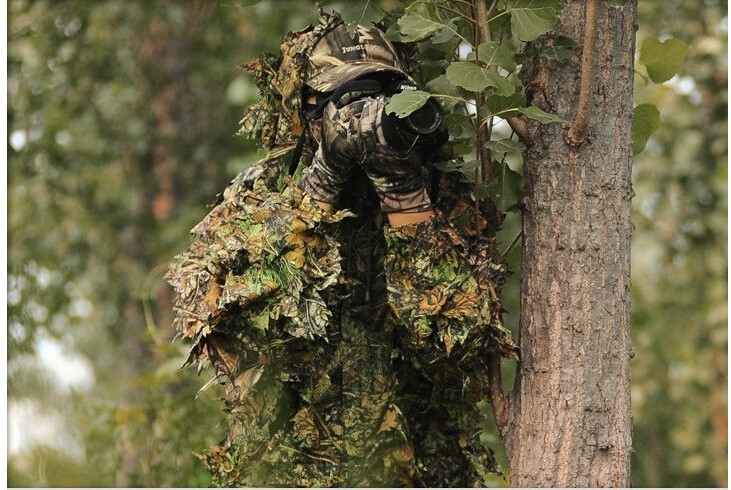 RomboMixx Ghillie Suit Features
✅ The most comfortable, breathable ghillie suit that won't make you feel discomfort while you're wearing it. In total, the suit only weighs less than 400 grams. It's lightweight that you won't have to worry about feeling restricted while you're exploring the wild. The suit also comes with breathable polyester material and lightweight mesh fabric so you won't feel hot and sticky while wearing this outdoors.
✅ Practical easy to wear design to help you easily put the suit on, and off. The easy-to-wear design enables you to wear the suit with just one zip. The placement of the zipper prevents leaves from getting caught up and entangled to it.
✅ Comes with a realistic 3D design to help you blend easily. The design of the RomboMixx is patterned from nature. Color combinations copy that of leaves and the ground. Whether you're standing near trees, or lying on the ground, you will be completely covered!
✅ Includes a hood to ensure you're camouflaged from head to toe. The RomboMixx includes an adjustable hood secured with an elastic string – even your entire face will be covered.
✅ Comes with elastic and adjustable feet and arm bands, waist, and hood. One ghillie suit can fit multiple sizes. Everything is stretchable from the arm bands, leg bands, waist elastics, and hood. You can easily adjust the size based on your comfort.
Note:
Please allow 1-3cm differences due to manual measurement.
Due to the light and screen difference, the item's color may be slightly different from the pictures.
Specification:
Material: Polyester
Color: Camouflage
Size: Free Size
Features: breathable, wear-resistant, camouflage, elastic
Applicable gender: unisex
Package Includes: 1 Set Of Camouflage Uniforms (Including Camouflage Jacket And Camouflage Pants)