Worry-Free, Size-Adjustable Inflatable Pool For Your Family's Summer Fun at Home!
Are you tired of your old, fragile inflatable pool that can't seem to fit your entire family for some summertime cool down? If so, then it's time to switch to POOLIGENIX.
Our inflatable swimming pool comes in a LARGE SIZE so that you can set up the PERFECT pool that fits EVERYONE'S needs. With our 3 TIER AIR CHAMBERS with individual valves, you can set your preferred wall height for your comfort and your kid's safety.
Enjoy the cool water with family and friends without going out to the outdoor pool or the beach. With POOLIGENIX Inflatable Pool, your summertime fun is guaranteed!
Why Choose POOLGENIX?
🌊[Best Size, More Fun] Our inflatable pool can accommodate 2 adults and 3-5 children. It's the perfect size for families to create their very own private pool to beat the heat.
🌊[Durable for Long Life] The POOLIGENIX is made of 0.4mm thick, durable PVC, which is Naphthalene and Lead-Free, BPA-free material to guarantee the safety of use. We're 2x thicker than most inflatable pools on the market to reduce the risk of rips and punctures. It's durable and wear-resistant, too, so it can provide you with more fun for a long time.
🌊[3 Individual Air Chambers] We've designed our inflatable pool with 3 air chambers to withstand the extra weight and prevent air and water leakage. Never worry about air leakage, even when the inflatable swimming pool is filled with people. The swimming pool upper is white and could reflect the sun's heat so you won't burn yourself while you are sitting back and resting your arms.
🌊[Inflates In Minutes] For a stress-free and convenient set-up, we've designed the POOLIGENIX with a double intake and free-flow exhaust valve in each chamber to make inflating and deflating easy. You can inflate the pool in just 3-4 minutes with an electric pump (not included), fill it with water, then you and your family can enjoy a splashing pool party in summer. A Built-in 90° vertical drainpipe can facilitate the outflow of water, and two curve water valves double the drainage speed, making it very easy to drain and deflate after use.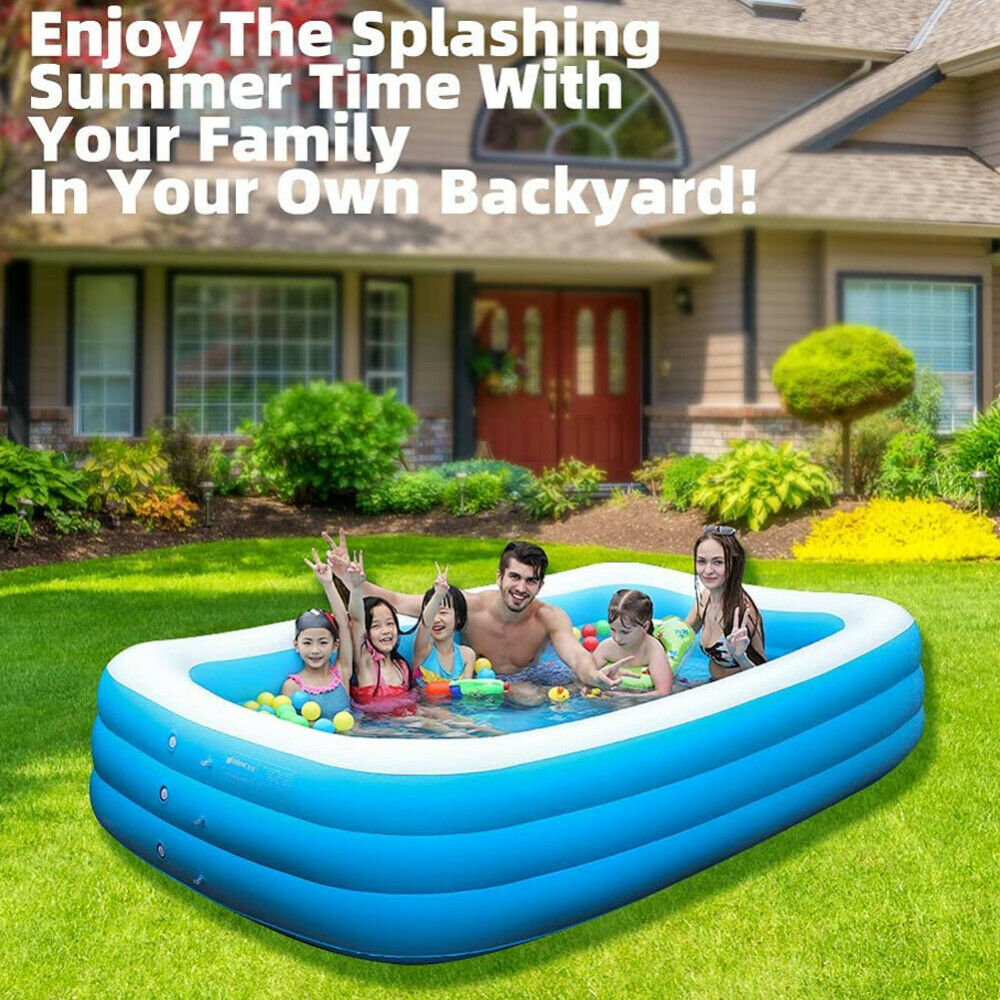 Use of the Pool
✅Open the pool and spread it in a flat and clean place to avoid abrasion of the outer layer of the inflatable pool for adults. Please leave it in the backyard for some time.
✅Inflate each layer of the pools from bottom to top. The saturation of the inflation volume is about 80%. Do not over-inflate or use high-pressure gas.
✅After inflating, close the air nozzle and the air valve to check for leaks. Generally, inflation can be completed within 5 minutes.
✅It is recommended to use the water temperature in the pool: 10 ℃ to 60 ℃ (the temperature of the water is recommended to be around 38 ℃)
✅When draining, as long as the drain plug cover at the bottom of the pool is pulled, the water will be discharged naturally.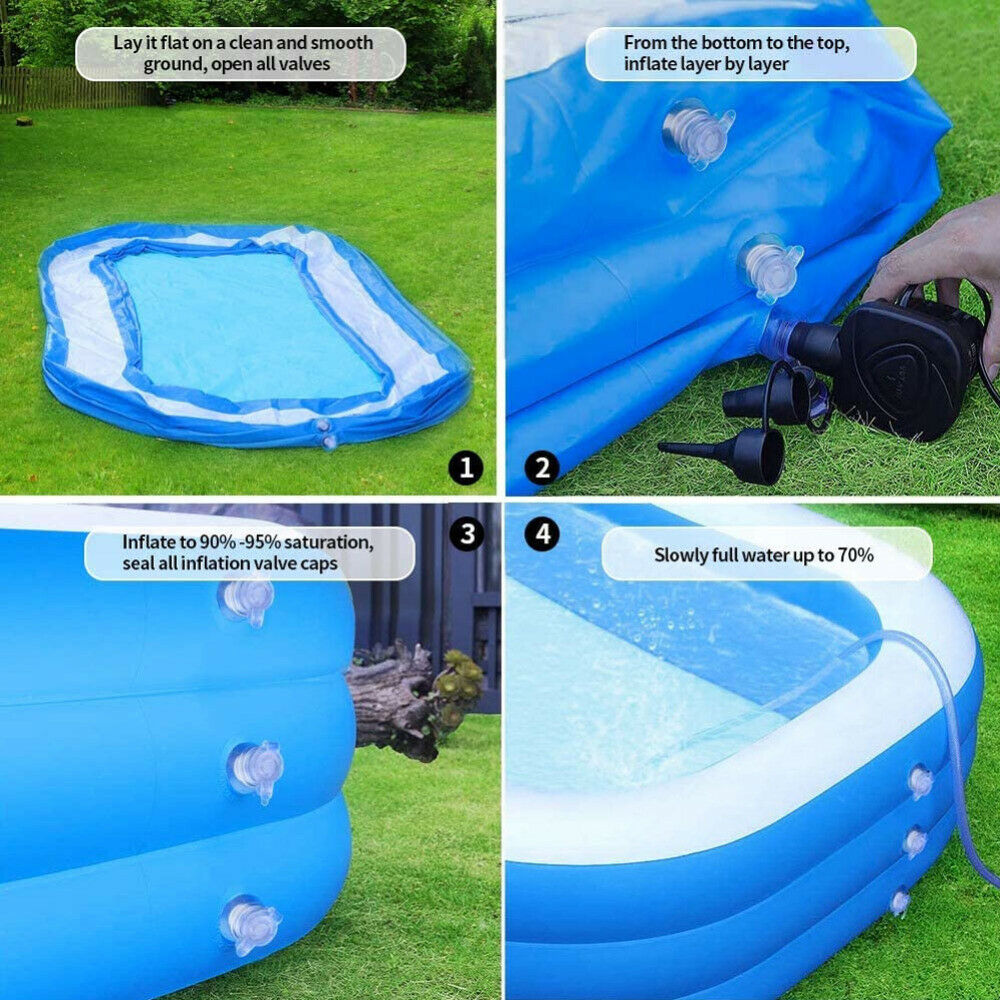 Specification:
Color: Blue & White
Material: PVC (polyvinyl chloride)
Outside Size: 210 x 130x 60CM / 82 x 51 x 23.6 inches (3-5people)
Internal Size: 155 x 85 x 60CM / 61 x 33.4 x 23.6 inches
Packing List:
Inflatable Swimming Pool  * 1
NOTE:
When the pool is used for the first time, there will be some errors between the size and the manufacturer's standard size. Generally, it is within the normal range of around 10cm. Since each person's inflation saturation is different, different measurement methods will produce errors.
Although our inflatable pool is 100% safe for kids, adult supervision is required.
Please keep the inflatable pool away from sun exposure when not in use.
Do not fill the pool more than 2/3 full with water.
Before setting up the pool, you must check for sharp objects before placing them on the ground level to prevent puncture.