Your Next Set of Eyes in the Wild.
Experience a once-in-a-lifetime encounter with animals in the wild with the IcoFiss Wireless Trail Camera. It features a super crystal clear 16MP image resolution and 1080P high-definition video clips that are easy to use in capturing the beauty of the wildlife. With IcoFiss, you'll never miss a single moment—thanks to its built-in 0.6-seconds fast trigger speed and 3-pictures multi-shot that guarantee you get to see your subjects in action.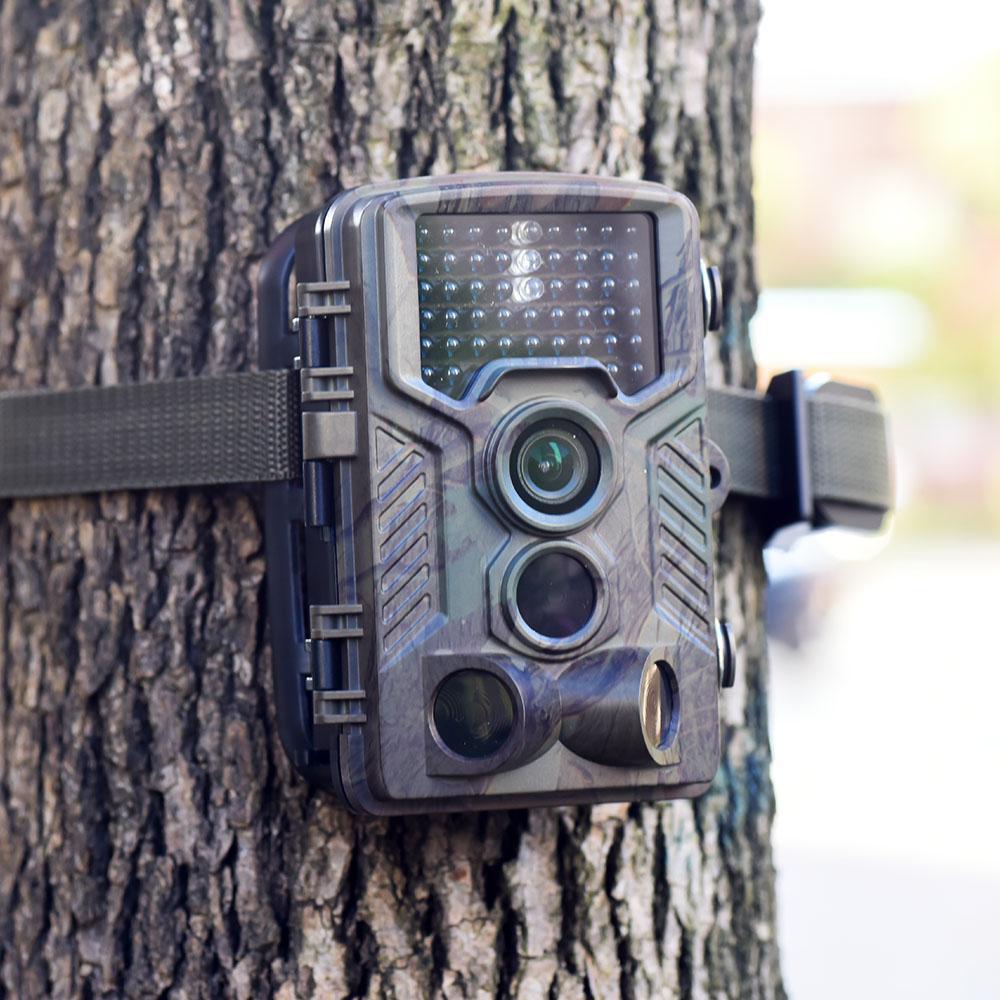 Features
High-resolution camera: Our Trail Scouting Camera captures 12MP images and 1280 x 720 videos at 30fps. With these high specs, it's very effective for catching natural wildlife moments and reproducing them in the form of clear images or high-quality videos.
Fast trigger speed: With a 0.6-second trigger speed, a 0.1-second delay between triggers, and a 3 shot multi-shot feature, you never miss out on any of the split-second actions that the outdoor brings. Set it up easily and automatically shoot away.
PIR long-range sensor: It detects moving objects from up to 80 feet away in its 110° angle range, giving you wide coverage and better chances of capturing spectacular images and videos of the wildlife.
Stealthy night vision: The IcoFiss Wireless Trail Camera operates effectively in dark conditions and features night vision technology. Its "Black Low Glow" infrared LED flash provides a 65-feet flash range in the dark, making it a stealthy unit that blends into the natural habitat.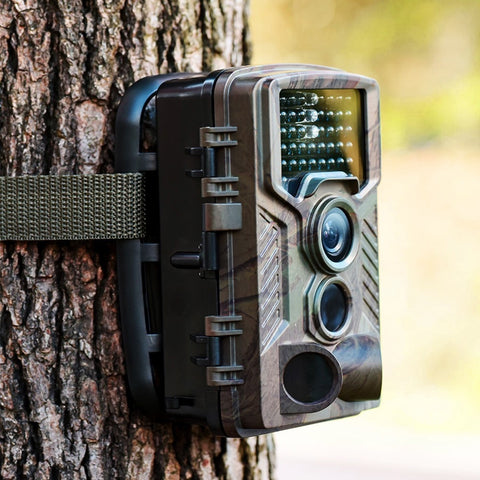 More Reasons to Love the Icofiss.
Programmable behavior: Adjust the camera to take photos on intervals, film time-lapses, and record custom-length videos. The user can also set PIR sensitivity (low, medium, high) to fit their purposes.
Screen interface: Its built-in interface allows the user to adjust triggering, sensitivity, and mode settings for fast and easy installation. The control buttons are intuitive and easy to use.
Easy power supply: It is powered by 4 AA batteries or by an external 6V power supply. The system extends its battery life by automatically powering off the interface screen when not in use for more than 2 minutes.
Adapts to light conditions: During the daytime, the media produced is colored; it's black and white at nighttime. In this way, the clearness of the images and videos is optimized.
Strap included: Its strong, durable strap allows our camera to attach itself onto high ground such as trees and branches for better visibility.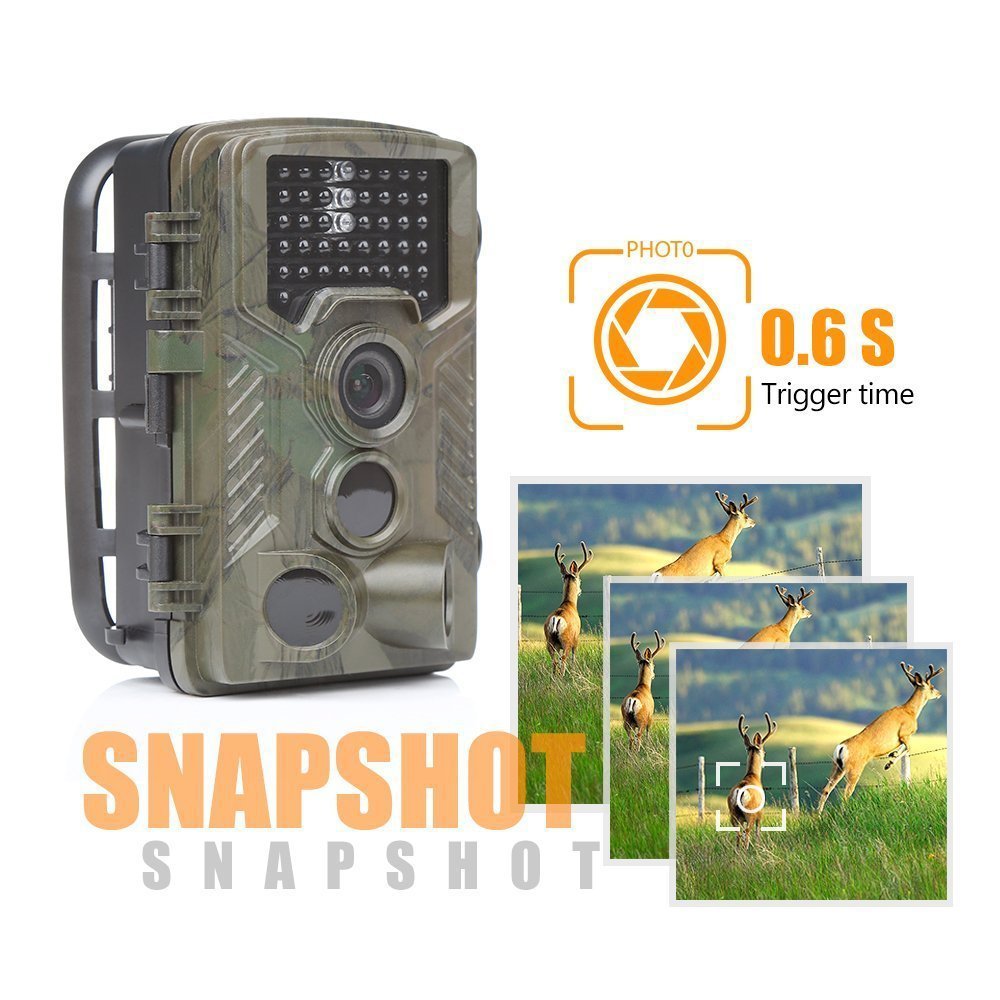 Take Your Wildlife Photography to New Heights.
Wildlife enthusiasts and photographers are enjoying the new technology and assistance the IcoFiss brings—and you can too! Whether it's for leveling up your outdoor hobby or to better your hunting skills, the IcoFiss delivers a new kind of visibility in the wild. Enjoy uninterrupted vision, excellent image and video quality, and top-notch detection in your adventures. Never miss a single moment ever again with IcoFiss!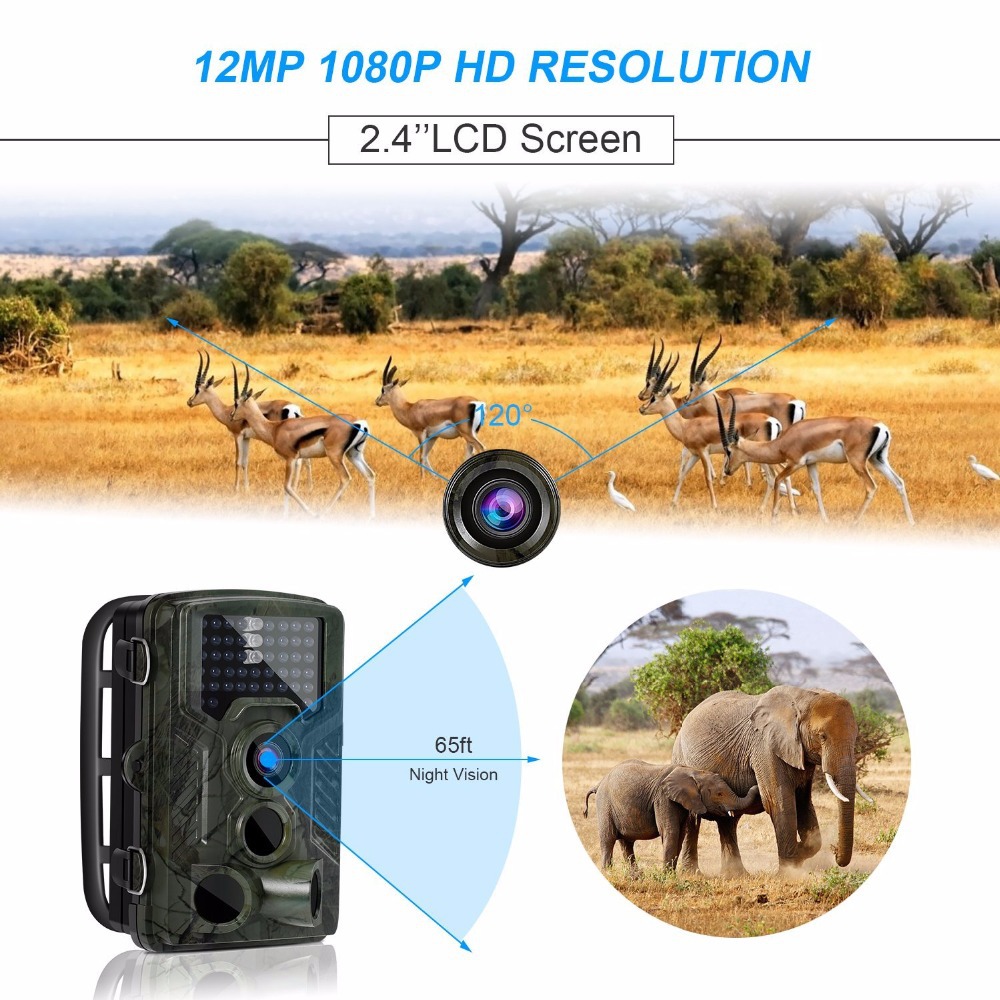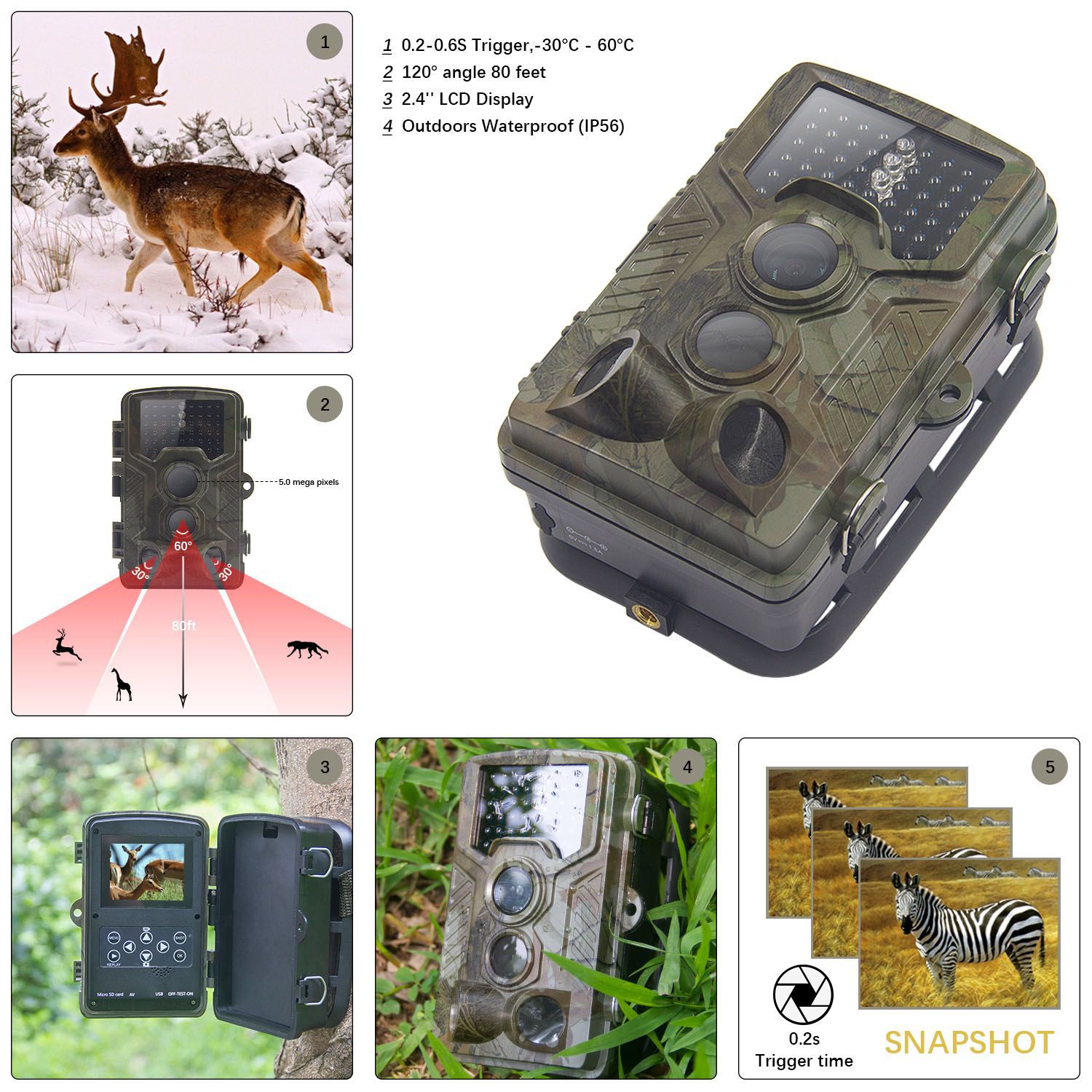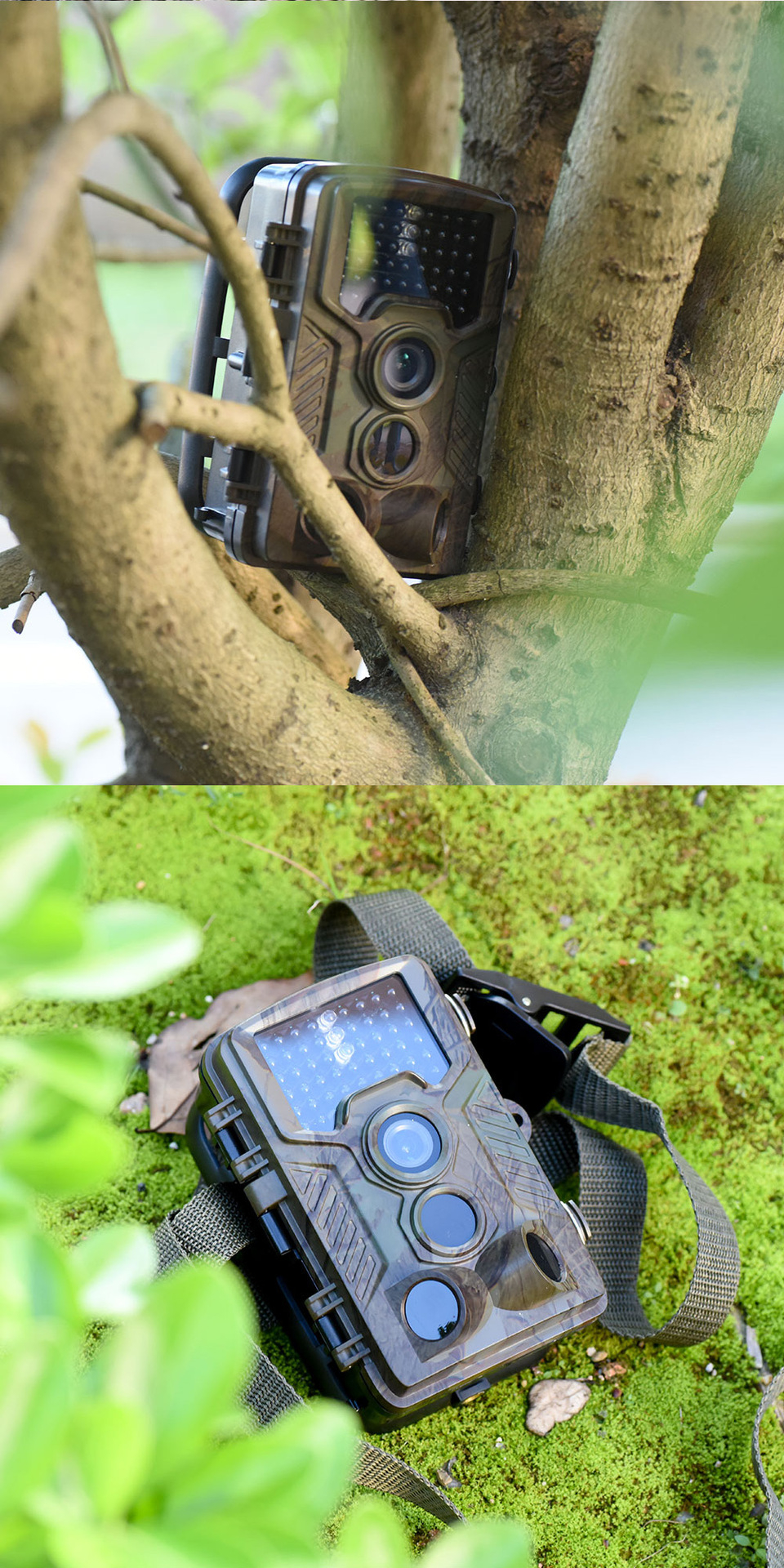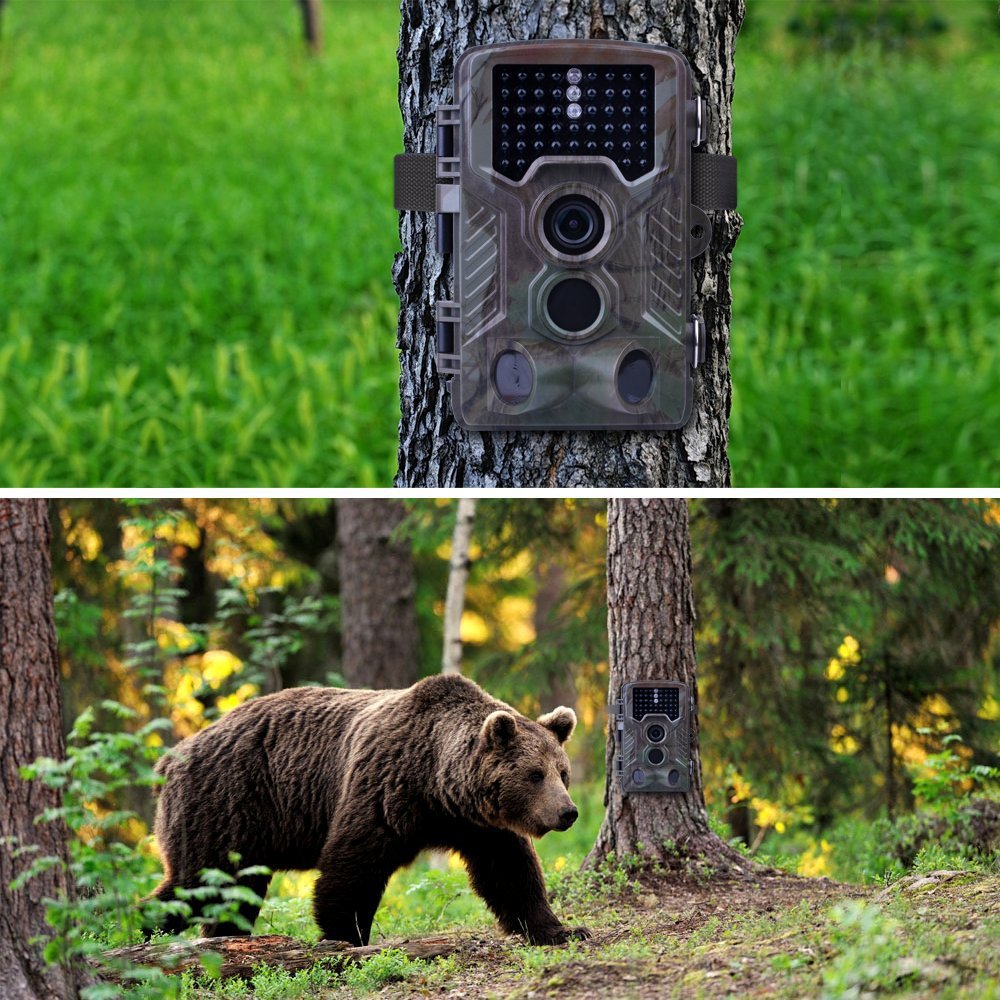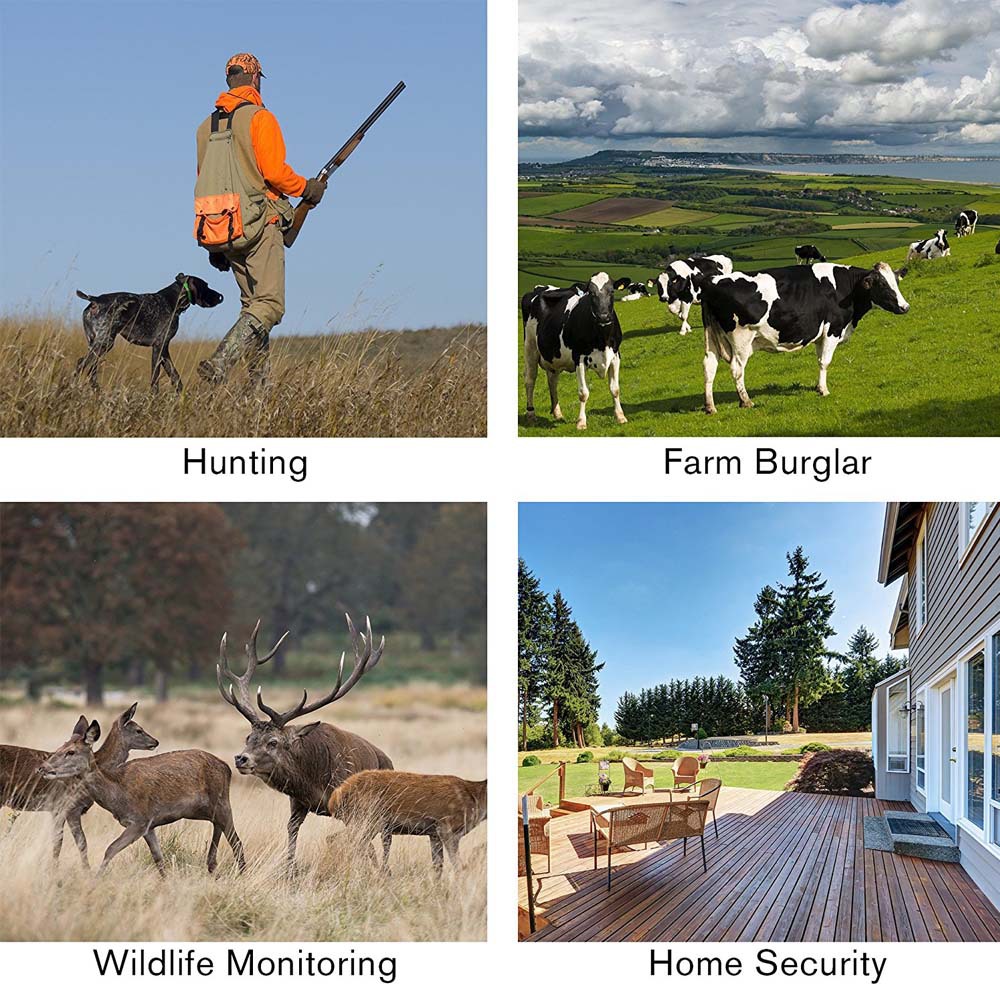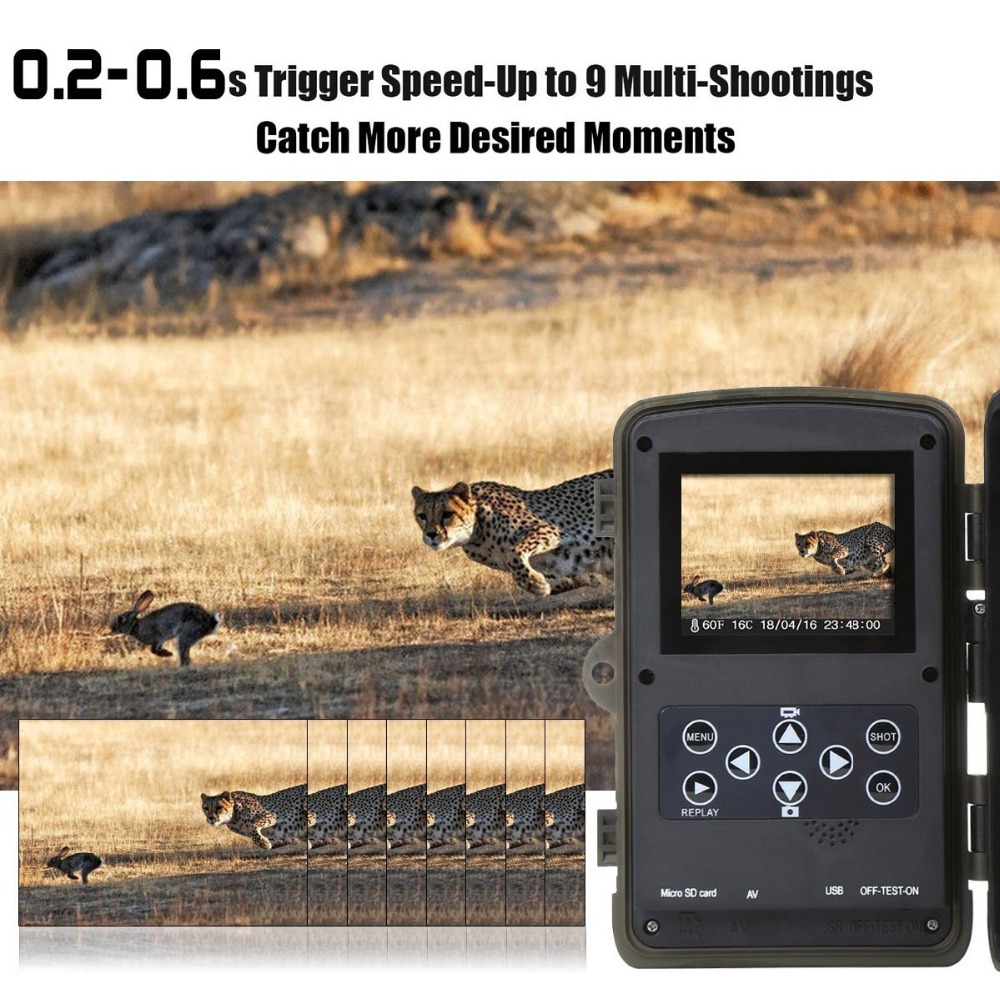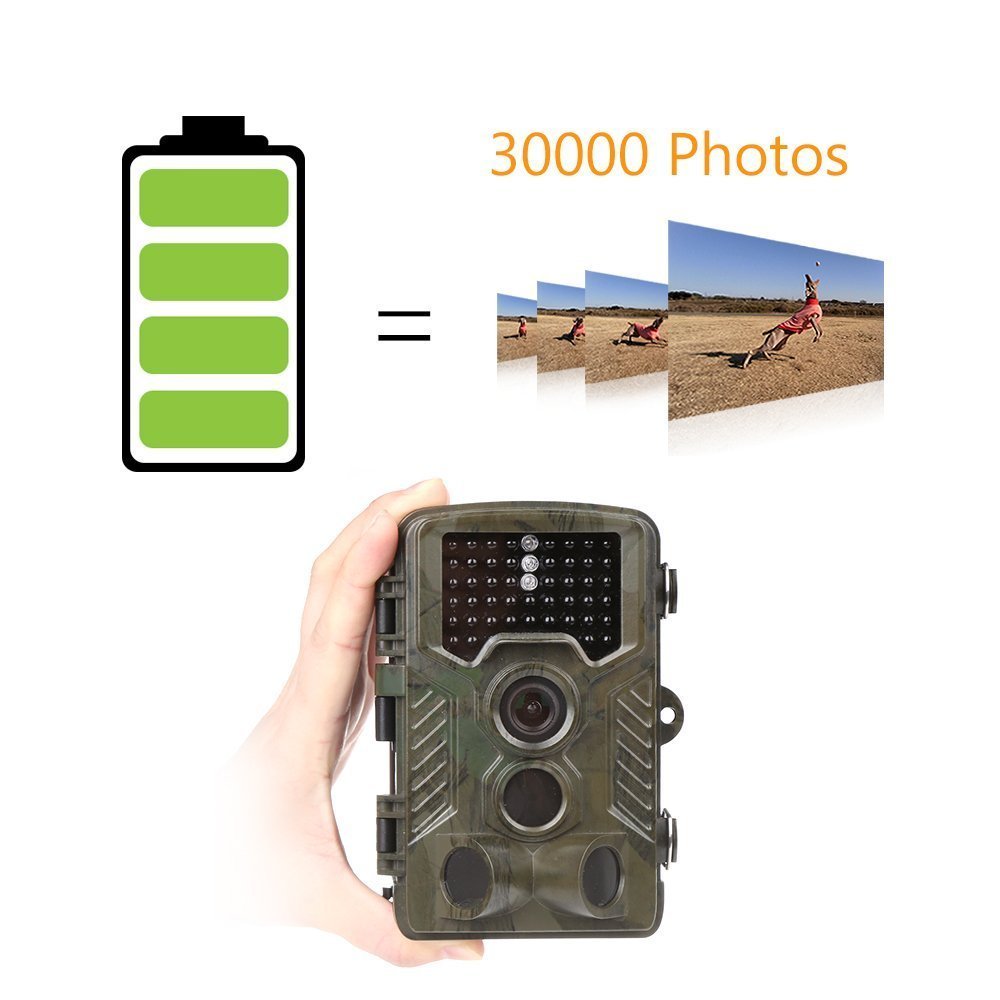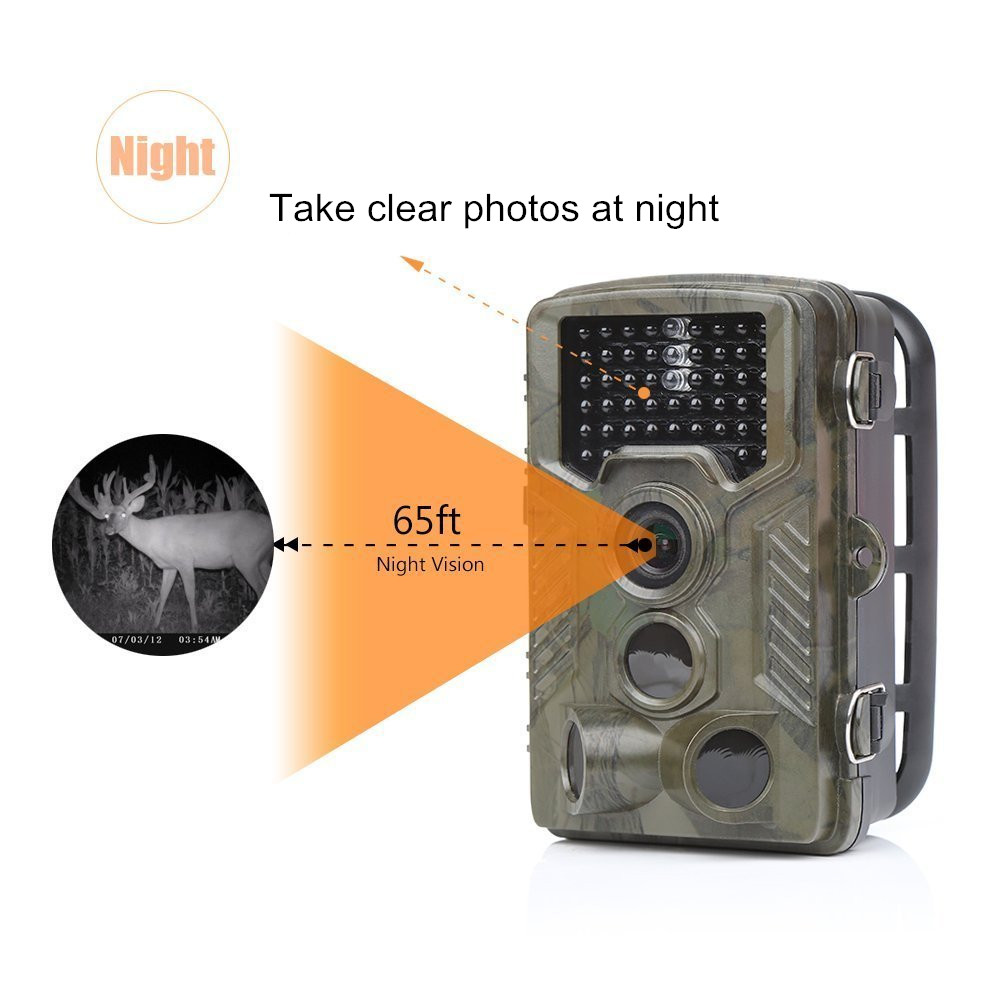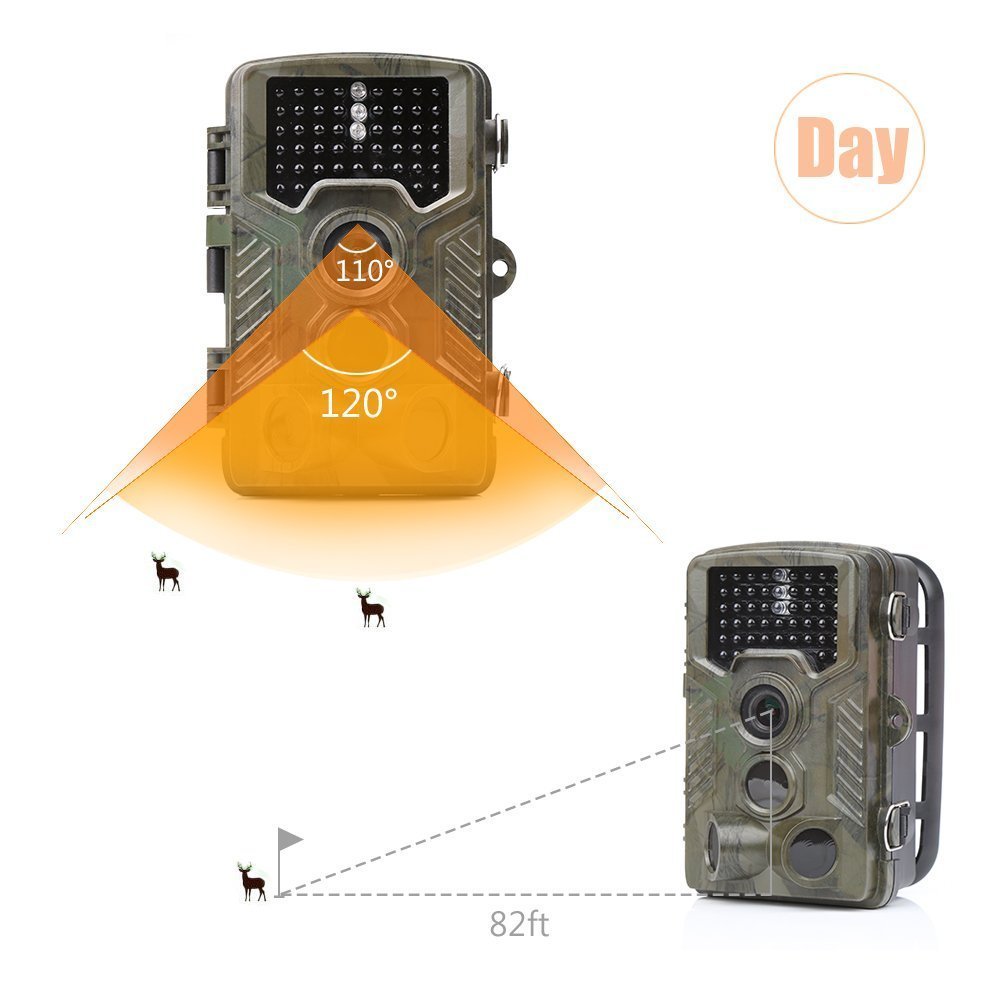 Specification
Image Sensor:5 Mega Pixels Color CMOS
Memory: Micro SD Card up to 32GB(SD card not include)
Lens:F=3.1; FOV=120 °
Size:135mm * 90mm * 86 mm
TFT Display Screen:2.0 inch
LED: Black 940nm
PIR Distance: High/Normal/Low
PIR Sensor Sight Angle:120 Degrees
Number of IR LED:46LEDs
Max Night Vision Lighting Distance:65ft/20 meters
Trigger Speed:0.3second with 3 PIRs
Triggering Interval:1/5/10/30sec/min (default 1 sec)
Selectable Image Resolution:16MP/12MP
Multiple Photo on one detection:1/3/6/9
Video Resolution:1080P/720P/VGA
Time lapse:5/10/60 min
Password Security:4 digital PIN codes
Model:Camera / video / Camera & Video / Timelapse
Stand-by current:0.1mA
Stand-by time:6Months
Power Supply:4x or 8x AA batteries, external 6V/1A DC
Waterproof: IP65
Security authentication: FCC, CE, RoHS, REACH, RED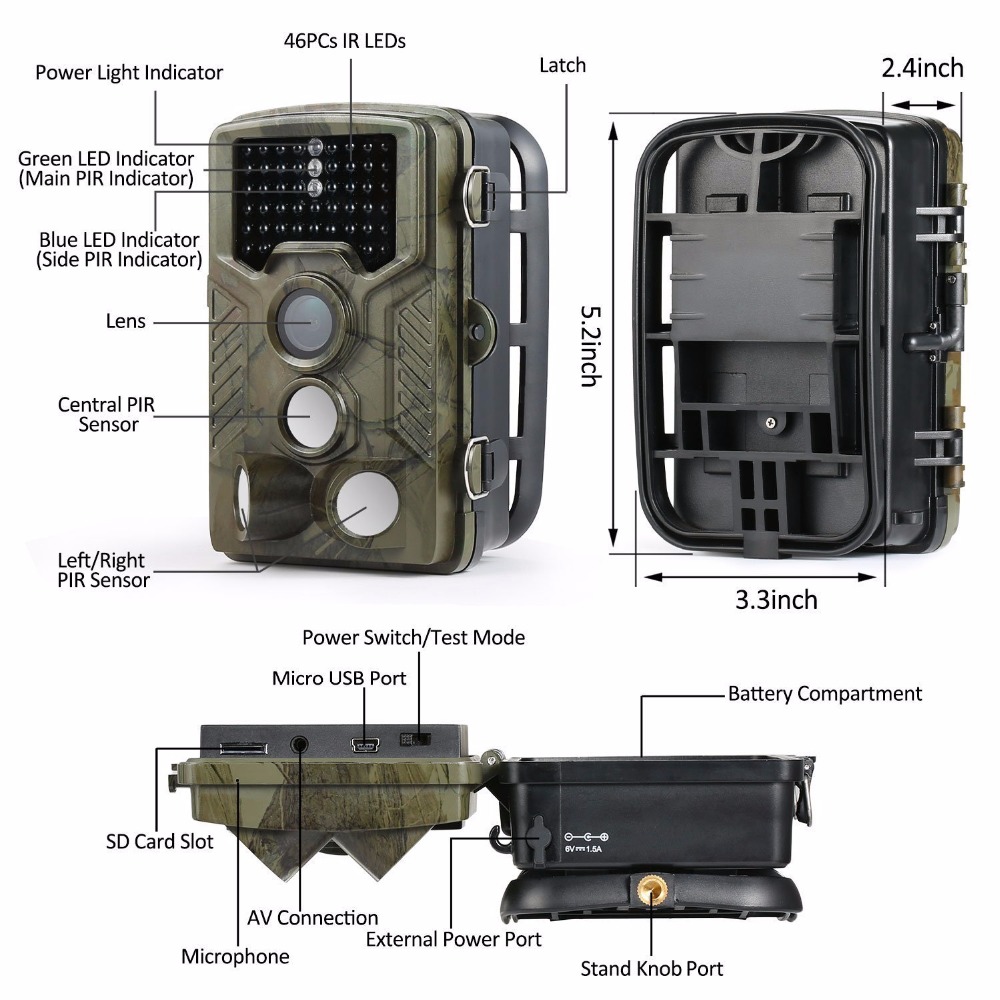 Package List:
1 * Camera
1 * USB Cable
1 * Strap
1 * User Manual