The AltLoop: Your Clever Eyes in the Wild
There's no escaping to the detailed eye of the AltLoop Trail Camera. Our latest innovation takes video and image photography to new heights to give you a one-of-a-kind experience in the wild. With its built-in 24MP and 1296P video and image resolution, it delivers crystal clear photography of all your subjects day or night. It's complete with a PIR sensor, high sensitivity detection, and night vision to ensure you'll never miss a single moment in your adventure.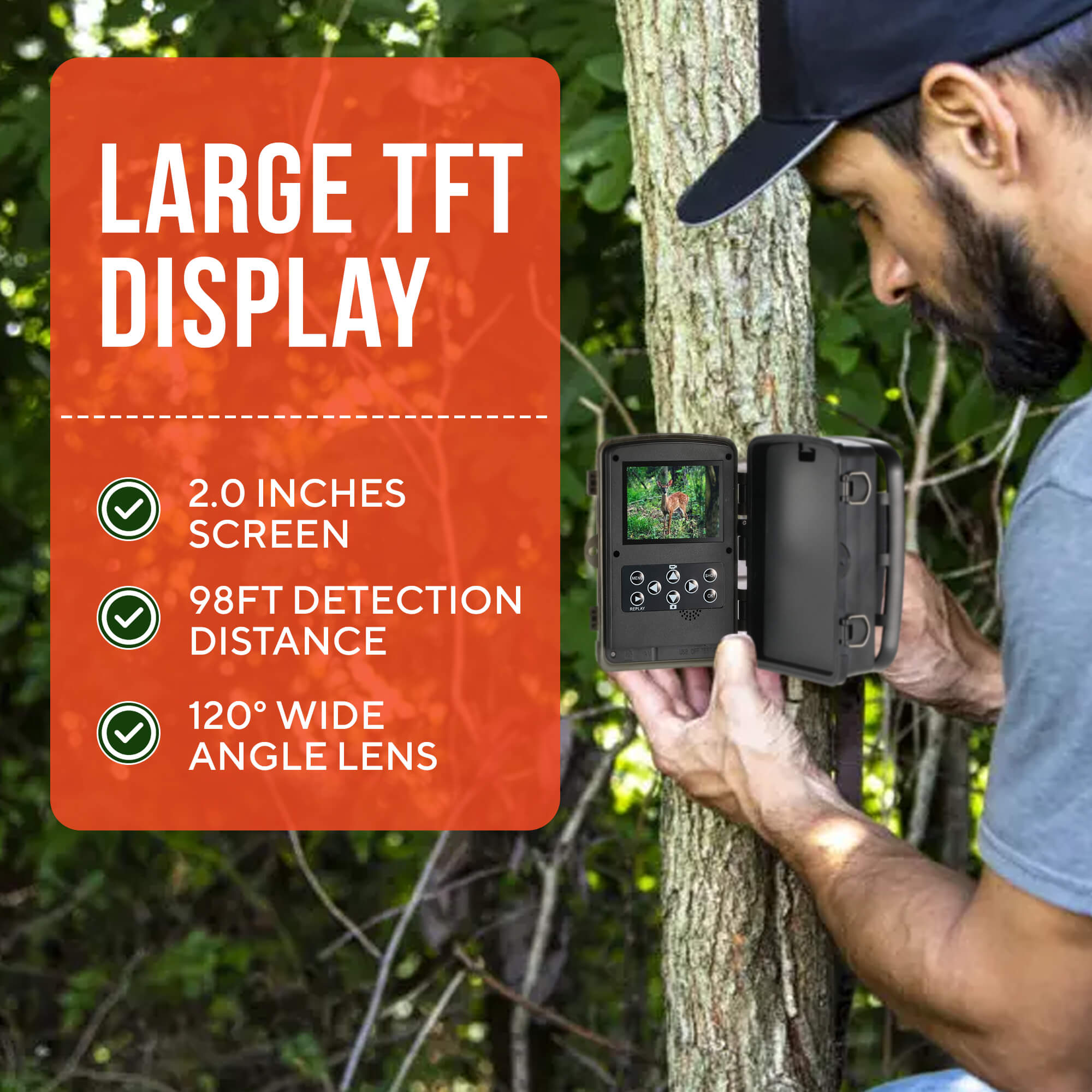 Features
24MP Clearer Image + 1296P Sharper Video Resolution – The trail camera captures 24M Pixel crystal images and full HD 1296P videos. Color by day, black and white by night, and captures up to 9 photos per detection. It supports a Micro SD Card of up to 32 GB for wider storage.
Faster 0.3-second Trigger Speed and Wider Coverage – Once the AltLoop detects any movement, it instantly triggers and captures subjects without delay. Plus, the trigger distance is up to 80ft so that you'll never miss any activity outdoors.
High Sensitivity and Night Vision with 3 PIR Sensor – This scouting camera will detect movements of wild animals as soon as they enter the detecting range. With 3 passive infrared sensors, the high-sensitive camera detects and records every breathtaking motion with lower power consumption. The 36 pcs upgraded infrared LEDs (without bright flash) can let you catch any moment, even at night.
120° Wide Angle Lens & Waterproof Sturdy Device – The AltLoop is equipped with a 120° detecting range, allowing you to get an excellent broader view. It will record any animal movements you want with a wide-angle lens, even on rainy days—thanks to its IP 65 waterproof level.
Innovative Wi-Fi Connection: The AltLoop features super low-power Wi-Fi and compatible with Bluetooth technology, comes with a free and easy-to-use APP, allows you more easily to operate your cameras. No monthly fee. No remote control is required. All you need to do is stay within the Wi-Fi signal range.
No Glow Night Vision: The AltLoop is equipped with enhanced 940nm no glow infrared technology, makes your camera more stealth, encompasses adaptive illumination technology to avoid overexposure or over-dimmed, delivers brilliant night vision up to 75ft.
Easy to Operate + Multiple Applications – This hunting camera is easy to operate and mount. You could apply the user-friendly device to any of your outdoor activities and experience great results. But that's not the only thing the AltLoop Trail Camera can do. The AltLoop can function as a home security camera for property surveillance and even farm security when not in use for hunting or wildlife adventures.
Crystal Clear 24MP Images and 1296P Video Resolution
We give you uncompromised photography quality to make your wildlife experience a blast. The outdoor setting should not be an excuse for blurred captures. Our AltLoop Trail Camera will deliver 24MP clear images and 1296P HD video in each time motion so that you'll never miss out on anything that's Instagram-worthy.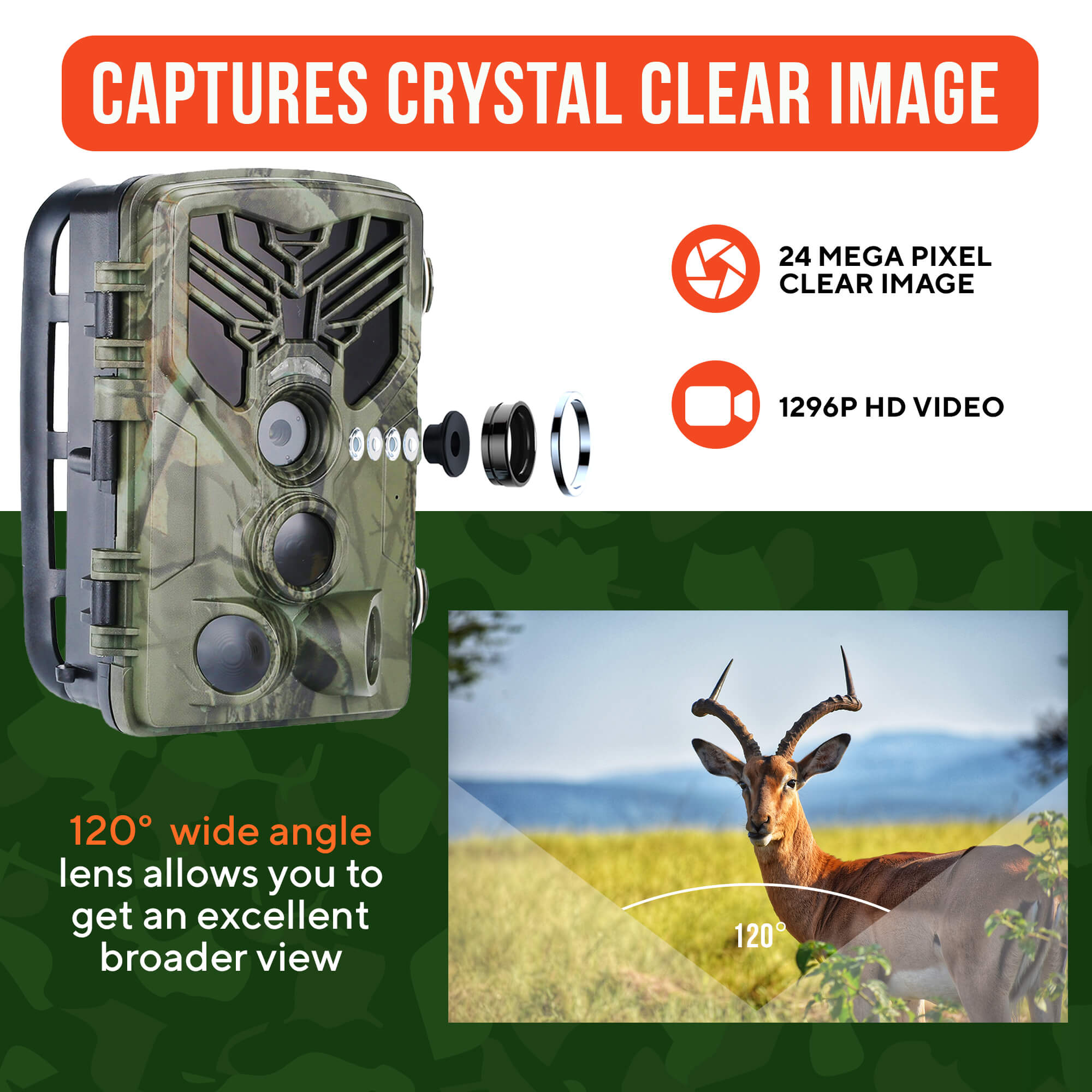 120° Detection Angle: Wider Coverage, Better Experience
The AltLoop features an excellent optics lens, which automatically corrects distortion to deliver a wider view and more precise vision. This function gives you a more detailed capture with no spots missed.

Quick to React, 0.3-Second Trigger Speed
With our preactivated and fast-boot technology combined to reach ultra-fast 0.3-second trigger speed and 0.1-second recovery time, it's quick to capture every exciting moment that comes across its area of detection in the wild. No delay means better chances of capturing that million-dollar shot. That's the AltLoop difference!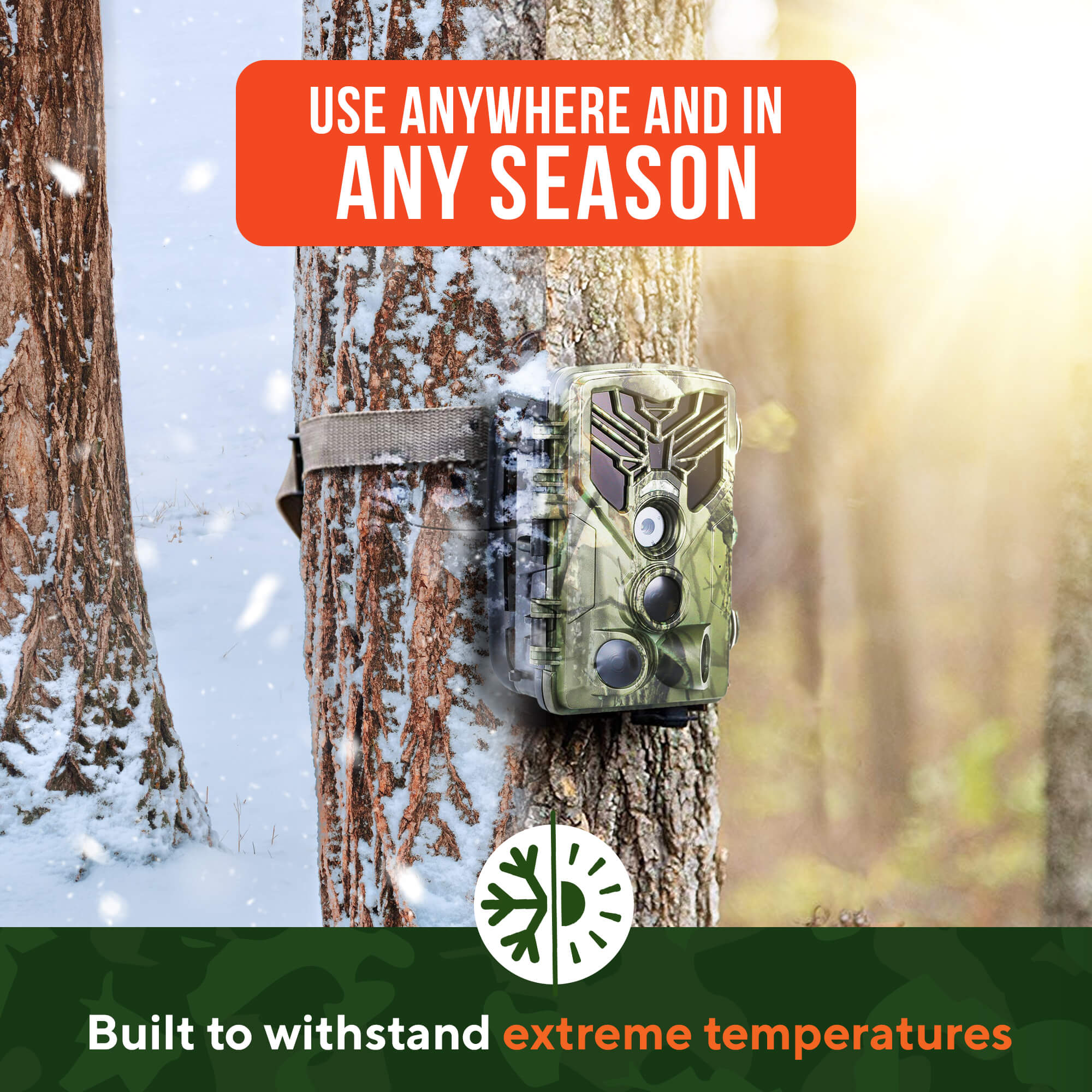 IP66 Waterproof & Sturdy, All-Season and Location Support
The AltLoop Trail Camera has passed the waterproof test up to IP65, meaning it's capable of surviving the harsh conditions of the wild. No dust, rain, or other environmental factors can stop it from getting you that amazing shot.

Unstoppable, Excellent Night Vision
With the AltLoop's 36 non-luminous infrared lights and using intelligent night vision imaging technology that can capture subjects at a distance of 20 meters, the darkness can be your best friend. You don't have to worry about low-light conditions anymore. This feature is perfect to level up your hunting stealth technique.
For Your Home Security Too
You can also take advantage of all the AltLoop's features in improving your home security. With its excellent detection range, high-quality photography, waterproofing, and quick trigger, it's like you're having an extra set of eyes looking over your highly valued property.
Aids Your Hunting Vision
The AltLoop Trail camera is a helpful assistant to track animals in the wild. It has the perfect detection range to distance yourself from the target to prevent them from running away.
Specification:
Size:135mm * 90mm * 76 mm
Display:2.0 inch TFT
Mode:Camera/Video/Camera&Video
PIR Detect Range:90Degree
Night Vision Distance:65ft/20meters
IR LED:36 Infared LEDs
PIR Distance:65ft/20 meters
Trigger Speed:0.3second
PIR Interval:1/5/10/30sec/min (default 1 sec)
Image Resolution:24MP/20MP/16MP
Multiple Photo on one detection:1/3/6/9
Video Resolution:1080P/1296P/VGA
File Format:JPEG/AVI
ISO Exposure:Auto/100/200/400
Stand-by time:6Months
TV-out ; USB2.0 ; Micro SD Card ; 6V/1A External
Fix Method:Belt, Tripod mount
Motion Detection:Low/Medium/High
Operation Temperature:-20 ~70℃(-4~158℉)
Power:4X or 8X AA batteries(not included)
Waterproof:IP66
Memory card supported: TF card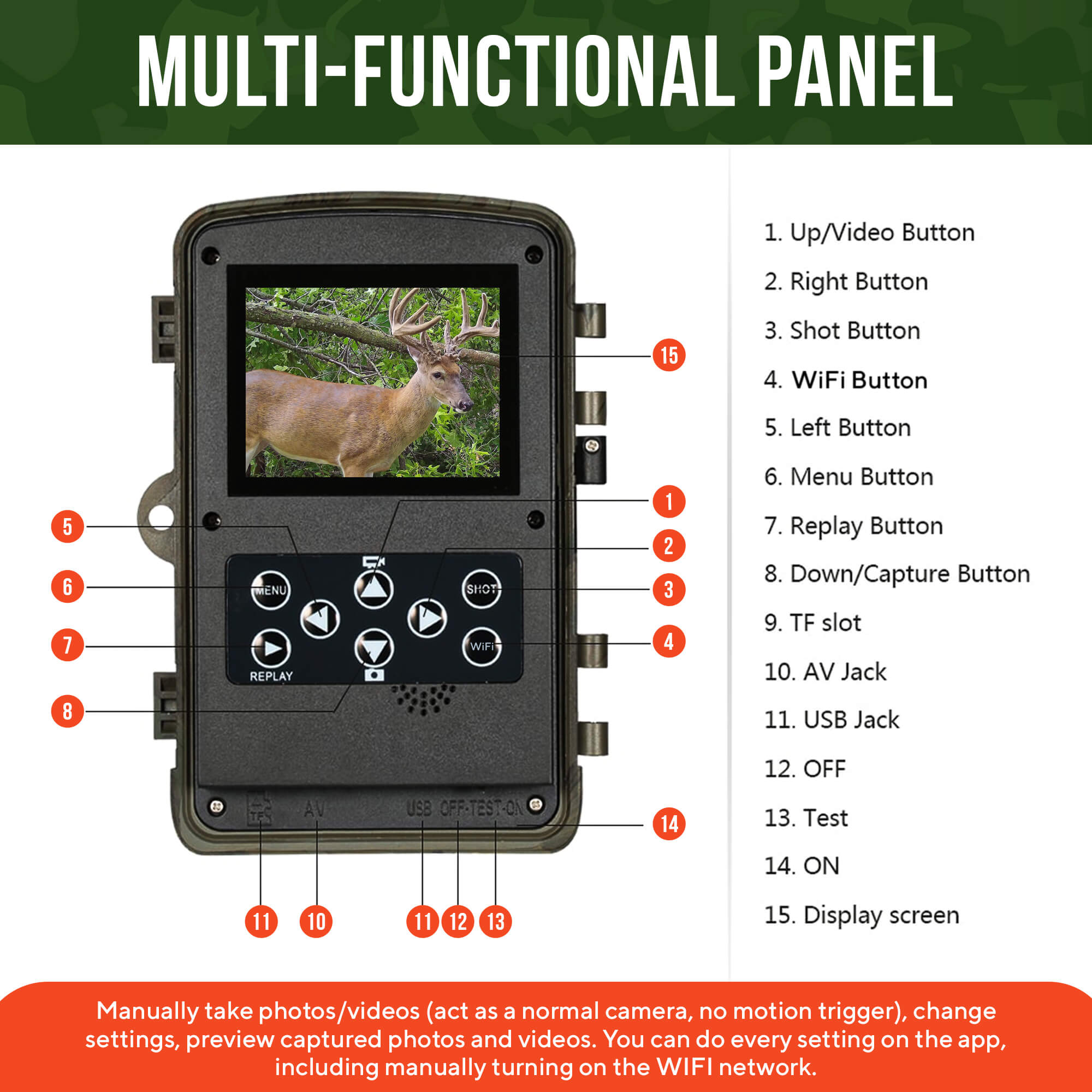 Packing:
Hunting Camera * 1
USB cable * 1
User manual * 1
Mounting straps * 1