The air on-demand that saves you from hefty roadside assistance.
Always finding yourself in a tyre emergency? Here's how to make things easier and prevent those cold sweats from coming again. The FlivotFix Digital Tyre Pump is your all-in-one, easy-to-carry tyre inflator to get your tyres into running condition, especially in those urgent "air on-demand" situations.
With its fast auto-inflation and preset function that switches the device in 3 different pressure units with just one press of a button, it makes flat tyre and other inflation needs easy peasy.
So in a time when you encounter a flat tyre emergency, don't rely on cheat fate or hope that your car reaches the nearest gas station a couple of blocks away. Get the FlivotFix and breathe easy.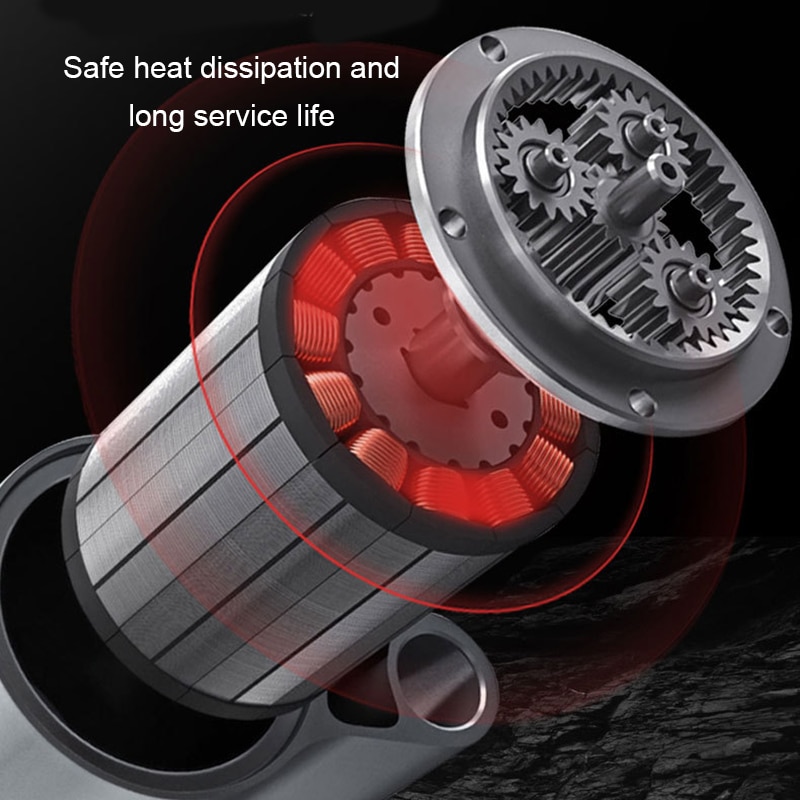 About this Item:
Portable Tyre Inflator and Air Compressor for cars, bikes, balls, toys, and other items
Digital Car Tyre Pump with LED Light and Clear LCD interface
Features Preset Pressure with 3 Switchable Pressure Units (PSI, BAR, KPA)
Rechargeable Air Pump with 12V 35L/min, 120W Power Supply
Here's how the FlivotFix can make your life easy!
HIGH-CAPACITY, RECHARGEABLE BATTERY
Our powerful tyre inflator comes in a certified lithium-ion battery for long-lasting support. It's also designed with a quick-charging USB port so that you can get it working anytime, anywhere. With FlivotFix, you can enjoy efficient charging and a 2200 mAh, high-capacity battery to make road emergencies trouble-free.
FAST AUTO-INFLATION
The FlivotFix Tyre Inflator comes with 3 switchable pressure units (PSI, BAR, KPA) that you can preset accordingly. It'll only take you one press of a button to target the right pressure to turn your tyres into good running condition right away. What's more? The tyre pump automatically turns off once the tyre's desired pressure is reached.
MULTIFUNCTIONAL USE
Get more support with FlivotFix. This tyre inflator allows you to inflate all types of tyres—including bikes, motorcycles, and cars. It's also equipped with 3 nozzle adaptors to give you more usage.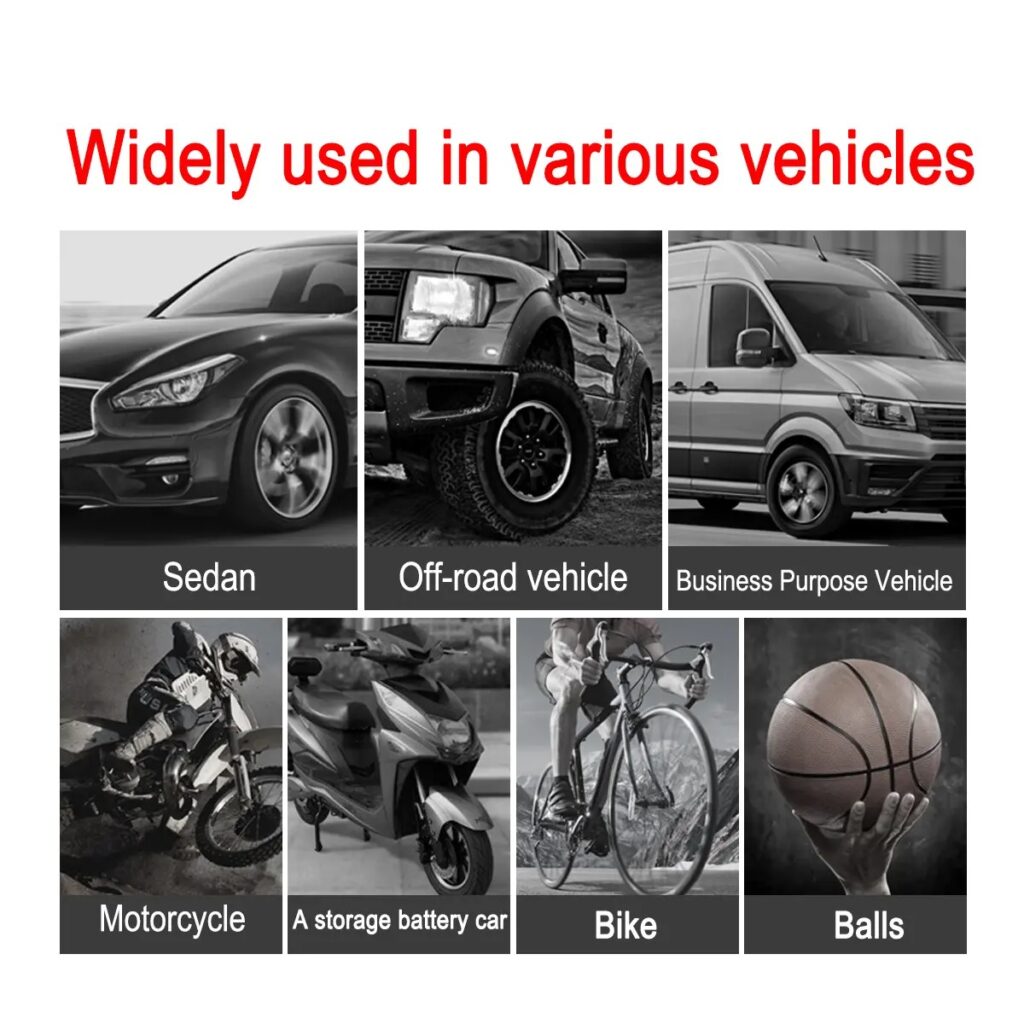 CORDLESS & PORTABLE DESIGN
There's no need to bring heavy and complicated equipment just to ensure you're 100% prepared for all road emergencies. The FlivotFix comes in a cordless and compact design, making it one of the best portable and easy-to-use tyre inflators on the market today.
4-STEPS INFLATING
Yes, you only need 4 steps to start inflating. Just turn the device on, choose your desired preset pressure, connect the nozzle to the valve, and wait until your tyre reaches the recommended pressure. And to make it even more straightforward for you, the FlivotFix comes with an LCD screen to show the real-time pressure and allow you to monitor the inflation without bending.
NIGHT USE SUPPORT
The FlivotFix's LED Highlight automatically illuminates when inflating. With LED Lights in the bottom and an LCD real-time pressure display on the side, you could conveniently use the digital inflator as a tyre pressure gauge and inflator in the dark.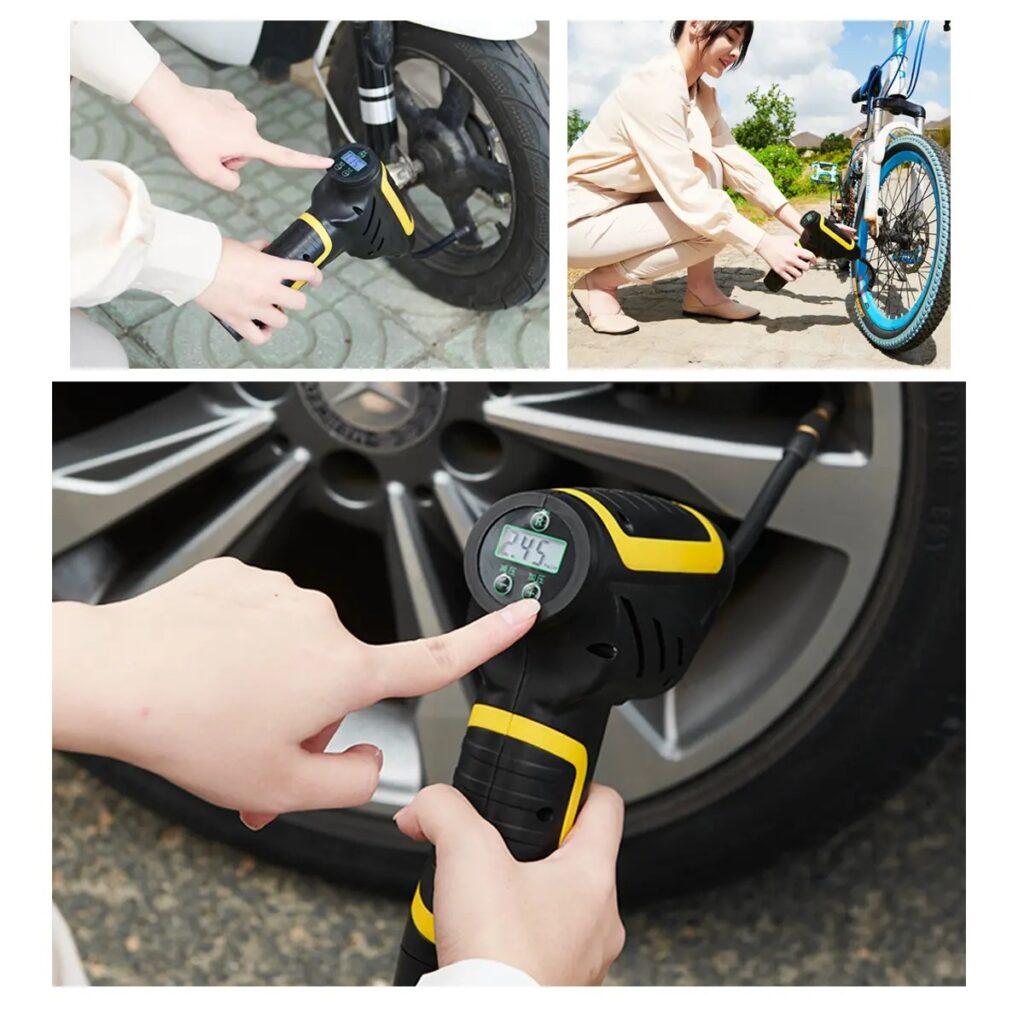 Specification
Battery Capacity: 2200mAh
Inflation Efficiency: 35L/min
Working Power: 120W
Pressure Units: PSI, BAR, KPA
Input Voltage: DC 12V
Working Current: 10A
Product Size: about 6.49*1.77*8.46cm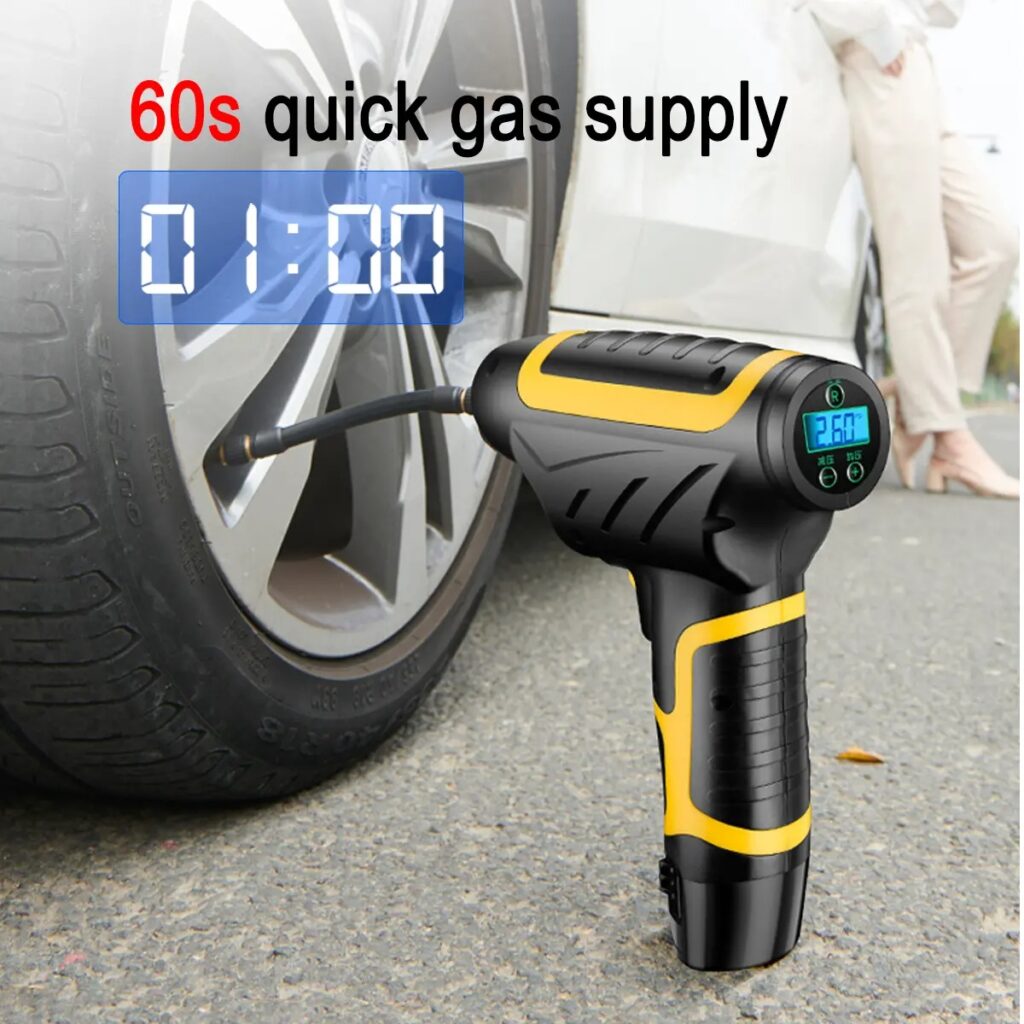 Operation Steps:
Connect the hose into the bottom tyre valve core.
Press down the buckle on the air hose to prevent air from leaking.
Long press the button "R" to wake up the LCD screen.
Press the button "R" to select the inflation unit.
Press the button "+" and "-" to preset tyre pressure.
Press the index finger button to start inflating,
The FlivotFix automatically stops the inflation when the preset pressure is reached. Note: NOT for van, coaches, motor homes, or trucks.
Package Includes:
1 X Tyre Pump
1 X Inflatable Tube
1 X USB Charging Cable
1 X Cigarette Lighter Charger
3 X Nozzle Adaptors