Description
The TX-1001B Handheld Metal Detector is designed for use by law-enforcement officers and security personnel to quickly detect even the smallest metal weapons. It is sensitive enough to detect a handgun or knife from six inches away. With its large detection area, you can do a fast yet thorough scan. The lightweight design and comfortable handle make it easy to use for long periods of time.
The TX-1001B is considered one of the worlds most reliable and sensitive hand wands in the market. Known mostly for providing rapid and accurate scanning without body contact. This handheld metal comes packed with Adjustable high and low sensitivity levels as well as vibration or alarm.
Features:
Made of thick engineering plastics, durable, sturdy, and long term use.Rugged, high-impact ABS case with reinforced coil compartment.
Ultimate sensitivity: With high sensitivity, it's easy to detect pins or even smaller pieces of metaldetects medium sized pistol from 9″ distance; large knife from 6″; razor blades and box cutters from 3″ distance; foil-wraped drugs and tiny jewelry from 1″.
Self-calibrating: digital microprocessor technology eliminates the need for periodic sensitivity adjustments.
Large 10″ scan suface for quick, thorough scanning.
Sharp audible alarm and bright red LED light and viberation indicates the detection of metal.Alarm mode has sound and light, vibration two modes.
Color LED indication: Indicator light, low battery alert, make your work smoothly.Green LED power ON indicator; Red LED LOW BATTERY indicator; Red LED ALARM indicator; Green LED RECHARGING indicator.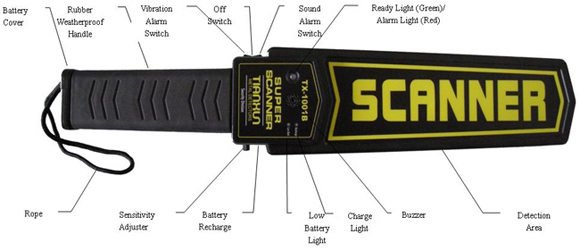 Applications:
Airports, station, exam rooms, venues, precious metal processing plant,Sporting Events, Prisons, Nuclear Facilities, Correctional Facilities, Transportation Terminals, Public and Private Buildings, Loss Prevention, Schools, Corporate Security, Stadiums/ Concerts, Historical Landmarks, etc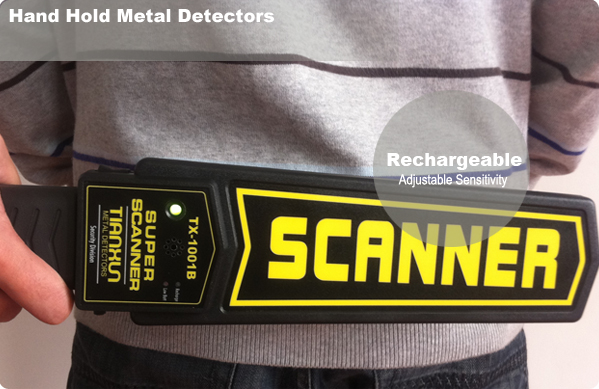 INCREASES SECURITY
The TX-1001B Handheld Metal Detector provides reliable security. Use this handheld security scanner anywhere – indoor or outdoor events, schools, cafeterias for food safety, sport events or anywhere you need dependable metal detection
HIGH SENSITIVITY
Features high sensitivity which can detect even small hidden metal objects. Detects concealed weapon, knives and other metal object in baggages. Adjustable sensitivity allow pin detection at .4″ and a 20mm steel ball at 2.7″ depth
2 KINDS OF ALERTS
The metal detector wand lets you choose between sound or vibration detection alerts. The LED light is also activated to the detection of metal. With high/low sensitivity settings allows you to maximize its scanning ability
BATTERY OPERATED
Operates on 9V standard or rechargeable battery w/ battery depletion warning – automatic continuous sound or vibration alert. Perfect for safety checking and detection of prohibited goods, metals in station, frontier defense, school
COMFORTABLE HANDLE
The lightweight design and comfortable handle grip make it easy to use for long periods of time


Specifications:
Item Name: Metal Detector
Model: TX-1001B
Voltage: 9V
Size: 41x8x4CM
Power Supply: Standard 6F22 9V battery or rechargeable battery
Frequency: About 25KHz
Operating Temperature: -15℃-55℃
Detection Distance:
Pin: 30-60mm
One Dollar Coin: 75-100mm
Six-inch Dagger: 160-180mm
Sixty-four Pistol: 180-195mm
Applicable: Security check, examination room, etc
Note:
There might be 1-3 cm error of size for manual measurement.
The colors deviation might differ due to different monitor settings, please kindly understand.
Packcage Include
1*Handheld Metal Detector(not include battery)