See The Wild As It Happens with an HD Camera, Fast Firind Speed, Powerful Night Vision, and Strong 4G Connection for Real-time Streaming
Capture Action Even While in the Dark with TrailCore's Night Vision Settings + Powerful LED Bulbs for Illumination
Introducing the TrailCore — a cellular trail camera that can keep up with the rapid movement of the wild whether it's night or day!
The TrailCore comes with excellent camera capacity that can capture up to 16 MP photos, and 1080P videos.
Even the darkness has nothing compared with the TrailCore. With more than 36 LED bulbs for additional illumination, plus high-precision night vision setting to help you spot animals, people, vehicles, and security and safety issues even at night time.
With a wide-angle capture capacity of 120-degrees, and a trigger speed of 0.3 seconds, capturing movement is fast, clear, and gives you a full view of what you're observing.
Durable, and long-lasting, your camera is built to survive the wild!

Crystal Clear Images, Day and Night to Help You Observe the Wild or Your Property Confidently
The TrailCore comes with a full HD 1080P video and maximum 16 MP photo quality. This fast-capturing, wide-angle camera captures 5 megapixel crystal images and Full HD 1080P videos. The upgraded and advanced chip increases image processing qualities to give you photos and videos that are clearer and more detailed during the day (black and white at night).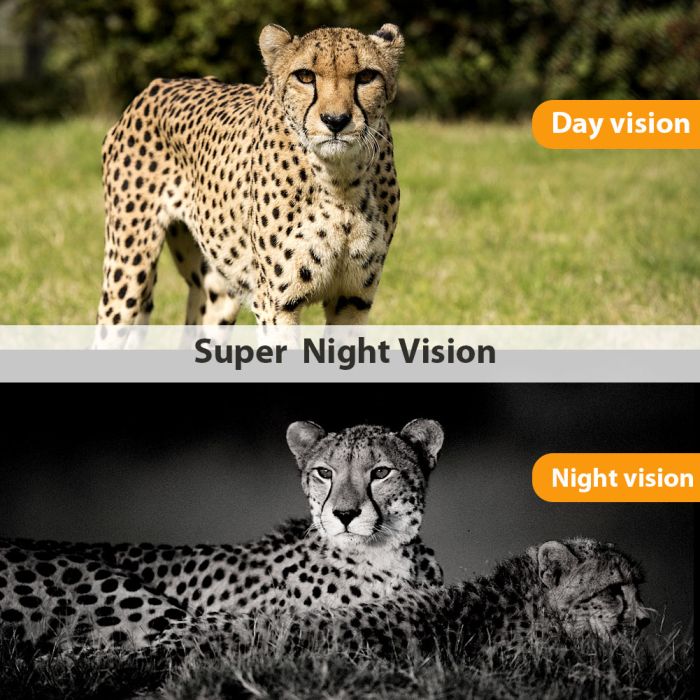 Illumination and Night Vision Settings Help Produce Stunning and Clear Night Time Photos and Videos
The TrailCore comes with ultra-clear night vision settings plus 36 built-in light bulbs to add illumination to the shots. The night vision has also improved and adjustable sensitivity so you can be ensured that your camera is ready for all types of low lighting.
High-trigger Speed and Motion-triggered Photo Bursts
The TrailCore comes with one of the finest trigger speed in the market with a 0.3-second trigger speed so you can motion and actions on time.
The cellular trail camera also includes motion-triggered sensors that automatically takes up to nine shots when motion is detected. Motion sensor is designed to also differentiate true motions, from those of just movement from leaves.
The TrailCore also includes time lapse feature.
Includes Audio Recording So You Can Get the Full Experience
The TrailCore includes a reliable microphone to pick up real-time sounds so you can not only see but also hear what is happening on the field.
Camera can Cover up to 20 meters of Range and 120-degree Coverage
The camera can spot animals or security risks from 20 meters away. You can also get a more panoramic view with the 120-degree camera coverage.
Sends Footages to You on Real Time Thanks to the 4G Capacity
From the field to your phone — on real time! The TrailCore's 4G feature now allows you to stream the footages via an app on your phone as the events happen! The device can store up to 64G data.
Versatile, Multipurpose, Durable Cellular Trail Camera
Well-built rugged case design and feel: This trail camera features -30° to 50° operating temperature range inside high quality material, the strap on the back is durable enough to strap it to the tree, the wildlife camera also has a threaded slot in the bottom for a slate river mount.
Multiple applications and longer battery life. Wider occasions, hunting, home security, property surveillance, wildlife monitoring, and agricultural security. Up to 6 months in standby mode.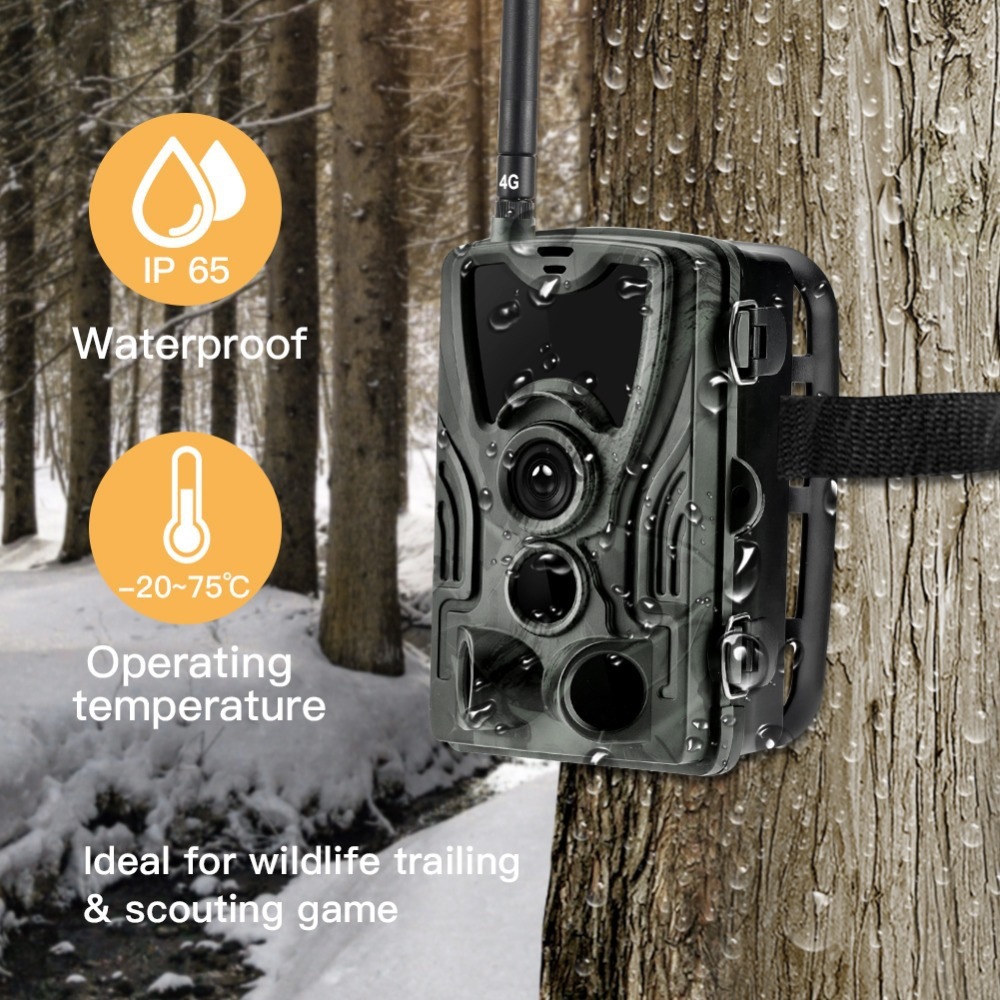 Specifications
Frequency:4G(FDD LTE,TDD LTE)
3G(WCDMA)
2G(GSM)
Photo recording
Photo resolution:16 MP
File format:JPG
Time lapse mode:5min/30min/1h
Multi-shot mode:Up to 9 photos per detection
Stamp (photos and video)Date, time, temperature (RC/F) and moon phase
Capture mode:Color by day, black and white by night
Video recording
Video resolution:1920 × 1080/30fps(FHD)
File format:AVIH.264
Sequence lenght:Adjustable from 10 to90s
Capture mode:Color by day, black andwhite by night Audio
Sound recording:N/A(automatically recorded in videomode)
Memory storage
Support:Internal memory: none
External memory : sD/SDHC card(up to 64 GB)
Viewing
Built-in screen:TFT 2.4″
Power source
Alkaline or lithium batteries:8x AA
Lithium battery pack:Rechargeable battery pack(LIT-801)
External (5.5X2.1mm Jack):DC12V 1000mA ,(6V~12V)
Detection system
Motion sensor:3X PIR
Detection angle:120°
Detection range:Adjustable from 1 to 80 ft
Trigger speed:0.3 sec
Delay between each detection :Adjustable from Instant to 30 min
Night time illumination system
LEDs:36 LEDs
Flash range:<90 ft
Exposure:Automatic infrared level adjustment
Optical field of view:120°
Dimensions:135mm x 90mm X 76mm
Recommendations
Operating temperature:(-30C to + 50°C)(-22 RF to +122°F)
Storage temperature:(-40C to +60 °C)(-40 F to+140°F)
Package Included:
1 X Hunting Camera
1 X USB Cable
1 X Belt
1 X User Manual