Description
The Perfect Beginner's Throwing Knives
Are you looking for a throwing knife that's light enough that you can grasp pretty well and level up your techniques? The SuttonKnives is the perfect stepping stone to improve your artistic throwing skills!
What You Get:
3 Piece Throwing Knives Set
7″ Overall Length
Stainless Steel Blades
White Dragon Design On Each Blade
Includes Nylon Sheath For All Three Knives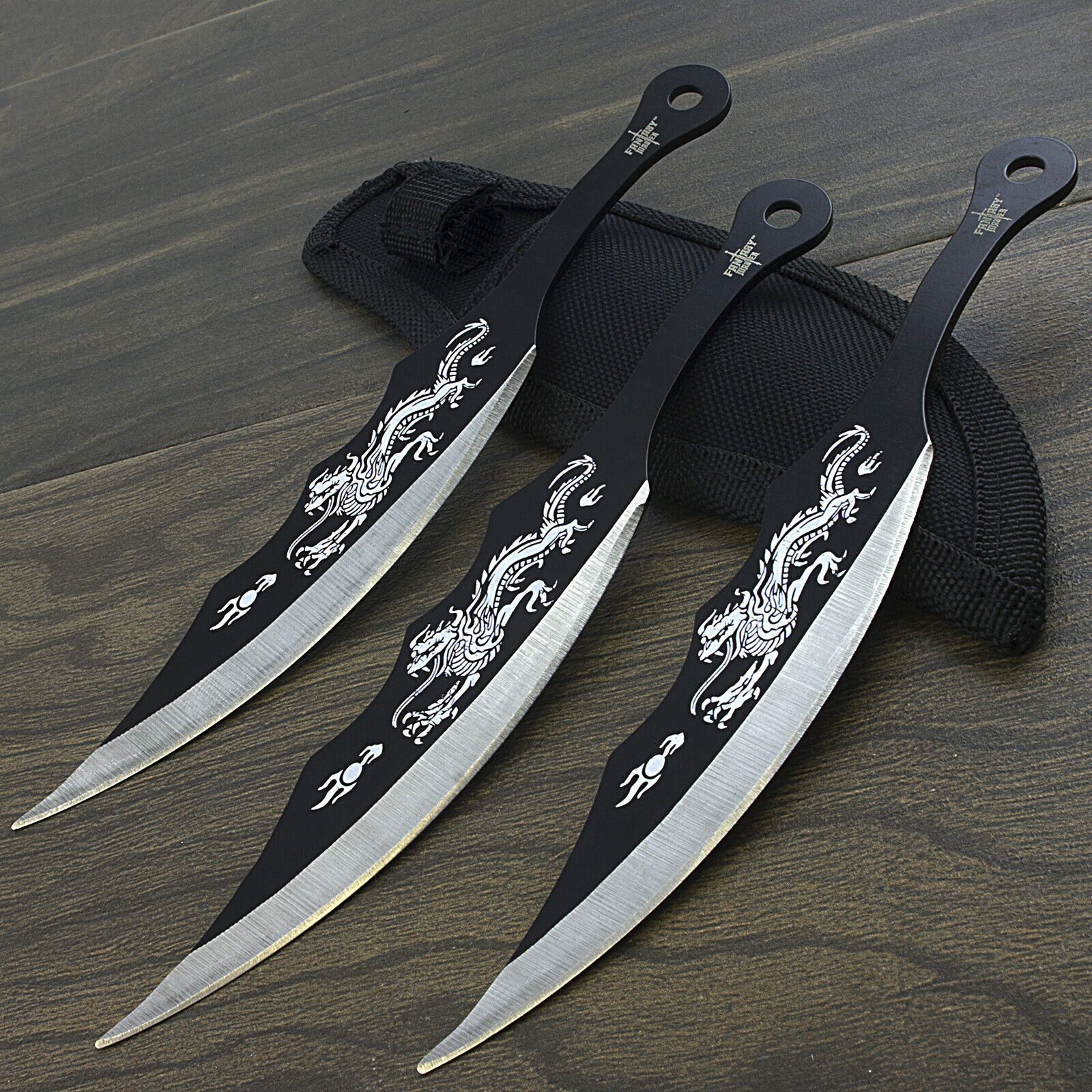 More About this Fantastic Throwing Knives Set
A MUST HAVE knife for emergencies. The blade is designed to fit perfectly into your palm with that much-needed solid grip for easy usage. It's safer and reasonable to know the knife in your hand is ready for the task. This emergency tool is produced with "ease of use" in mind. This means your instrument is always easy to access when you need it.
Each blade is professionally heat treated to balance hardness and toughness, increasing blade durability and capabilities. A stiffer knife blade can perform better than a softer blade. Toughness is the ability to resist chipping, cracking, or breaking. Using a tough blade without toughness, such as a blade made from glass, will be very easy to break. This is why balancing hardness and toughness is so important and why we heat treat every single blade.
440 STAINLESS STEEL BLADE
We chose this steel so the blade can resist any hard corrosion and increase the life expectancy of the blade edge. This allows our knives to provide razor-sharp cutting performance over and over again.
Excellent Balance of Hardness and Toughness
Provides Razor Sharp Cutting Performance
High Durability and Easy Edge Maintenance.
MULTI-USE KNIFE
This multi-purpose knife is perfect for all occasions; you can use it for camping, hiking, hunting, and any outdoor activity. A MUST HAVE item for emergency preparedness!
GREAT GIFT
For Husband or Wife, Mom & Dad, Men and Women, Brother and Sister, Son and Daughter, Grand Parents, Relatives, and Friends. This throwing knife is perfect for anyone who loves to be prepared and hone their throwing skills.
Package Include: