Relish the Comfort of Food Outdoors with OutZurt!
Dining outdoors doesn't mean compromising your comfort. With OutZurt, you'll have the best eat-out experience with your family and friends while enjoying the beautiful scenery outdoors.
Our OutZurt Camping Table is made of premium-quality aluminum alloy tubes with an ABS bracket triangle structure—to give you that sturdy and durable table to create fun memories outdoors. With its max capacity of 110 lbs., you can prepare a variety of meals to share with everyone!
Perfect Indoor Table too!
Yes. If you're looking for additional tables to make your indoor gatherings possible, the OutZurt is a perfect choice! Its sophisticated, black-colored design blends with any party design and theme. The OutZurt is a multi-purpose camping table for you!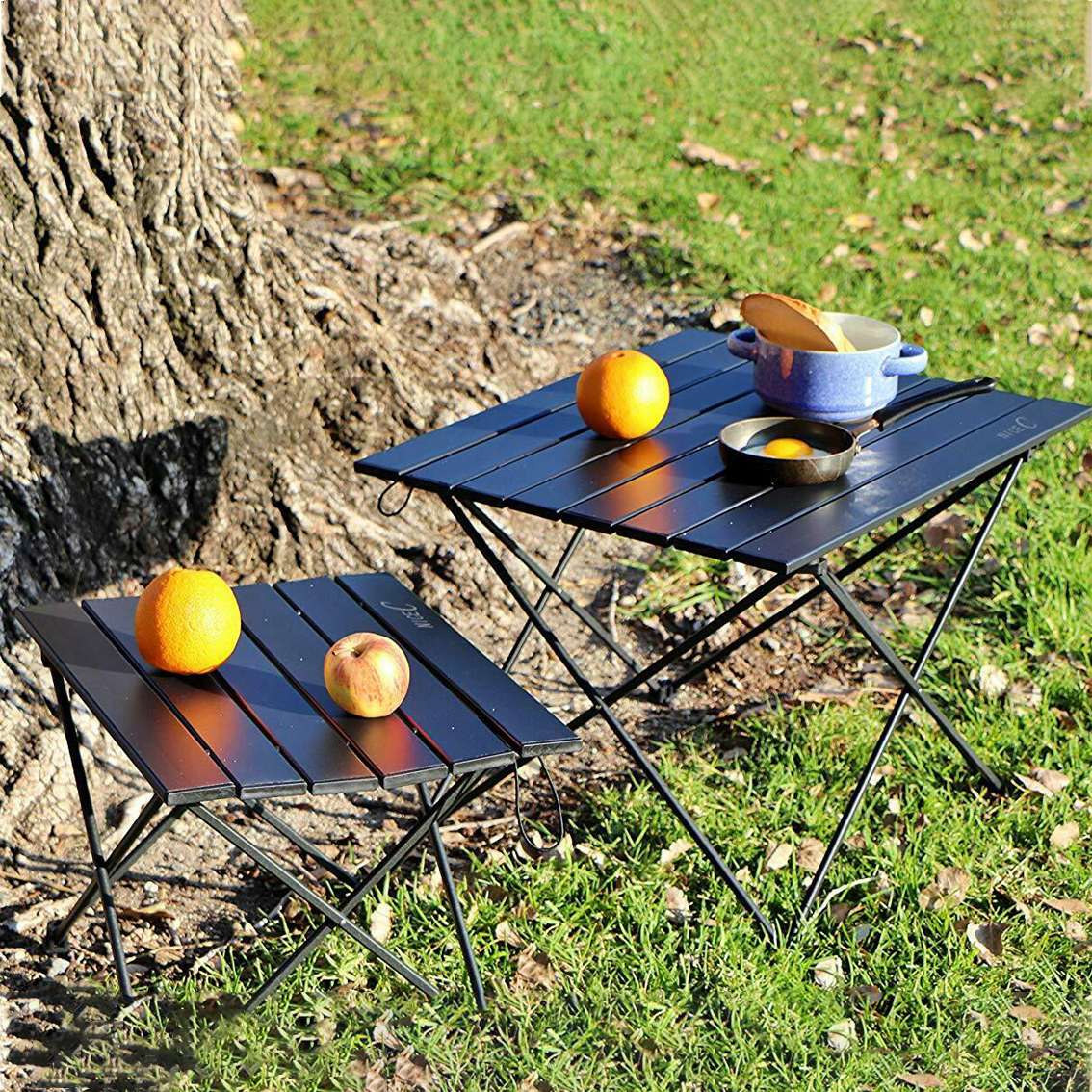 More About the OutZurt Camping Table
Small Collapsible Design & Weight Sustainability:
The OutZurt comes in a portable, aluminum, and cordless structure that makes it easy to fold and tote back into its sturdy, nylon-strapped carry bag within seconds. The fold-up size is only about 16″ × 5.5″ × 2.5″ (L×W×H), which occupies little space of your backpack or car trunk. With a total weight of 1.8/2.8/3.2 pounds, this outdoor camping table can sustain up to 110 lbs. or 50 kgs. So worry less about carrying this table anywhere with you, and guarantee you'll be thankful that you have OutZurt with you in every adventure!
Waterproof, Multi-Size Design, and Extensive Use:
Unlike traditional wood, nylon, or steel table, the OutZurt aluminum table top is water-resistance and dirt-free. With metallic coating, your camping is more colorful than you expected. The multi-size selections ensure you will have enough space to leave your stuff to make your camping experience more convenient. Plus, it's rugged enough to withstand all outdoor & indoor activities like camping, BBQ, hiking, beach, travel, picnic, festival, garden, office, and so on.
Industrial-Grade Material & Premium Using Experience:
Thanks to its premium-quality aluminum-alloy tubes and ABS bracket triangle structure, this camping table brings unparalleled convenience and support for both adults and children. The heavy-duty aluminum tubes guarantee safety and stability. And the industrial-grade aluminum tabletop makes it ultralight and collapsible. The OutZurt folding table is light and small enough to add to your pack to ensure a great user experience wherever you are.
The aluminum table frame is well-installed and attached to the ABS bracket, making it an excellent portable structure with just a 2-step set up or fold down. Just open the frame and clip the two ends into the bracket, secure the four corners of the collapsible tabletop onto the frame, and your table is ready!
Cleaning is simple too! Just wipe off with a towel or clean with soap water.
Quick and Easy Assembly
Setting up this table only takes seconds!
Unfold aluminum frame
Lock poles into brackets
Fit the tabletop onto the frame. Make sure the brackets lock into the grooves.
Done!
Enjoy your no-hassle table!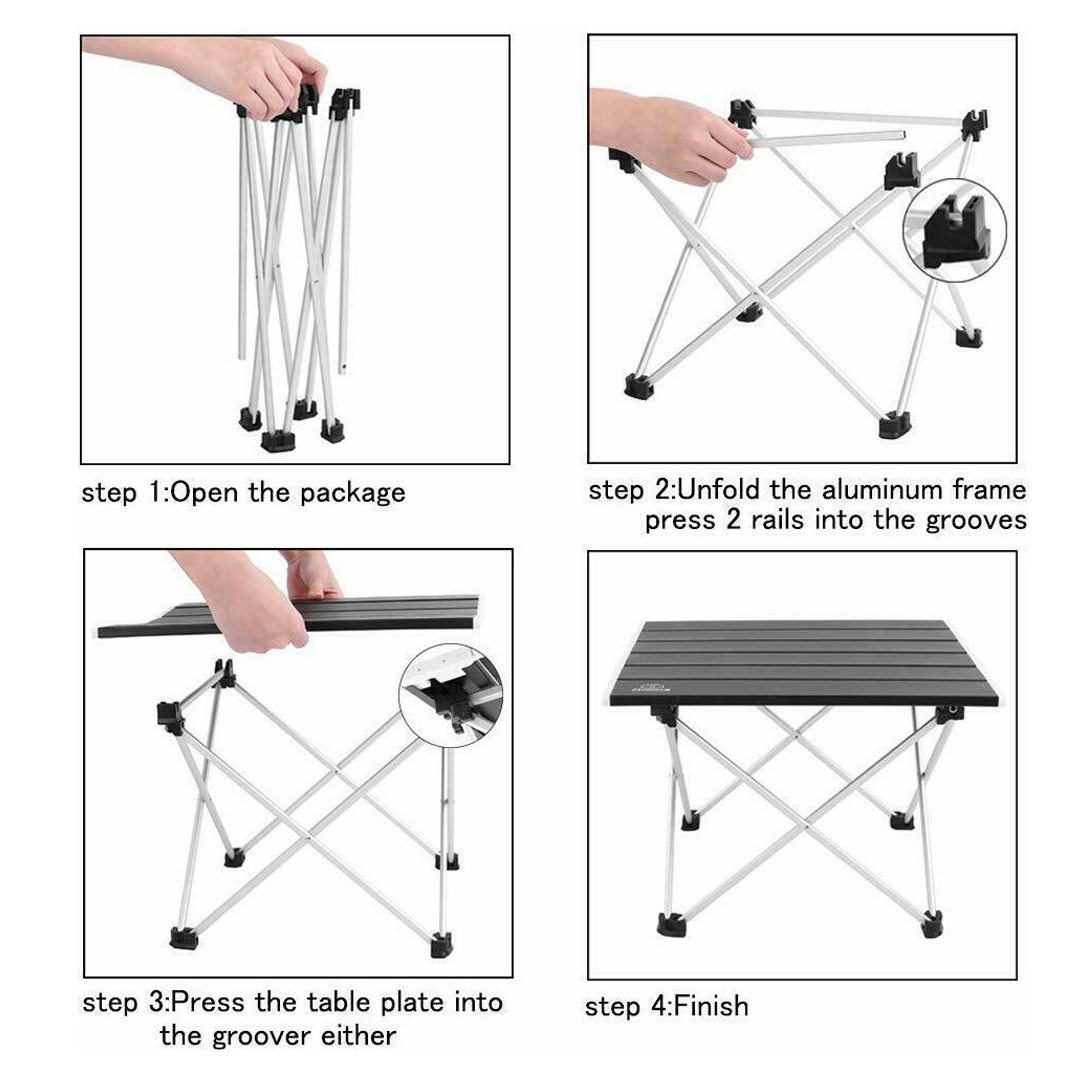 Size:
M: 22.5″ X 15.7″ X 15.7″
L: 27″ X 18.1″ X 15.7″
Package Include: