Description
Extend Your Lethality with MeroTwin's 6-Piece Throwing Knives
Are you a Pro or a Novice thrower? It doesn't matter! These 6-piece throwing knives set from MeroTwin will help you nail some bullseyes and hone your throw to perfection!
This kunai features a sharp and durable steel blade and perfectly penetrates and embeds into any target. Each knife is well-balanced and weighs just over an ounce, making throwing easy to slice through the air. Its design allows you to throw from either the blade or the handle—permitting a more predictable release that suits beginners and long-time enthusiasts alike.
The MeroTwin Throwing Knives give you:
6-Piece Throwing Knives Set
6.5″ Overall Length
Well-Balanced Stainless Steel Blade
Cord Wrapped Handle
1.3 oz Weight Per Knife
Includes Tactical Sheath so that you can take them wherever you go!
So if you're looking for reliable throwing knives that will fly straight and true, then these are the knives for you! Get them now before the sale ends!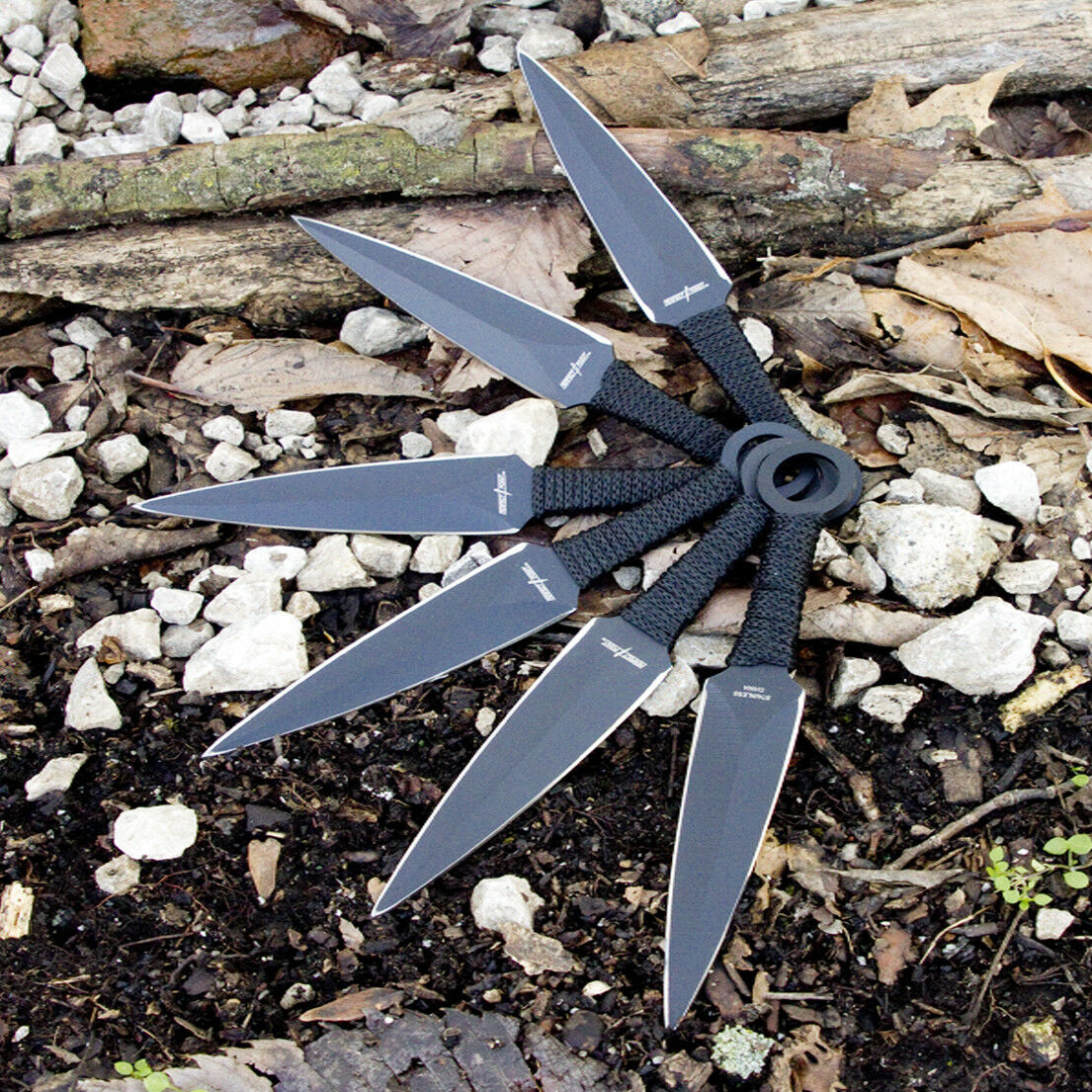 Why Choose MeroTwin?
Our balanced throwing knives are suitable for leisure activities of friends gathering. A set of 6 pieces can satisfy multiple people.
Each blade is professionally heat treated to balance hardness and toughness. This process helps to increase the blade's durability and capabilities. A more rigid knife blade can perform better than a softer one, especially when you need it most. Blades and handles are made of stainless steel and will not rust after a long time of use. Plus, maintenance and cleaning are easy peasy too! You need to use a damp cloth to wipe the surface, and that's it!
Perfect Size and Weight for Precise Throwing
The size of this throwing knife is 6.5 inches, and the weight of each blade is 1.3 OZ. So the tiny throwing knives are designed to fit perfectly into your palm to help ready safer and better for the tasks and activities.
Made for Art, Sport, and Combat Skill Aficionados
The MeroTwin Throwing Knives are well-made and a wonderful gift for your relatives and friends, colleagues and neighbors, roommates, and classmates who are interested in the artistic skill of throwing knives.
Package Content: