✔️KEEPS YOUR HANDS WARM AND DRY
✔️USE YOUR PHONE EFFORTLESSLY
✔️IDEAL FOR WINTER SPORTS AND ACTIVITIES
No one wants frozen and numb hands or frosty fingers, especially when you're having fun in the snow!
HIKEMAN Winter Gloves come in a variety of designs and exciting colors, ideal for the colder seasons and winter sports and activities. You won't have to compromise warmth and functionality for style!
These gloves provide total warmth and comfort for cold hands while adding a chic finish to any outfit. Its design allows you to touch any screen, so you won't need to remove your gloves every time you need to use your phone or any gadget.
Product Features
Super soft velvet inner lining
Velvet is naturally warm, has good air permeability, and can maintain a constant heated temperature.
High-density nylon fabric
We used this fabric to make the gloves water-repellent and windproof. Even if you're running against the wind, it will protect your hands from freezing.
Non-slip PU leather
We added this along the palms and fingertips to make the gloves stronger, more agile, wear-resistant, and durable.
Five-finger touch screen
The fingertips are made with conductive fiber fabrics, so you can now operate your phone without taking off your gloves!
Secure fit
A high-quality zipper and built-in rubber band will automatically adjust the tightness and further lock the temperature.
Anti-lost buckle
Hang it on a hook, somewhere in your car, or even on a hanger. You won't have to worry about misplacing your gloves.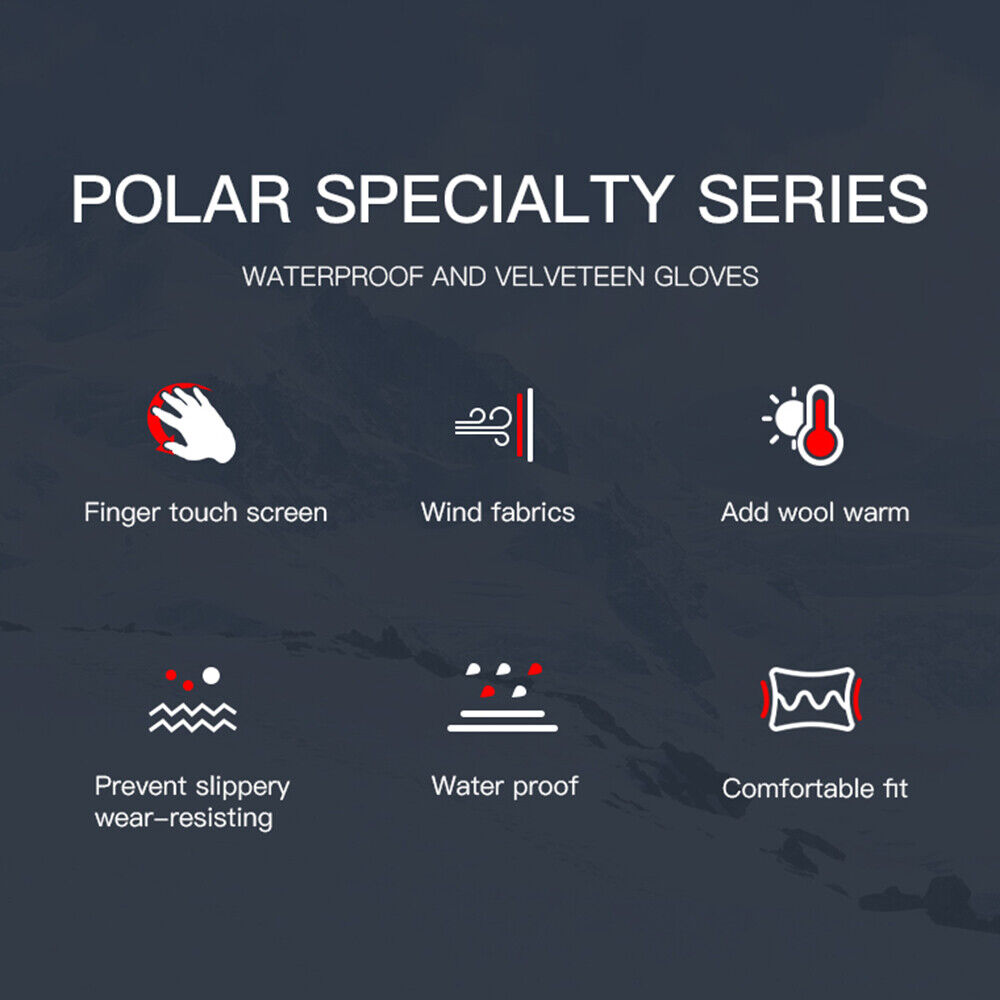 HIKEMAN Winter Gloves are perfect for:
skiing
snowboarding
cycling
hiking
mountaineering
running
fishing
riding
any winter outdoor activities!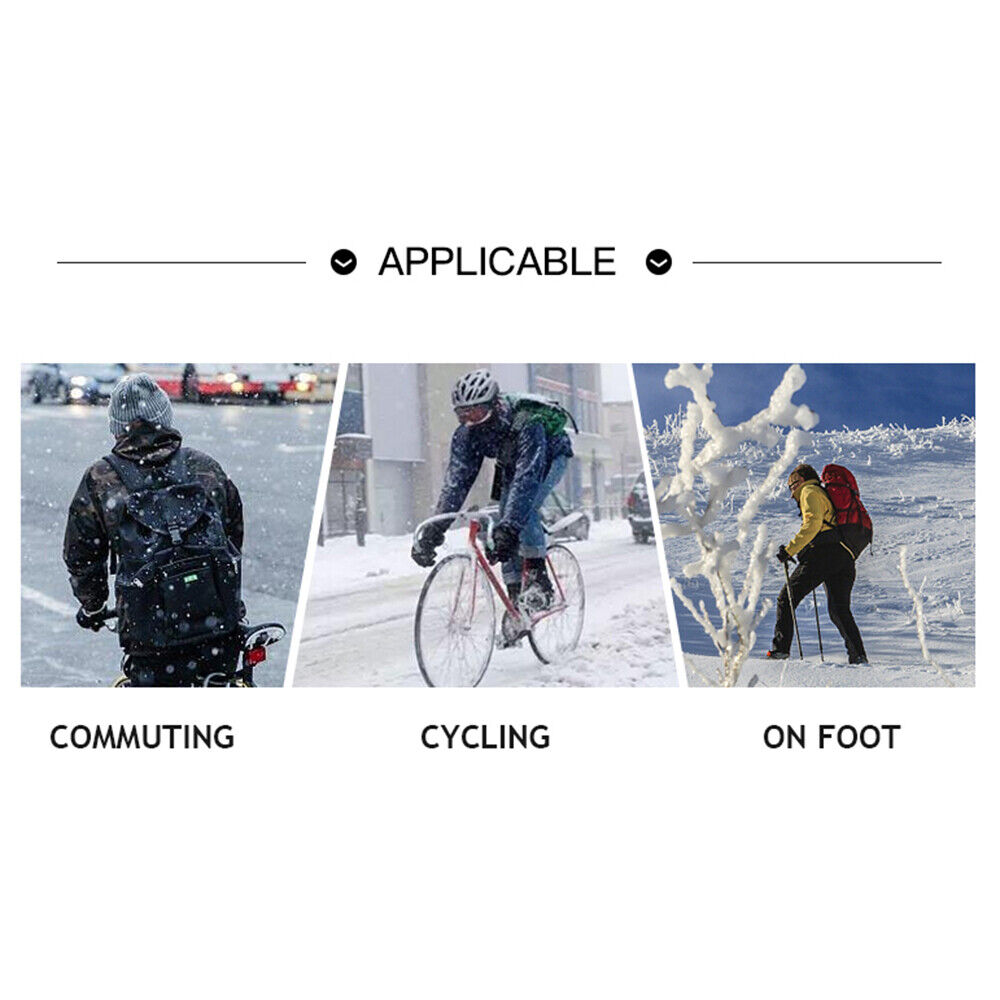 Product Specifications
Material: acrylic fiber + PU leather + conductive fiber + fine warm fleece + waterproof zipper + elastic belt
Colors: black, gray, blue, pink
Sizes: S, M, L, XL
Suitable for: cycling, running, mountaineering, skiing, and outdoor daily sports.
Advantages: touch screen, warmth, non-slip, and wear-resistant
Size Chart
Size                                          S                                             M                                             L                                            XL
Palm width          7.5-8.0cm/2.95-3.15in    8.0-8.50cm/3.15-3.35in    8.5-9.00cm/3.35-3.54in    9.0-9.50cm/3.54-3.74in
Hand girth           17-18cm/6.69-7.08in      18-20cm/7.08-7.87in         20-22cm/7.87-8.66in        22-24cm/8.66-9.45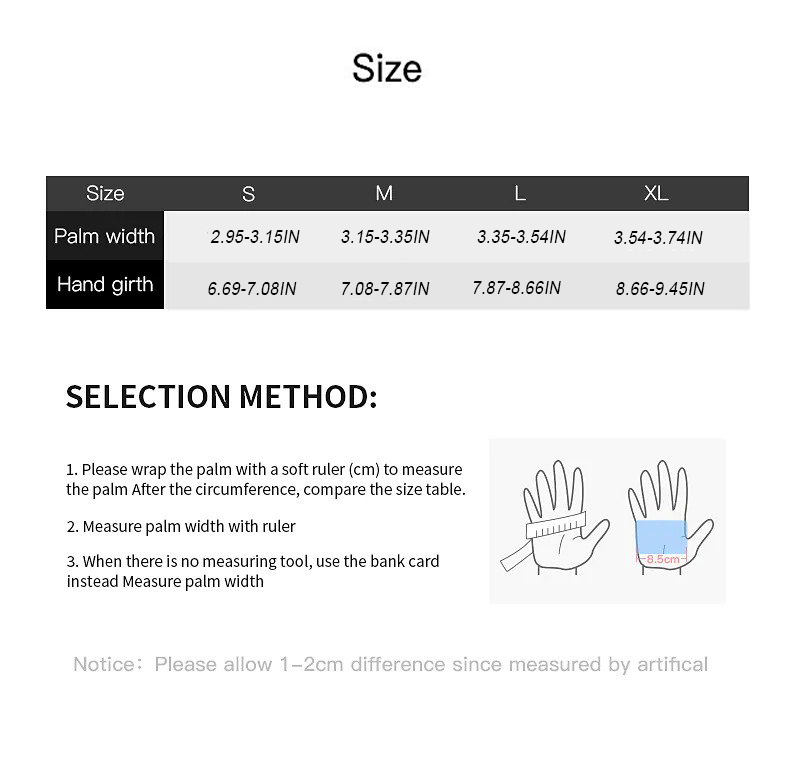 Package Inclusions