Description
Get the Ball Right into the Pin with the GoalShot Golf Rangefinder!

Do you want to get the lead on your golf games? Are you aiming to make the best swings and aims despite the distance of the pins? You need a golf rangefinder to make your goals within your reach — or shall we say, swings.
No goal remains unreachable. The GoalShot golf rangefinder features 6X magnification, allowing you to view distant scenery with superior clarity and brightness.This device delivers high accuracy, fast measurement, low power consumption and automatic shut-down. Made with the latest technology for range measurement, this laser distance meter can meet complex measurement needs for both construction and sport fields with 4 usage modes.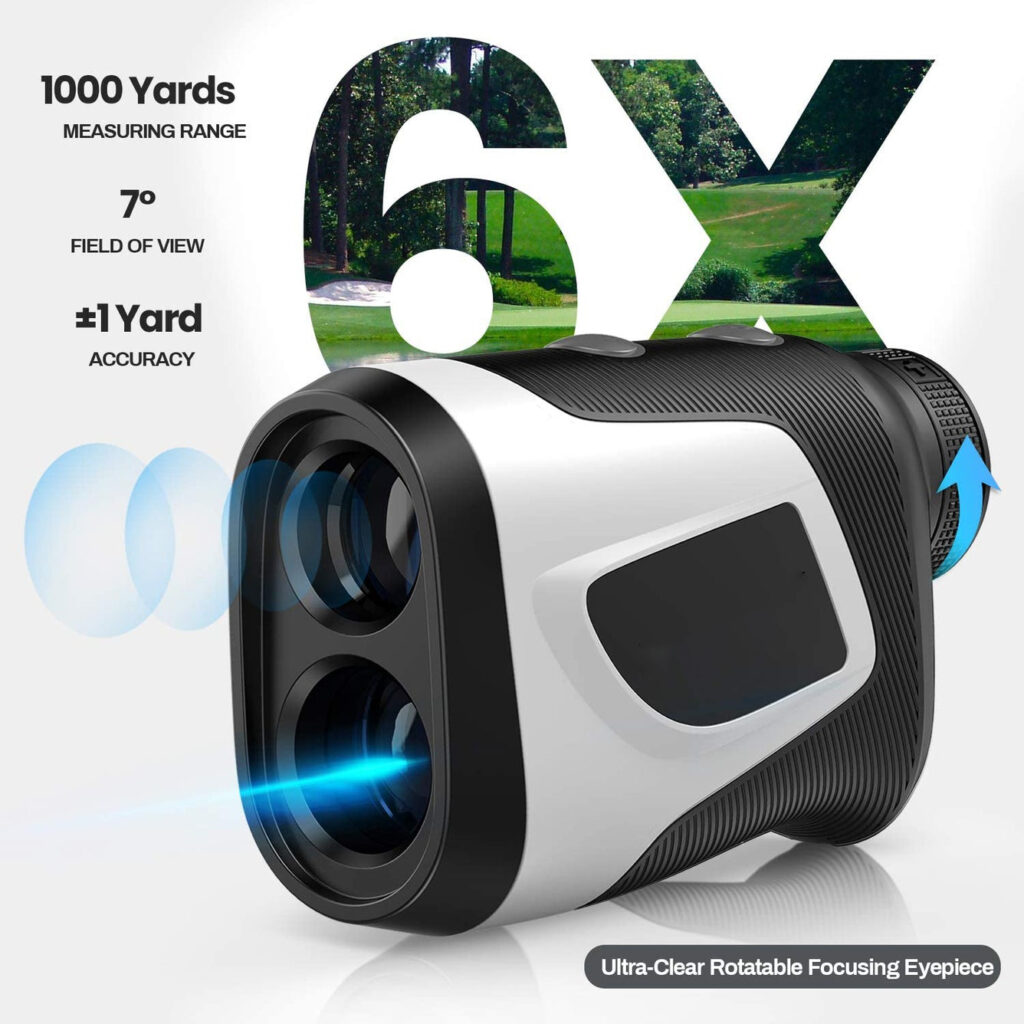 GoalShot Features
Includes a Rechargeable 3.7V Lithium Battery Instead of cell batteries which need frequent replacement, the GoalShot adopts a high-capacity built-in rechargeable battery. It charges conveniently with a USB to type-C cable, when the battery is fully charged it could do 20,000 measures, saving you the trouble of charging.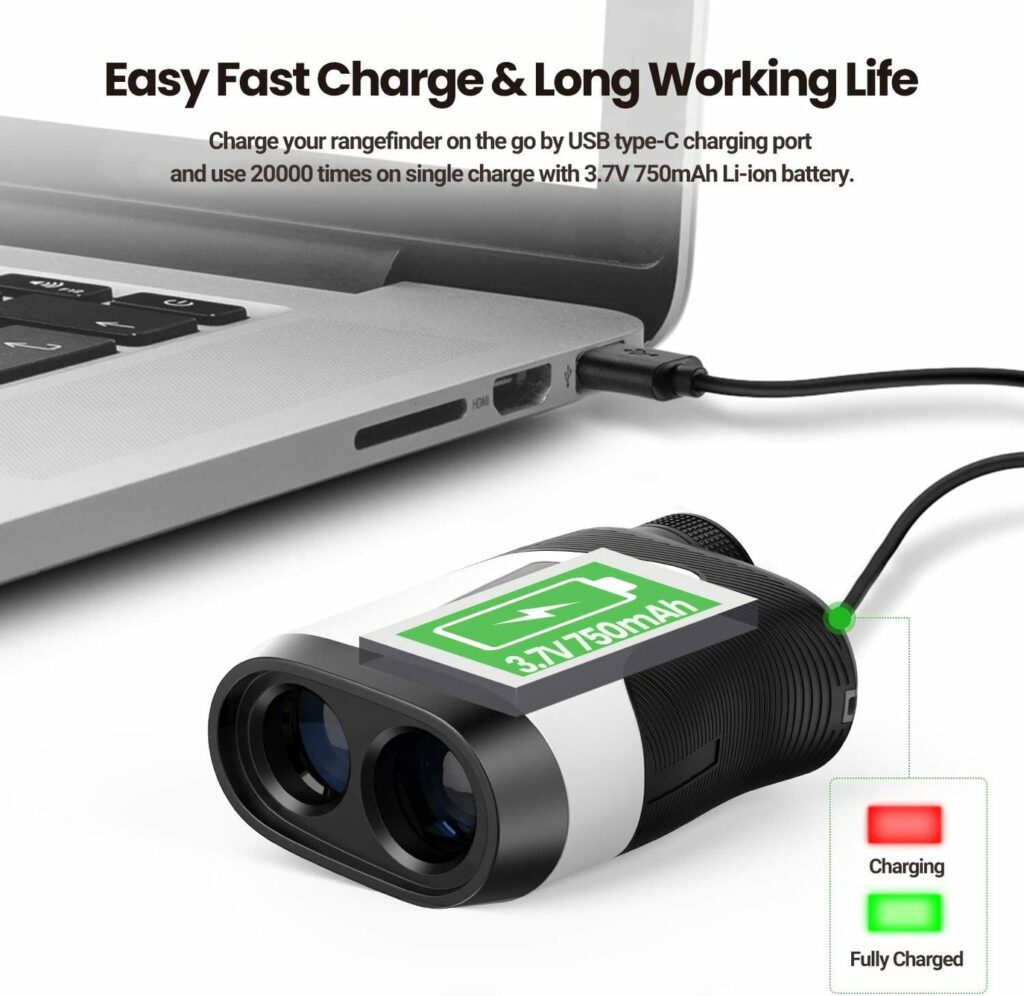 Locks Slop and Flagpole Shots. Slope function compensates incline or decline of slopes, calculating not only the horizontal but the trajectory path length between you and the target. Flag-pole locking enhances your targeting process, giving you vibration feedback after distinguishing and identifying your target.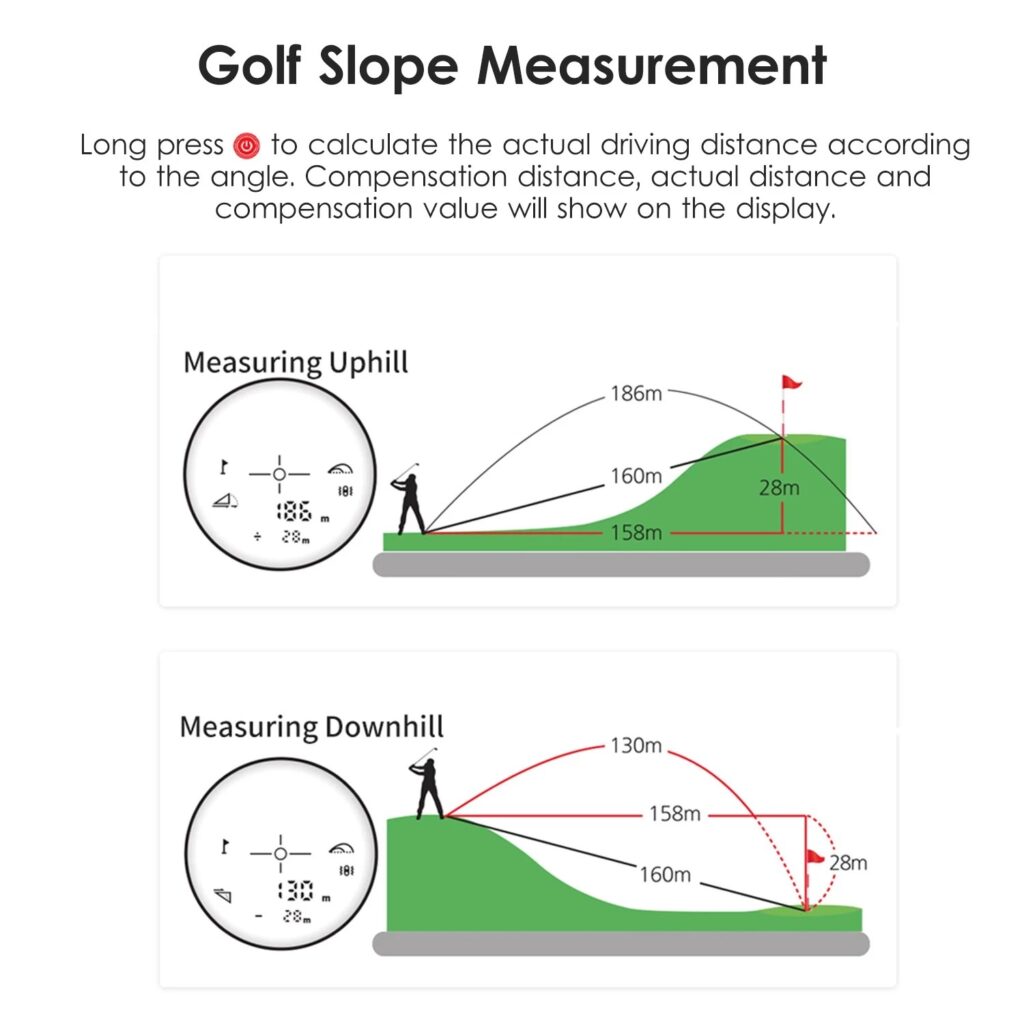 Can Be Used for Multiple Purposes. There are 4 modes available on this device – Straight line distance measurement (single & continuous measurement), flag pole locking measurement, golf compensation measurement and distance measurement (relative vertical & horizontal distance), it could be applied in areas including golf, hunting, hiking, and construction.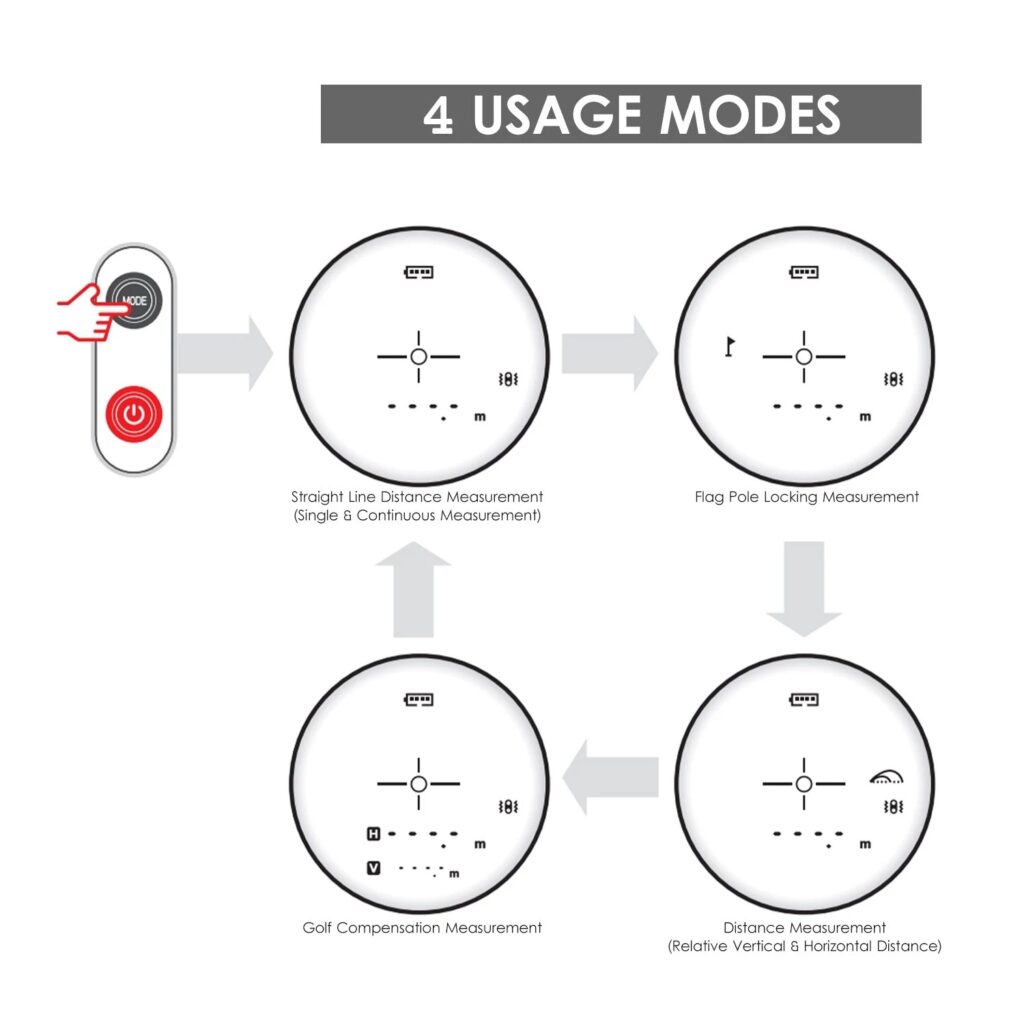 The lightweight, easy-to-carry golf rangefinder. The specs and dimension of this device come at  4.13" x 2.56" x 1.50" – a feature that makes the rangefinder compact and portable while out on the course. With ergonomic design, you can handle it comfortably. Our rangefinder is perfect for golf or hunting.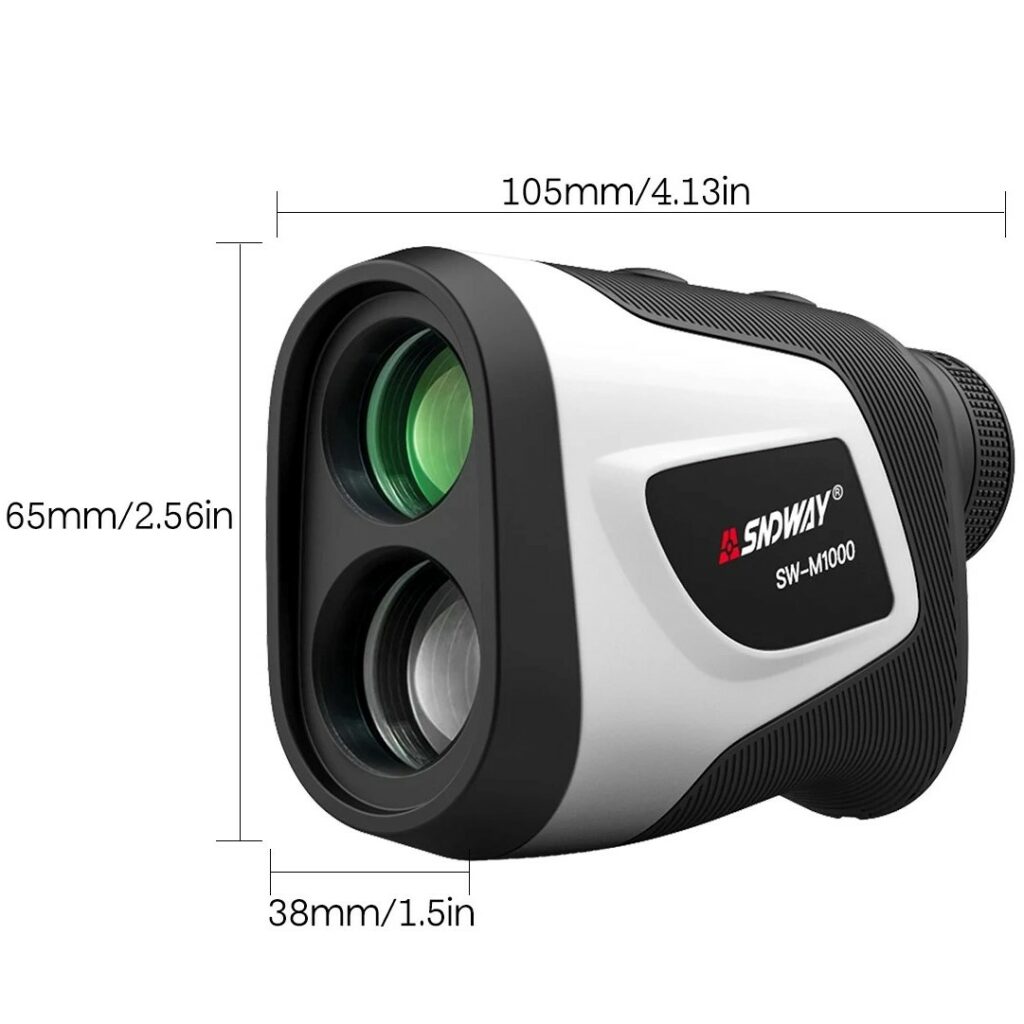 Why Choose GoalShot?
The golf rangefinder with a compact design. The GoalShot comes with the ideal size, it's light weight, portable and convenient to use and carry.
Made to be used under pressure. The device comes with an anti skid & water resistant build. You will also enjoy how it provides you with a  comfortable grip & long service life.
The most accurate golf rangefinder. The quick measurement of the GoalShot comes with high accuracy & low power consumption. The device also has a noiseless operation.
Class 1 Infrared laser that's safe to the eyes. The safe laser is ideal for long distance range measurement. It can scan an area of 1000m fast.
905nm Laser Wavelength. Low power consumption, strong anti-interference.
Includes a green film for better vision. Add a layer of green film to reduce the light reflection and increase light input and light transmittance so you can achieve a clearer vision.
Focus can be adjusted with rotatable button. Rotate the device to adjust the focus to achieve clear vision so that you don' t need to wear glasses.
Flag Pole Lock Function. Flag acquisition technology makes it effortless to lock on to the flag. After the target is locked, it will vibrate twice.
Golf Trajectory Compensation. Calculate the actual driving distance according to the angle. Compensation distance, actual distance and compensation value show on the display.
4 Usage Modes. Straight line distance measurement (single & continuous measurement), flag pole locking measurement, golf compensation measurement and distance measurement (relative vertical & horizontal distance), meeting complex measurement needs especially in construction.
Built-in Li-ion Battery. Powered by a 3.7V 750mAh rechargeable lithium battery, low power consumption & long service life.
Automatic Shutdown. If there is no operation within 20 seconds, the device will automatically power off.
Can be used in multiple ways. Used for both construction and sport fields, which is applicable to electric equipment installation, highway, forestry, construction, network design, hunting, golf and so on.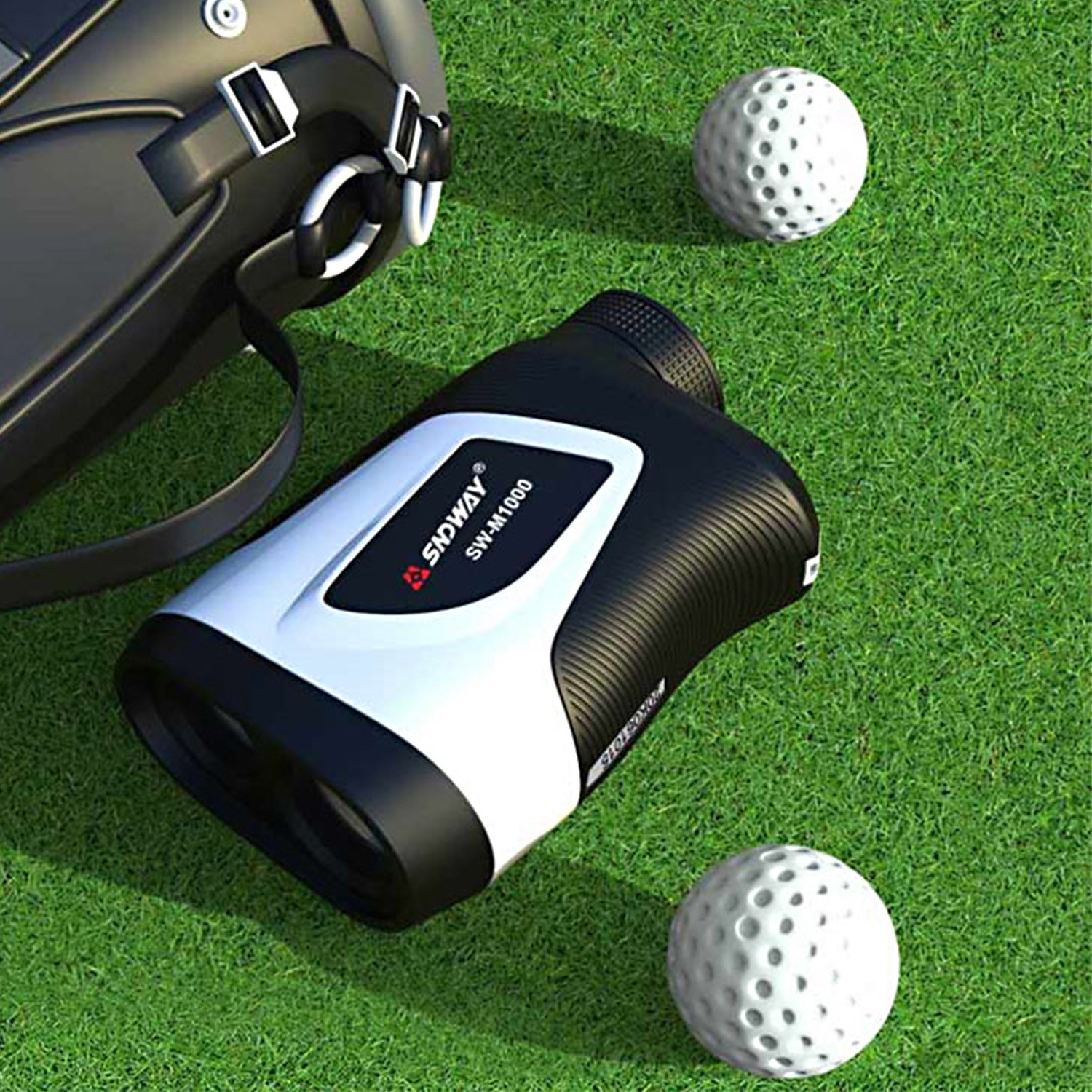 Specifications:
Model: SW-M1000
Material: ABS
Color: White & Black
Power Supply: 1 * built-in 3.7 750mAh Li-ion battery
Battery Working Time: 20,000 measurements (after fully charged)
Battery Life: 500 times of charging / discharging
USB Interface: USB Type-C
Measuring Range: 3~1000m, ±(1.0m+D×0.2%)
Unit: m(Meter), Y(Yard)
Reaction Time: <0.5s (<120M, 64ms; ≥120M, 460ms)
Telescope Magnification: 6X±5%
Field of View: 7.0°±5%
Objective Aperture: 19mm
Eyepiece Aperture: 15mm
Pupil Diameter: 3.7mm
Visual Adjustment Range: ±6° diopter
Laser Class: Class 1
Laser Wavelength: 905nm
Protection Grade: IP54
Working Temperature: -10℃ ~ +50℃
Height Measurement Function: √
Slope Measurement Function: √
Item Size: 4.13" x 2.56" x 1.50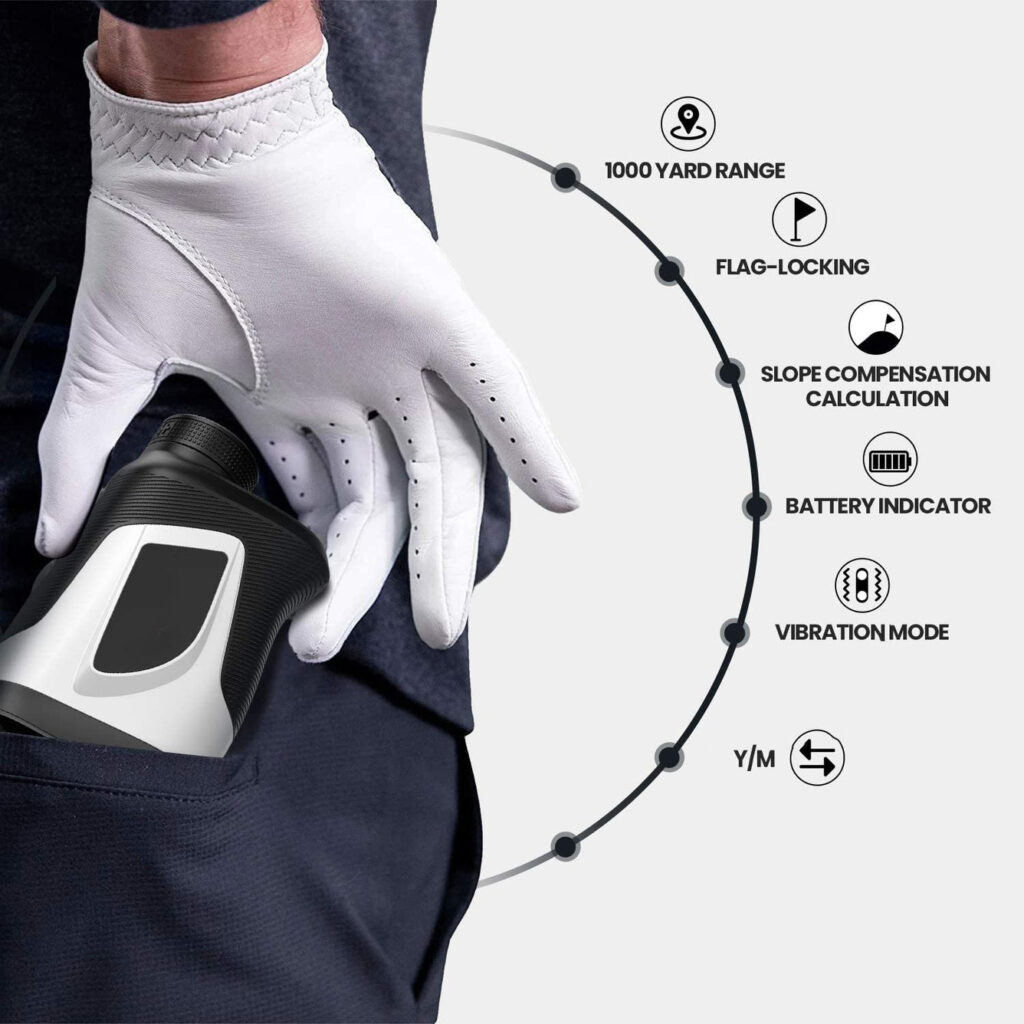 Note:
Please read the Users Manual before use.
The maximum measuring range of the device depends on the target reflectivity, colour, surface finish, size and actual shape.
Packing List:
1 * Range Finder
1 * USB Type-C Cable
1 * Lanyard
1 * Cloth Bag
1 * Users Manual