Cut the Ball Picking Time, Not the Playing Time
There's nothing more annoying than stray gold balls around the course. And not everyone can afford to hire a personal caddy to do all the picking for you. So if you're tired of all the bending, crawling, and chasing, there's no other perfect tool to get to assist you in picking your golf balls and maximizing your playing time than Go-Grabber Golf Ball Retrievers!
With its stainless, telescopic, and extendable design, you'll never have to spend too much effort retrieving your golf balls, regardless of whether they're stuck in water holes or sand traps. Go-Grabber helps you enjoy your time on the course to practice your swings, not your bending prowess.
About This Item:
Stainless & Telescopic Golf Ball Retriever: The Go-Grabber is stainless steel to ensure it won't rust even when immersed in water. Its telescopic design can extend up to 2.04 m/6.69 ft so that you can retrieve your golf balls with great ease no matter where it is.
Lightweight but Strong Enough: It weighs only 6.7oz, which means less effort spent.

Our stainless shaft gives the retriever a solid foundation to grab all your golf balls with excellent convenience. Meanwhile, the metallic-looking design aims to match your irons' looks.

Automatic Locking Scoop Cup Design: The automatic locking device on the scoop prevents the golf ball from falling out of the scooper when retrieving.
Grab Sturdy: Our golf ball pickup grabber can grab the ball on the ground with excellent sturdiness so that you don't have to bend any longer.
Lightweight but Durable: When using this little tool, you won't feel any heaviness. It is solid and durable enough to withstand a thousand uses, and the 3 prongs won't break!
Best Golf Gift for Men: Our golf ball retriever with telescopic and stainless design is the best golf gift for all golfers. An excellent golf gift for your grandpa, dad, husband, or boyfriend on any occasion. They will love it!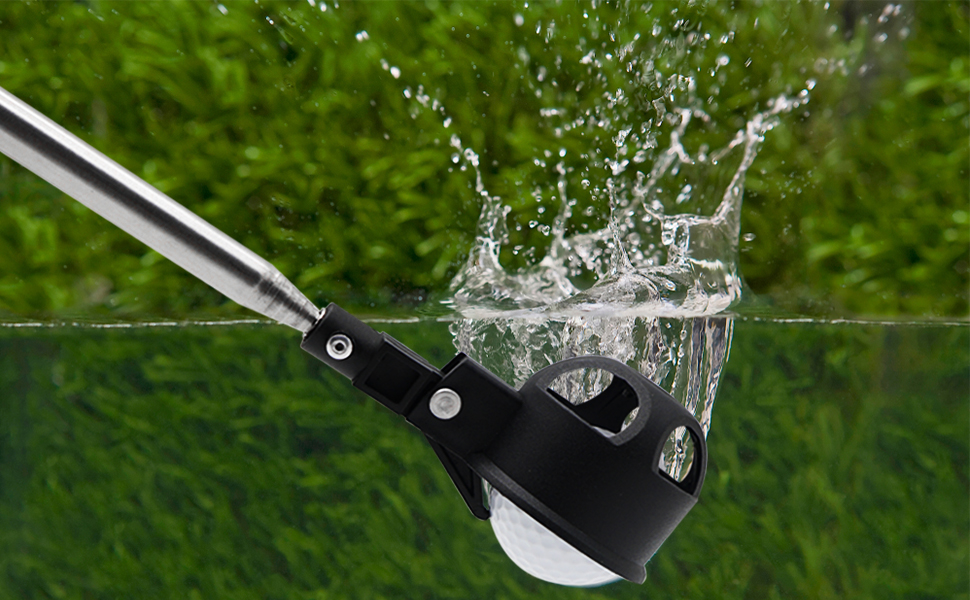 Why do you need to buy a golf ball retriever?
Even though golf enthusiasts insist that golf is a relaxing game, they also say how frustrating it is to chase stray golf balls around the course. Some golfers have to reduce their playing time or quit together because of back and neck problems that make bending over too painful. You may be one of these people. Golf ball Retriever is made for convenience and is suitable for all types of golfers.
It is incredibly irritating when the ball gets stuck in a water hole or sand trap. It is also challenging to see golf balls that are in the water. You can waste a lot of time trying to chase the golf balls by hand. Not every person has the luxury of hiring a personal caddy to chase their runaway golf balls.
Quality golf balls are not cheap; plus, many people go through the extra expense of having them monogrammed for easy identification on the course. Losing golf balls on the course is like throwing money away. Since some golf courses may charge by the hour, you can also waste valuable time searching for a lost golf ball. If you are tired of bending over and wearing your back out, it is high time to pick this item!
We love playing golf for pastimes or exercise, but it is annoying that people need to stoop to pick up the ball every time, which is not convenient for people with waist injuries and the elders. They do not get exercise but increase the pain in their waist.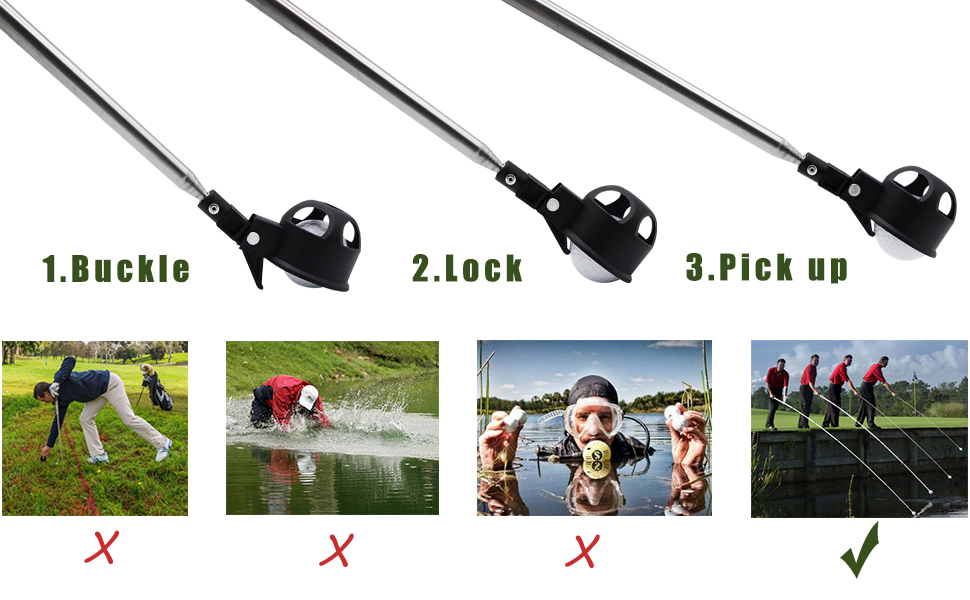 Not everyone can hire a golf caddie to help pick up the ball. Losing a golf ball on the course is like throwing money away. Some golf courses may charge by the hour, and you can also waste valuable time looking for lost golf balls. If you're tired of hunching or don't want to spend a lot of time looking for the ball, it's time to pick up the Golf Ball Retriever! Money-saving and easy to use, you will fall in love with it!

Automatic Locking Scoop
This trick exists on the automatic locking device of the scoop, which could block the ball ingeniously and prevent it from being dropped when retrieving, immensely helping you improve game efficiency!
Retractable Length
The ball pickup is extendable to 6.69 ft, helping you retrieve the ball without bending down, saving your energy and time to focus the game. Also, it's retractable to 40CM, which is small enough to store in your golf bag easy to carry when out for playing.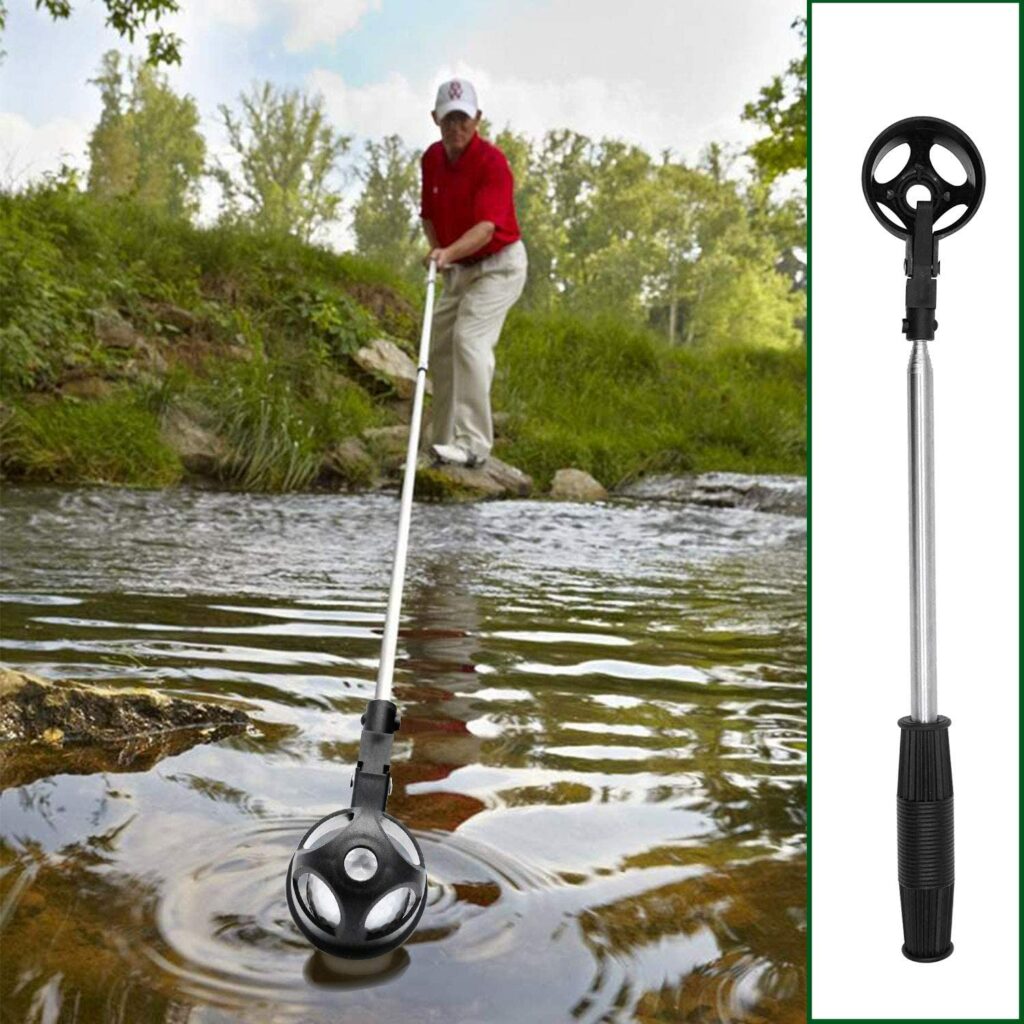 Specifications:
– Material: Stainless steel + ABS
– Retracted length: Approx 40cm / 1.31ft
– Extended length: Approx 2.04 m / 6.69 ft
Package Included:
1 * Grabber(not include the ball)

1 * Retriever